Last year, I started running Zara in AKC field trials. In my area of the country (Mid Atlantic), most of the field trials allow for horseback handling. In fact, it's rare to see someone who is a walking handler. Thankfully, the AKC allows for walking handlers in horseback stakes. When I took Zara to her first field trial last year in preparation for the walking National Gun Dog Championship, I didn't feel comfortable riding a horse. Although I've had multiple people offer to have me ride their horses since then, I'm okay with walking. Since then, I've walked in all of the field trials I've competed in with Zara. From October 2021 to March 2022, we competed in nine field trials, for a total of 15 runs. Eight of those 15 runs were in horseback stakes.
Walking is a Good Intro To Field Trials
As someone coming from the NAVHDA and AKC hunt test worlds, I had only ever handled Zara while walking. Horseback handling seemed like another world entirely. It can become expensive to rent a horse for each trial, not to mention how expensive it is to actually own one. There's also a level of risk. I've seen several incidents where people have been thrown from their horses or people have shown up with injuries they sustained from riding horses. I wasn't going to get on a random horse without taking lessons first to better understand how to control a horse. Plus, I don't have anywhere to train where I could ride a horse and run Zara in front of me.
Being able to walk in horseback stakes is a good introduction to the field trial world without this expense or risk. However, there are several considerations you should keep in mind before you enter a horseback stake as a walker.
You Need the Right Dog
In order to be successful as a walking handler, I think you need a certain kind of dog. Some dogs run so big and so far that handling them from foot could be really difficult. As a horseback handler, you have the advantage of being much higher off the ground, which makes it easier to see your dog from a distance. You also don't want a dog that hunts really close to you while you're walking. If your dog is ten yards from you the whole time, you're probably not going to place in horseback stakes, since the forward run of the dog is important. Your dog also needs to be steady enough that it will stand on point for several minutes at a time while it waits for you to arrive to flush the bird.
Part of the reason that I have continued to handle Zara from foot is because I think she is well-suited to it. Over the past year, I have worked on expanding her range, but she never runs so big with the intention of going off on her own. She will look for me. With whistle training (see below), I've been able to keep her away from me at a good range without her feeling the need to come all the way back to me.
I think it's also important to consider genetics when getting into the field trial game. I think dogs bred from field trial lines have more of the natural talent that is needed to succeed in field trials.
Techniques to Help You Succeed as a Walker in Horseback Stakes
Over the past year, I've tried to do everything I can to help Zara have the best chance at doing well in horseback stakes even though I am walking. I think several things can help.
Use a Whistle
I have found the whistle to be a valuable tool in field trial handling. By comparison, I never use one while hunting for wild birds or in training when we are just running drills in a bird field and I don't expect her to run far. The whistle allows my commands to carry when she's at a distance. I have two whistle commands: one blast is "go forward" and two short blasts is "turn" or "this way". The "go" command is very useful when she's far ahead of me and turns to run back toward me. I will correct this by giving one whistle blast, telling her to not come back to me and go forward again.
Practice Walking Fast on Rough Ground
When I run Zara in preparation for trials, I walk along behind her and practice how I will walk at a trial, too. We go to nearby game lands that have somewhat rough terrain and I practice walking fast while keeping an eye on her. It's definitely a skill that takes some work. For her, I've found that increasing my pace usually pushes her out more, which is what I want. If you are paired with a horseback handler in a trial, it's in your best interest to walk at a brisk pace so that you are not slowing the other handler down too much. Some courses are hilly, too, so you'll want to be in decent shape if you plan to walk.
Good Shoes are Important
This probably goes without saying, but when you're walking, you'll need good shoes that are comfortable and allow you to move easily over the rough ground. I wear hiking boots with hiking socks whenever I handle Zara.
Know the Course
It's helpful to have a good understanding of the course before your turn to run. This allows you to move forward quickly and be able to turn your dog easily in the right direction. If I've never been to the grounds before, I always try to watch a few braces from an ATV. There's usually someone following the horseback gallery in an ATV who is planting birds or who has dog crates for dogs that get picked up.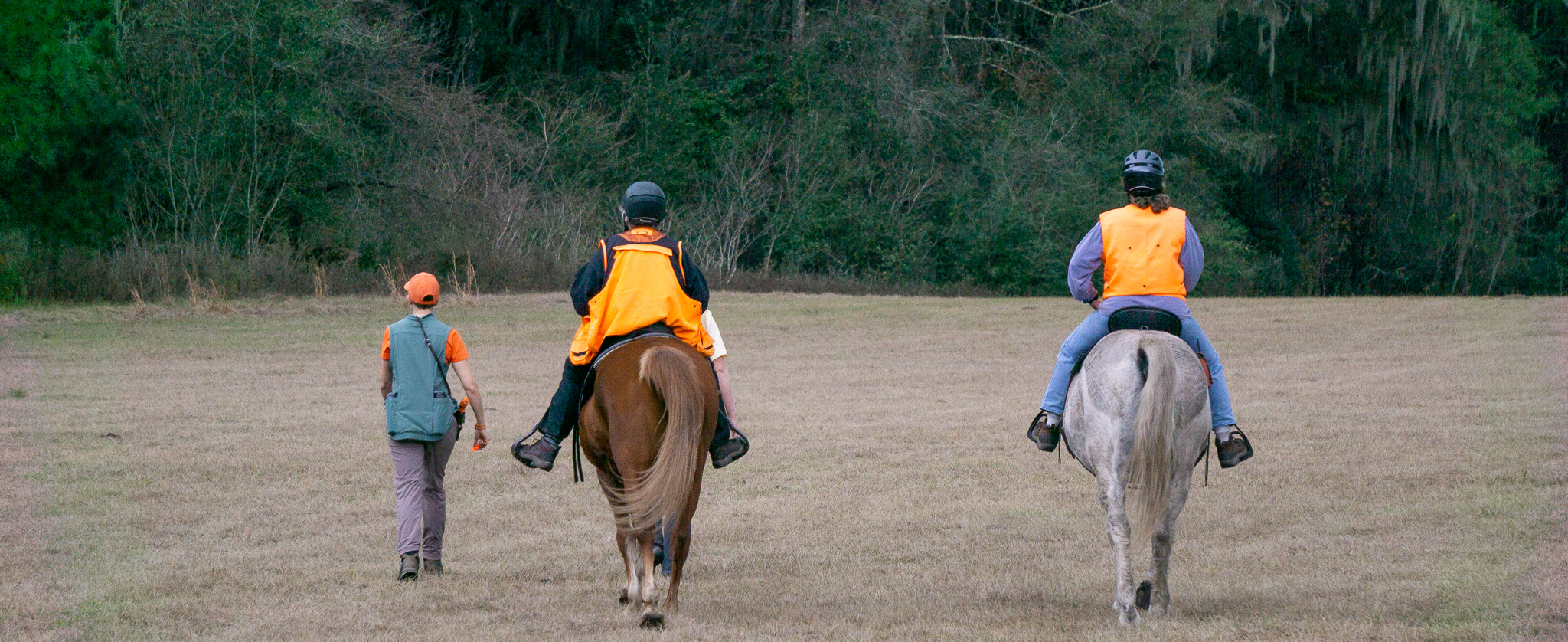 I walk in a horseback stake in Florida.
You Need a Good Scout
In AKC field trials, handlers are able to designate one person who is "scouting" for them. This person rides a horse behind the judges and can help find your dog if you lose track of it. A scout cannot ride ahead of the judges, but they can ride out to the side or behind to try to find a dog that has gone off course. While Zara does not try to get lost, as a walker, I've found it useful to have the scout's higher vantage point to spot her on point. Some courses we've been to have a lot of broomstraw, which is basically hip-high vizsla-colored grass. It can be very difficult for me to see her when she stops in that sort of cover. A scout will have a better view. At most of the trials I've been to, Zara's breeder or one of her friends has scouted for us. However, I've also asked people I don't know well and they've been happy to help.
Note "Walking" On Your Entry Form
If you are planning on walking in a stake that allows horseback handling, put that you are walking on your entry form. The AKC changed the rules a few years ago so now clubs are supposed to brace walking handlers together. While it's possible you may be the only one, there's a chance you won't.
This is probably going to sound strange, but at this point, I think I'd rather be paired with a horseback handler than another walker. I like to walk fast and I've found that even my "slow" pace is much faster than most people's. Being with a horse means I can walk fast and it doesn't look like I'm trying to outpace the other handler.
You are Probably at Disadvantage
If you are going to walk in horseback stakes, you should recognize that you are probably at a disadvantage. As mentioned above, being lower to the ground means that you can't see your dog as easily and it can't see you as well either. This may impact its range. You also don't have the ability to quickly get to your dog if it's on point or backing. However, I haven't found it to be that much of a dealbreaker.
Seek Out Walking Only Stakes
Even though the majority of the trials we participated in this season were horseback trials, I did specifically look for walking-only stakes. I was able to find several of them, including trials that only allow walking. We traveled to Florida in February and there are a lot of trials in North Florida that have walking stakes. In these events, I know that I am on the same playing field as the other handlers.
You Can Be Successful
When I decided to run Zara this fall, I honestly didn't know if she could be successful with me walking in horseback field trials. People had implied that there was some bias against walking. However, I have not found that to be true. Again, I think you need to have the right things in place (see above), but we have had success in multiple trials. At her first trial in October, she earned third place in a 20-dog horseback stake. I was thrilled, but still didn't know if she would be able to win a horseback stake. That worry was soon squashed when she earned first place in a 13-dog horseback stake at the next trial we went to. I was the only walking handler. I'm not citing these facts to brag, only to show that yes, you can be successful as a walker.
Zara and I received six placements this season. Out of those, five were in horseback stakes. Now that I know she can win, I have no reason to get on a horse. Why should I do that when what we're doing is working? I may take horseback riding lessons in the future, but for now, walking is fine.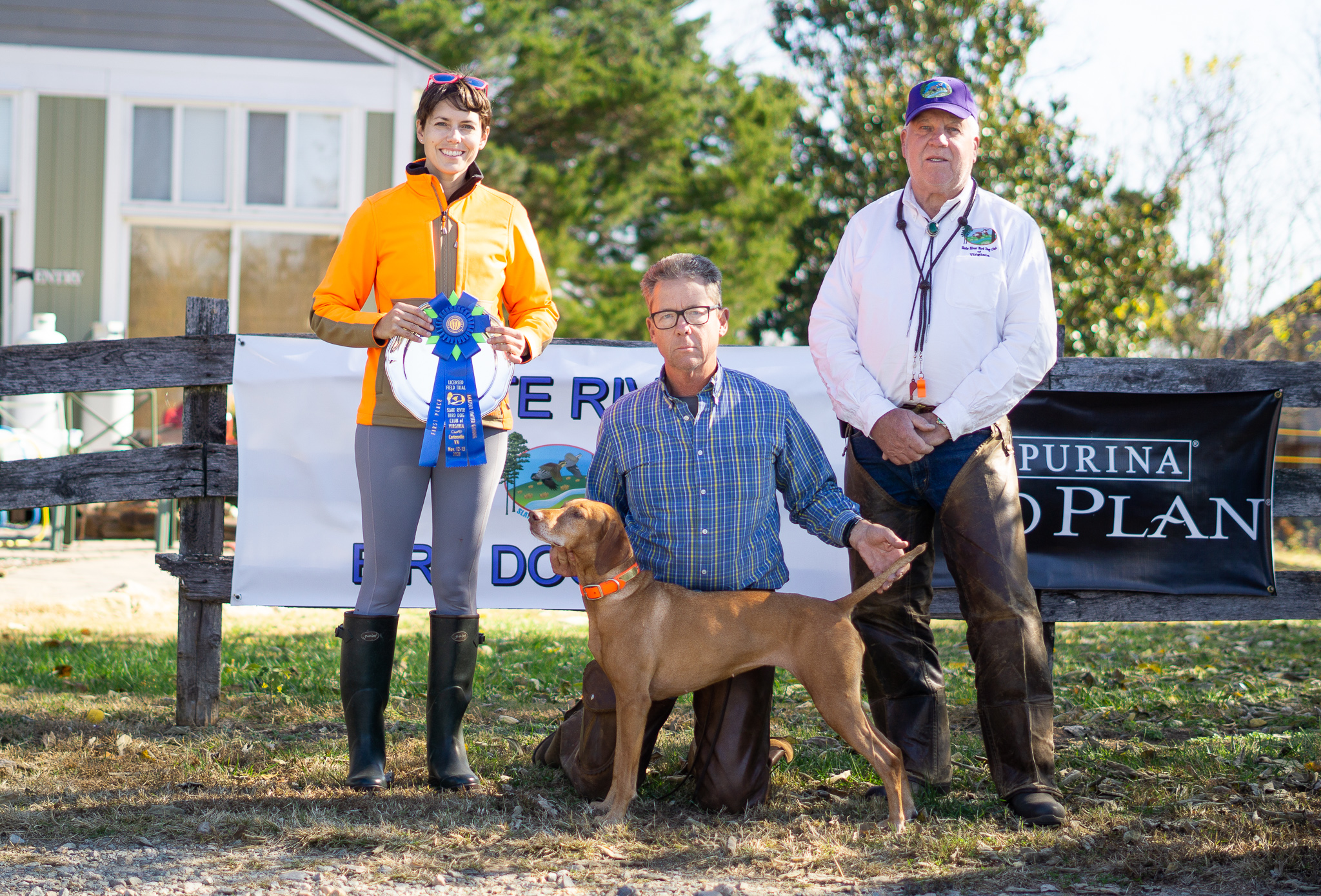 Zara and I won first place in a horseback Amateur Limited Gun Dog stake in November 2021. I was the only walking handler.
Have you walked in any horseback field trials? If so, what has been your experience? Leave me a comment below!