2021 was the first year that Zara and I competed in AKC field trials. We participated in five trials, including the Vizsla Club of America's National Gun Dog Championship. So far, Zara has been awarded three placements and an Award of Merit at the NGDC. I plan to enter more trials in spring 2022. Now that the year is coming to an end, I figured I'd write a post about some of the things I've learned in our short field trial career. It's quite a different venue in comparison to NAVHDA events or AKC hunt tests. (Check out my post that gives an overview of the various bird dog events).
"Getting Around Clean" Isn't Always Easy
If your dog makes a mistake in field trial Gun Dog stakes, the judges will tell you to "pick up" your dog and your run will be over, even if it's two minutes into the run. If your dog finishes the 30-minute brace without any mistakes, that's called "getting around clean" or simply "getting around." There are many things that can trip up your dog or cause you to be disqualified. Below is a non-comprehensive list. I've seen almost all of these in person.
Taking steps while pointing, causing the bird to fly up before the handler gets there
Breaking on the flush or shot (chasing)
Too many steps on the flush or shot
Not stopping to flush (chasing)
Not backing the bracemate ("blowing a back")
Picking up a bird instead of pointing it
Not retrieving a bird in a retrieving stake
Being lost for too long (a dog can be lost for a short period of time and still do well, but not a significant portion of the whole run)
Being lost when time is up
If Your Dog Gets Around, You Have A Decent Shot at a Placement
When I go to field trials, I like to watch as many braces as I can. I really enjoy watching the dogs run and I learn a lot by seeing how other handlers deal with various situations. In general, it seems like in most stakes, at least half of the dogs don't make it around clean. Sometimes, only a few dogs do. There are so many things that can go wrong in a field trial that will disqualify your dog (see above). So if your dog manages to make it through the whole time without any errors, it will have a good chance at earning one of the four placements, assuming that it has the characteristics which make a good field trial dog.
There Are a Range of Abilities in Gun Dog Stakes
From what I've seen in the small number of trials I've attended, having a well-trained dog is not always a given. There seem to be dogs of various abilities entered in the Gun Dog (finished) stakes. There are dogs who are freshly "green broke" and are experiencing their first trials. The pressure of the new environment may get the best of them and they may not be able to resist chasing a bird if a challenging situation presents itself.
On the other hand, you also have dogs who have already completed their Field Championship titles entered in some of the stakes. These dogs may be very solid on their birds and handle the course like pros.
It seems like there's a lot of dogs in between, who may not be 100% solid. This probably contributes to the amount of dogs not making it around clean. I would say the dogs in field trials are not quite as obedient and steady as what I've seen in the NAVHDA and AKC hunt test worlds. I think one of the reasons Zara has been able to earn several placements is because she's gotten to be very reliable on her birds.
Relocating A Dog On Point Can Be Trouble
One of the most stressful situations for me in a field trial is when Zara goes on point and I can't find the bird right away. This has happened to me multiple times. I always feel a lot of pressure with the judges and gallery watching. Then I have to decide – do I keep kicking around, expanding my range of movement? Or do I give her a release command and hope she reestablishes her point without making the bird fly? I usually am able to relocate her without any issues, but at our last trial, her movement caused the bird to fly off, so we were picked up. I was kicking myself for relocating her when I probably should have tried to spend more time finding the bird myself.
Several times, I have not been able to find a bird, even if I get Zara to relocate. In this situation, we move on, but it's considered a "nonproductive point." If you have one nonproductive point, it's not a big deal, but two will pretty much keep your dog out of the placements. So it's in your best interest to try to find the bird even if it takes a while.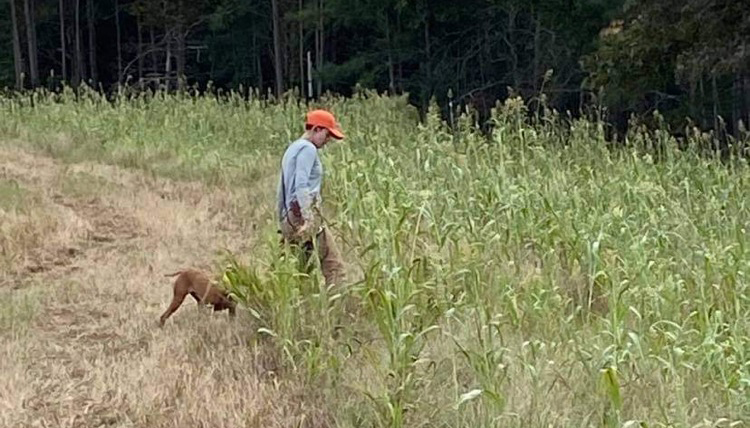 I attempt to find the bird that Zara is pointing.
Your Dog Should Be Able to Handle Coveys
Speaking of birds, most of the birds in a field trial aren't shot. Therefore, after a two- or three-day trial, there are often A LOT of birds hanging around. In the area where I live, the birds are usually quail. After a period of time, quail tend to congregate together in coveys of multiple birds. If your dog is running one of the last braces of the day, or the first brace on the last day, you're likely to encounter a covey or two. Multiple birds flushing up is much more stimulating than one bird, so practicing with several birds is a good idea. I have a duck-sized electronic launcher and I put three pigeons in it at one time to simulate a covey. I think this has helped her steadiness on coveys.
You Can Be Successful If You Walk
In a lot of AKC field trials, the handlers ride horses. While some trials are designated as walking trials, most of the ones where I live allow horseback handling and a horseback gallery (the people watching). I can definitely see why people prefer to ride horses, because it's much easier to follow a fast-moving dog that way.
However, even if a stake allows horseback handling (read: the majority of handlers will be on horses), you can still enter as a walking handler. As someone who is new to the field trial world and previously only competed in walking events, riding a horse is out of my comfort zone. I actually took horseback riding lessons when I was in middle school, but it's been a long time. Horses are large, powerful animals and I want to make sure I know how to handle one before I jump up on a random horse. I've had multiple people offer to let me ride their older, stable horses, but I have politely declined. I think I would need to take some lessons again if I wanted to compete on horseback.
There's more detail in a separate post about walking in horseback stakes, but I'll say that you can be successful even if you walk. I think you do need to have the right dog and you need to be able to keep up, but a walking handler alone will not disqualify a good dog. The American Kennel Club has also changed its field trial rules recently so that walking handlers will be braced together if possible.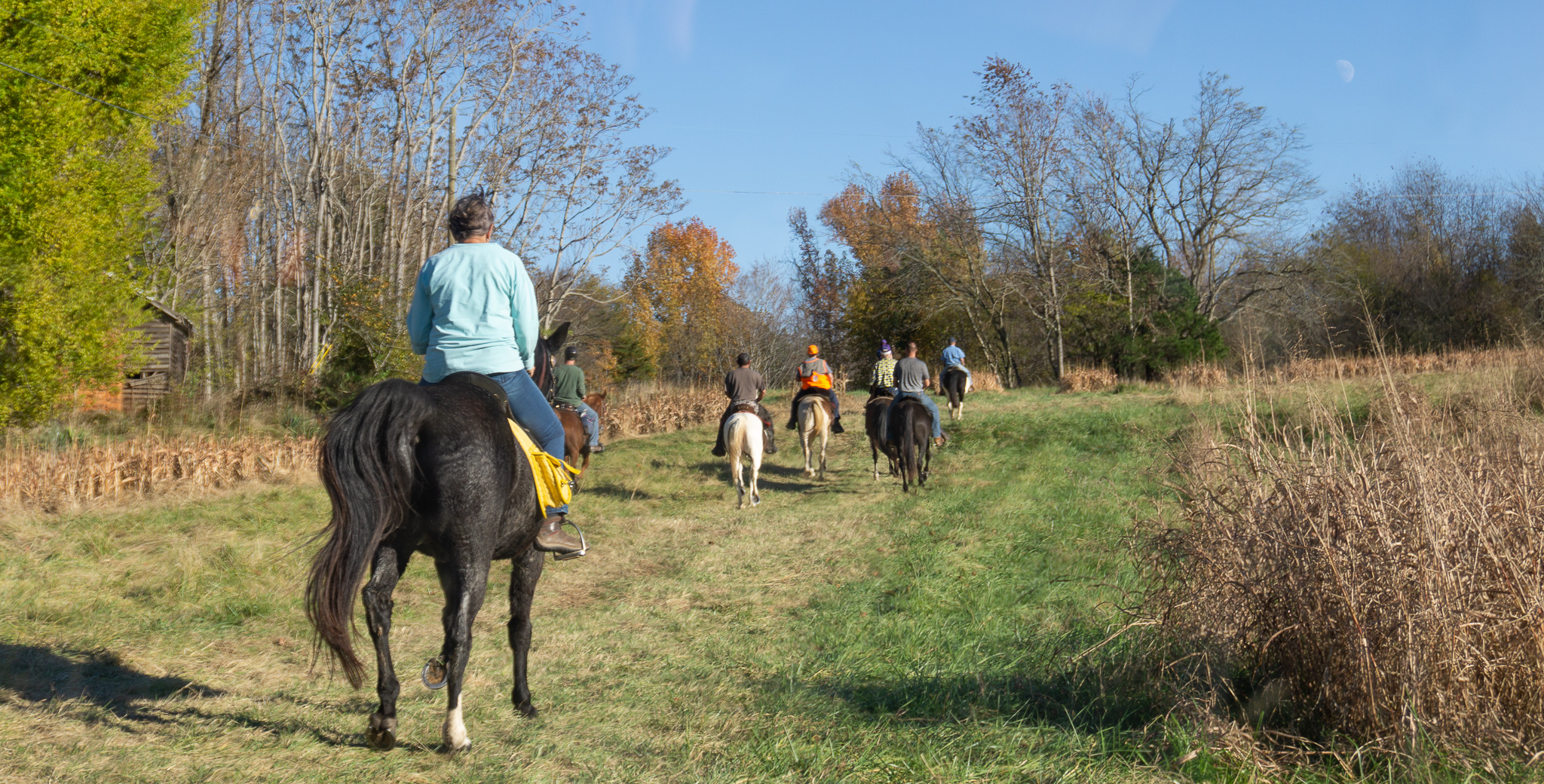 Retrieving Stakes Are Usually Limited to Certain Breeds
To earn a Field Championship (FC) or Amateur Field Championship (AFC) title, certain breeds are required to win points in retrieving stakes. Out of the eleven breeds that are eligible to participate in AKC field trials, only vizslas, German shorthaired pointers, weimaraners, and German wirehaired pointers are required to retrieve. Breeds such as pointers and setters are not. Therefore, you will likely only find those four breeds in retrieving stakes.
I've found this to be useful information. Pointers and setters are often known for running really big, covering a lot of ground, and looking flashy while doing so. All of those are things that field trial judges usually like. Zara is not the biggest runner. So if I put her in retrieving stakes, I don't have to compete against the pointers and setters and maybe she will be a little more competitive. She has a solid retrieve, so that is not an issue.
Most People are Helpful
Since field trials are competitive events, I've often heard stories about how people are not very welcoming or there can be a lot of cattiness/drama. For the most part, I have not found that to be the case. From what I've seen, the field trial world is pretty small. I've seen most of the same people at the trials I've attended. In November, I went to a field trial by myself without really knowing anyone. At the previous events I'd been to, Zara's breeder had been in attendance and she helped me out. However, at this trial, put on by the Slate River Bird Dog Club of Virginia, everyone was so welcoming! I was found someone to scout for me and multiple people offered me their horses. I do think most people want to help out the newbies.
Field Trials Are Fun
So far I've really enjoyed participating in AKC field trials and I'm looking forward to the spring season. If you're considering entering your dog in one of these events, you should go for it! If your dog is really solid on birds and a good retriever, I think you have an advantage. Some field trial people don't put a huge emphasis on retrieving, so the retrieving is not as clean as I've seen in NAVHDA or hunt tests. Perhaps the retrieve is not the most important thing to the judges, but it doesn't hurt to have a nice retrieve.
Have you taken your dog to an AKC field trial? Leave me a comment below.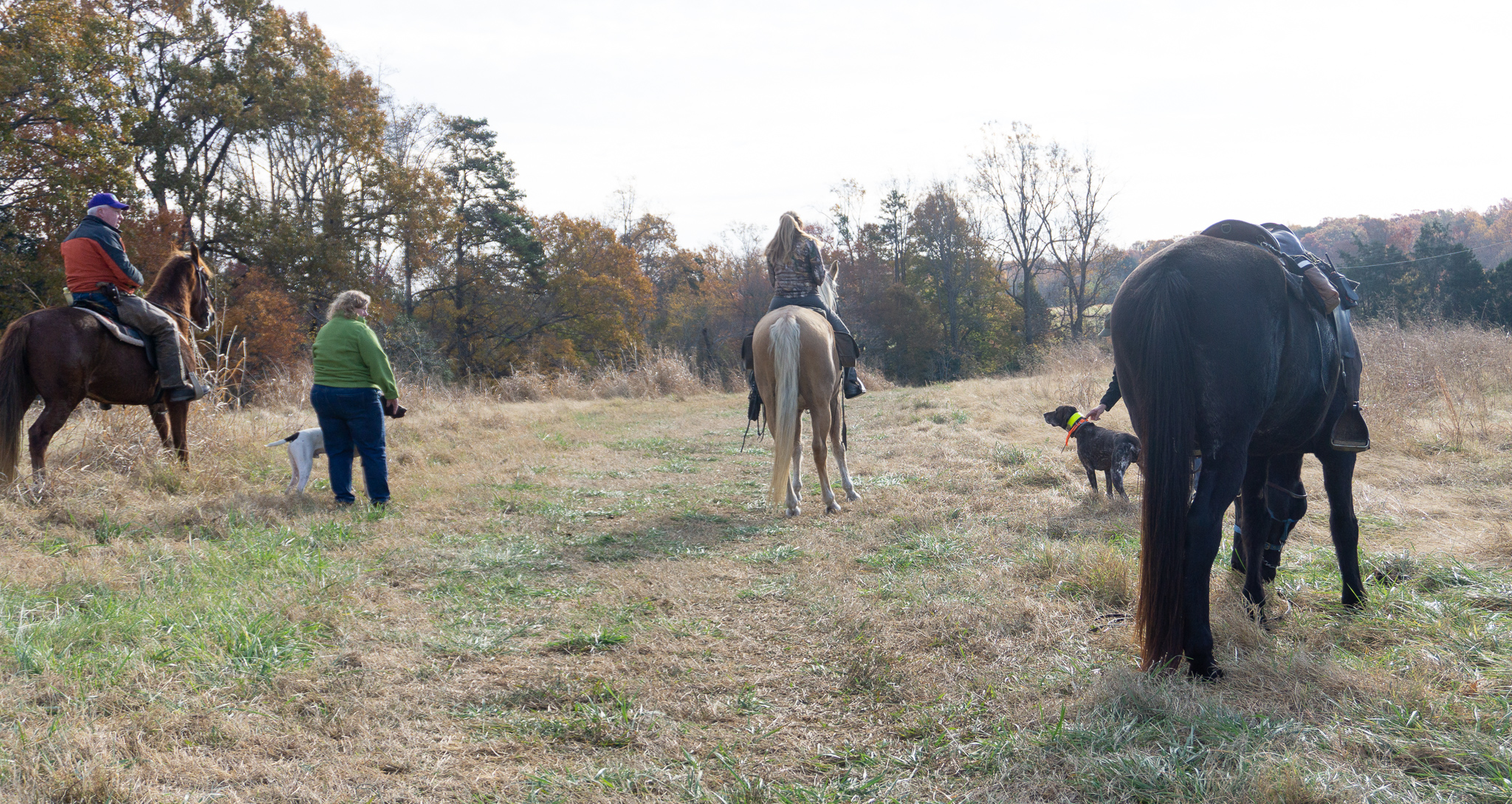 The "breakaway" at a field trial. The two dogs are about to be released.