In June, Colombo and I had the chance to participate in an AKC Coursing Ability Test. A CAT is a type of lure coursing. I have taken Colombo to a few lure coursing trials as well as several Fast CAT events, which are somewhat different. I had been looking to participate in a CAT test for a while, but there aren't a ton around where I live.
What is a Coursing Ability Test?
A coursing ability test is a noncompetitive event that involves dogs chasing a lure (white plastic bag) over a distance of 300 or 600 yards. Like all lure coursing events, the white bag is meant to simulate the white tail of a fleeing game animal like a rabbit.
They're much longer than Fast CATs, which are only 100 yards, but they are often a little shorter than the courses at lure coursing trials. When the field marshal (person in charge) gives the okay, the lure operator starts the lure and you release your dog to chase it. You stand in one spot at the start line. Although you can allow your dog to wear a collar when they run, they're not allowed to have any hanging tags. I always run Colombo naked because it's safer. That way there's no chance of a collar getting caught in the pulley system.
A CAT course doesn't have any sharp or tight turns like a lure coursing trial course might. Since they're primarily designed for breeds other than sighthounds, there's no turns less than 90 degrees to allow the dogs to complete the course safely. It depends on the grounds whether or not the course is fenced, but the one we attended was. That's a nice option for dogs that don't have great recall. But if you are going to enter CATs with your dog, I would encourage you to work on off-leash recall regardless.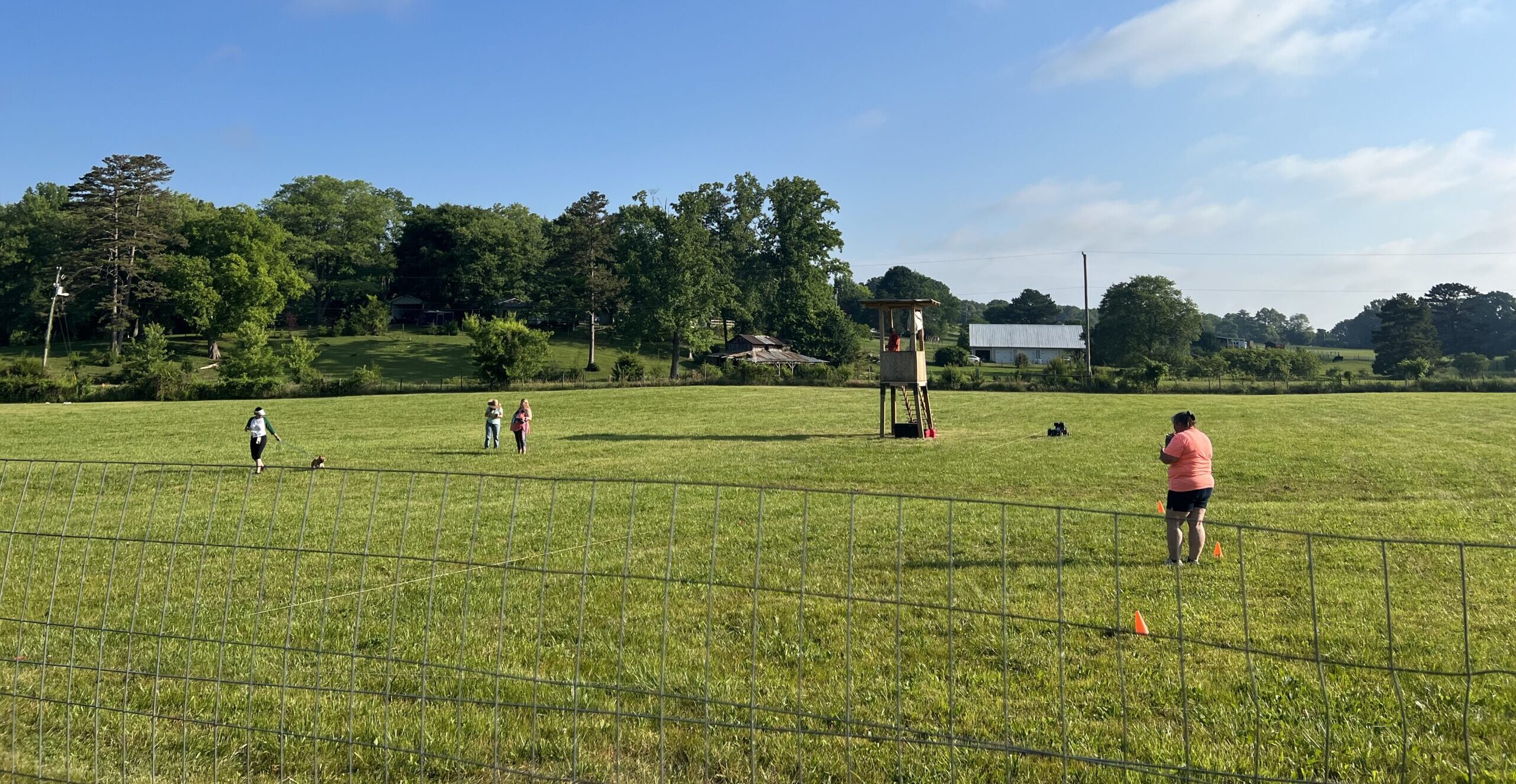 A view of the CAT course. The huntmaster/lure operator is always situated in a high tower similar to this so they can see the course easily. This setup was nice because the course was in a fully fenced area.
Who Can Participate in CATs?
Like Fast CAT, any breed of dog, including mixed breed dogs, can participate in a coursing ability test as long as they are 12 months of age or older. They're a nice option for dogs who like to lure course but can handle a longer course than the 100 yard Fast CAT one. It also shows the dog's desire to chase the lure, since in a Fast CAT, you can essentially just recall your dog to you and they can still pass. That doesn't work in a CAT.
However, I didn't realize that you can "help" your dog a bit if the judges allow it. At a trial, if your dog gives up or comes back to you, they're likely out or won't qualify. When I went to the CAT event, Colombo was super enthusiastic about chasing the lure. However, after a few seconds of chasing, he started coming back to me. It was hot and I think he's somewhat out of shape. I assumed that his run was over, but the judges told me to run out to him and encourage him to keep going. Despite this, he still passed. I talked to another ridgeback owner afterwards who participates in these events and she said it can depend on the judge if they allow any assistance. But it's nice to have the ability to do that, especially if your dog needs a little confidence boost.
A boxer runs a CAT course. Since this dog was a veteran, he only ran a 300 yard course. The 600 yard course continued on to the right side of the field and ended near the start line. The two women watching the dog closely are the judges.
How Are Titles Earned?
It's pretty easy for your dog to earn their first title. They only need three passes under two different judges to earn a Coursing Ability (CA) title. If your dog really likes CATs, you can earn a CAA title if they pass 10 times and a CAX if they pass 25 times.
Colombo earned two passes at the event in June. There's another coursing ability test coming up in October, so I'm hoping we can finish his CA title then. It will also be much cooler at that point, so hopefully that will help.
Have you ever thought about doing a CAT with your dog? Leave me a comment below!