Ah, the spay and neuter debate. There are so many opinions and research supporting all sides – spay and neuter young, wait til the dog is full grown, keep them intact. However, for the most part, in the United States, the general narrative is that you should spay or neuter your dog and you should do it early – around six months or before they go through puberty.
When we got Zara as a puppy, we knew that we wanted to wait until she was full grown and her growth plates had closed before we spayed her. After talking to our breeder and doing my own research, that seemed to make the most sense. We did encounter some resistance from our vet, who cautioned us that we should spay her at 6 months or the risk for mammary tumors would go up. They did not recommend any other options.
According to the American College of Veterinary Surgeons, a female dog has a .5% risk of developing a mammary tumor if spayed before the first heat, an 8% chance after their first heat, and a 26% chance after their second heat. They say that 50% of mammary tumors are malignant but very few are fatal. They are easily felt under the skin and are usually removed through surgery if they do occur.
This makes sense, because a dog that has not gone through heat has essentially not gone through puberty. Therefore, their mammary tissue (breast tissue in humans) has not fully developed. Since Zara did go through puberty, she has more pronounced nipples than a dog who was spayed before having a heat cycle. People often ask us if she's had puppies.
Zara was Spayed after Puberty
Zara had her first heat cycle at 10.5 months and continued to mature until we spayed her when she was fully grown. We felt like waiting until she was fully grown and her growth plates had closed had more long-term benefits and outweighed the elevated risk for mammary tumors. I felt confident with this decision, thinking we had done the best for her by waiting.
And then she developed spay-induced urinary incontinence at 2.5 years old.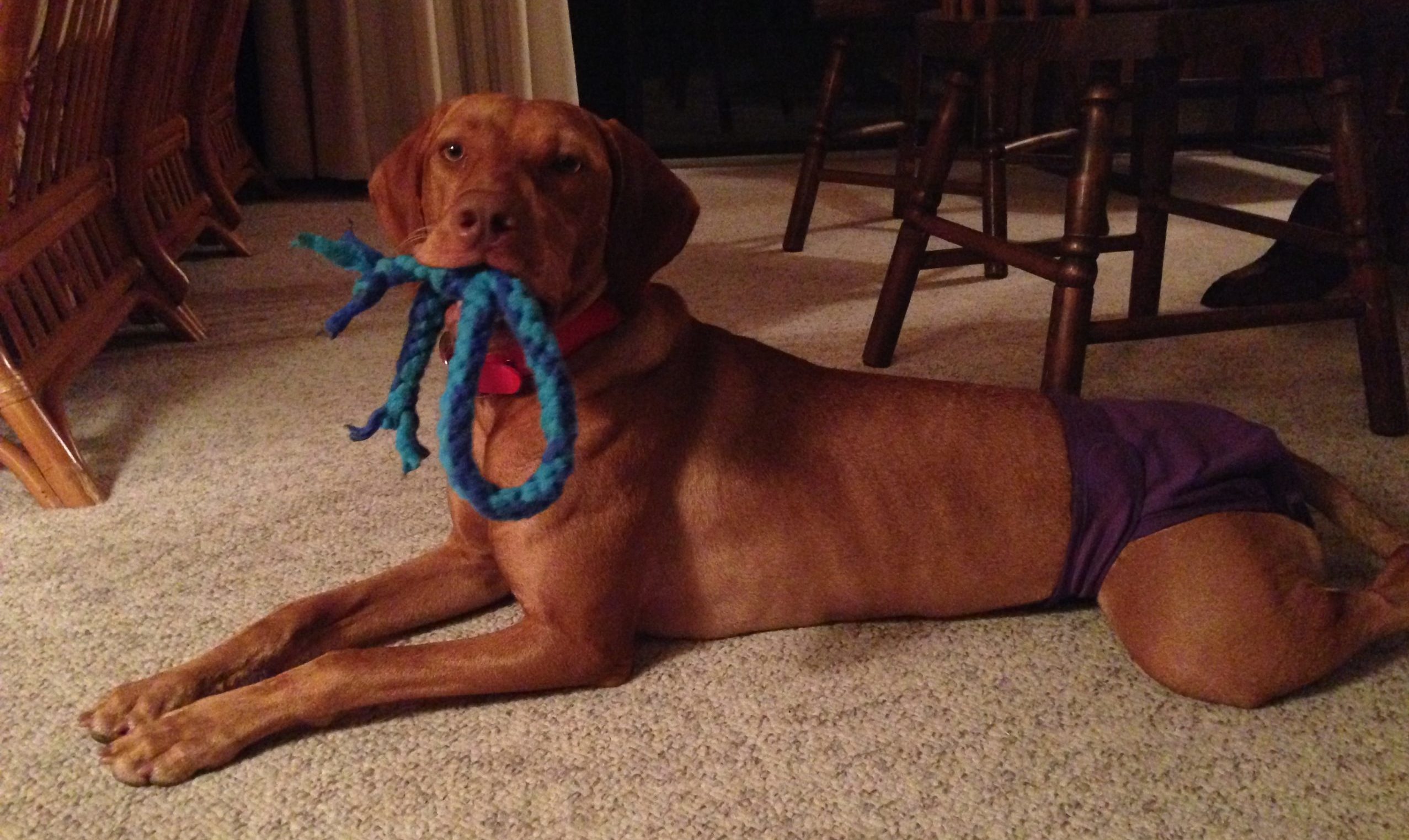 Zara wearing her panties when she was in heat.
Spay-Induced Urinary Incontinence
We knew something was wrong when we kept waking up in the middle of the night to the sound of Zara licking herself. It was really annoying and I thought maybe she was itchy or something. A few days later, we started noticing wet spots in the bed when she woke up. Was it from her licking? Or was she leaking urine? The spots kind of smelled like pee. After some Google research, I saw that it could be a urinary tract infection (UTI) or incontinence. We crossed our fingers that she had a UTI and took her to the vet.
Unfortunately, the diagnosis was spay-induced incontinence. I was distraught. She was so young! And we had waited to spay her! How was this possible? My parents' beagle had developed the same condition, but it happened when she was 11 years old.
After removing the ovaries, a female dog doesn't have the hormones that the ovaries produce anymore. These hormones help keep the bladder sphincter tight. Without them, it can loosen and dogs can leak urine when they are relaxed or sleeping. The recommended treatment for this condition is essentially a hormone replacement. Zara will have to be on the medicine for the rest of her life.
At first, we had a lot of trouble getting the dosage right. She continued to have wetting accidents – on our bed, on her bed, on the couch – it was not fun. The first medicine we tried had some negative side effects. It made her more aggressive to other dogs and caused hair to grow on her belly. After seeing sweet Zara being mean, we knew we had to change it. Eventually, we got her on a dose of DES (diethylstilbestrol) that seemed to work. She currently takes a 1 milligram pill once a week, and fingers crossed, we haven't had any issues in the past four years.
However, who knows what the long term effects of this are. Will it eventually stop working? Will it increase her risk for some sort of cancer? I hope not, but it's hard to say.
After doing more research about spay-induced incontinence, I read that 20% or 1 in 5 large breed (50 lbs or more) spayed females will develop it. Some studies found 30% of large breed dogs had it. That is not a small number! In fact, it's higher than the risk of mammary tumors. But never was this risk mentioned to me by our vet.
An Alternative Procedure – The OSS
In retrospect, I wish we had known about an alternative procedure called the ovary-sparing spay. Instead of a full hysterectomy, which removes the uterus, Fallopian tubes, and ovaries, the ovary-sparing spay (OSS) keeps the ovaries intact, thus leaving the beneficial hormones. The female will not have bleeding during her heat cycles, which removes the hassle of a regular heat, and she is not able to get pregnant. This procedure was never mentioned by our vet, nor was it discussed by anyone I knew at the time. Although not very common in the U.S., there are vets that perform this surgery.
If we get another female dog in the future, I will certainly consider the OSS or simply keep her fully intact. While planning around heat cycles can be a bit of pain, I'd argue that uncontrolled incontinence is more difficult to deal with. Heat cycles happen twice a year for 3–4 weeks at a time. They're easily controlled by the dog wearing panties inside the house. And once the cycle is over, you're in the clear for another 6–9 months. On the other hand, how are you supposed to let your dog on furniture or travel if they have uncontrolled wetting? No one wants their house to smell like pee. Granted, that is not our situation. But if the DES stops working at some point, it's going to be very stressful.
I am thankful that the DES has allowed Zara to lead a normal life. But I also wish we had been made more aware of the risks of a traditional spay. I think vets should provide their clients with the benefits and risks for a range of options: traditional spay, OSS, or keeping the dog intact, if the owner is responsible.
Have you had issues with your female dog after having her spayed? Let me know in the comments.