This post contains affiliate links. I get commissions for purchases made through links in this post. 
As I mentioned in my last post, I started an online canine fitness class last week to give me something new to do during this coronavirus quarantine. This coincides nicely with the home dog gym I recently set up in my house!
My Home Dog Gym
Typically when I've done training with the dogs at home, I just did it in the living room or bedroom, because these are large, carpeted areas. A few weeks ago, I decided to use our spare bedroom to set up a dedicated dog gym/training space. There's a small business near us called Woofinwaggle, which is a dog training facility/gym/play area/spa. We've gone there many times to play in their ball pit (yes, a ball pit just for dogs!) when the weather is bad. They are moving locations in a few months and switching to being only a spa and retail store. Because of this, the owner has been selling off most of their dog fitness equipment.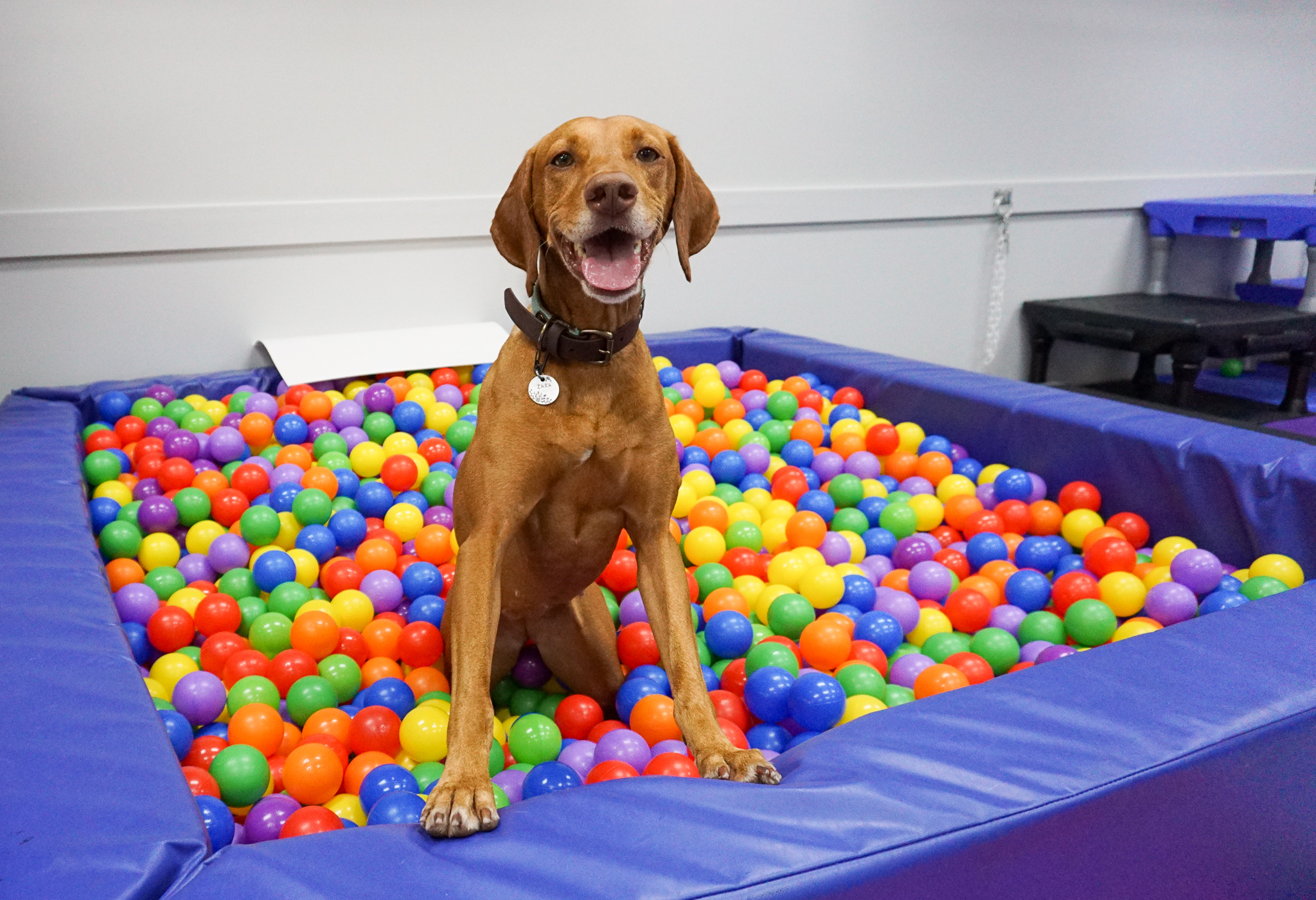 The ball pit at Woofinwaggle
I was able to buy a large used Fitpaws peanut and enough foam puzzle piece matting to cover the floor. The room I'm using has hardwood floors, which are slippery for the dogs. The matting provides good traction and cushioning. Although with some other items I had around the house, I was able to build out a "starter" home dog gym. I say "starter" because I don't have a lot of specialized equipment right now. But I can still do a lot with what I have.
Below are some photos of my home dog gym. Here is a list of the items I have in it:
Fitpaws peanut
Two Swiss exercise balls
Two place boards
A foldable dog crate (for one dog to be in while I'm working with the other)
Two pillows (unstable surface)
A board/ramp (really a sturdy plastic lid from a large storage bin)
A small table (to sit my treats, phone, laptop, etc. on)
A yoga block
A yoga mat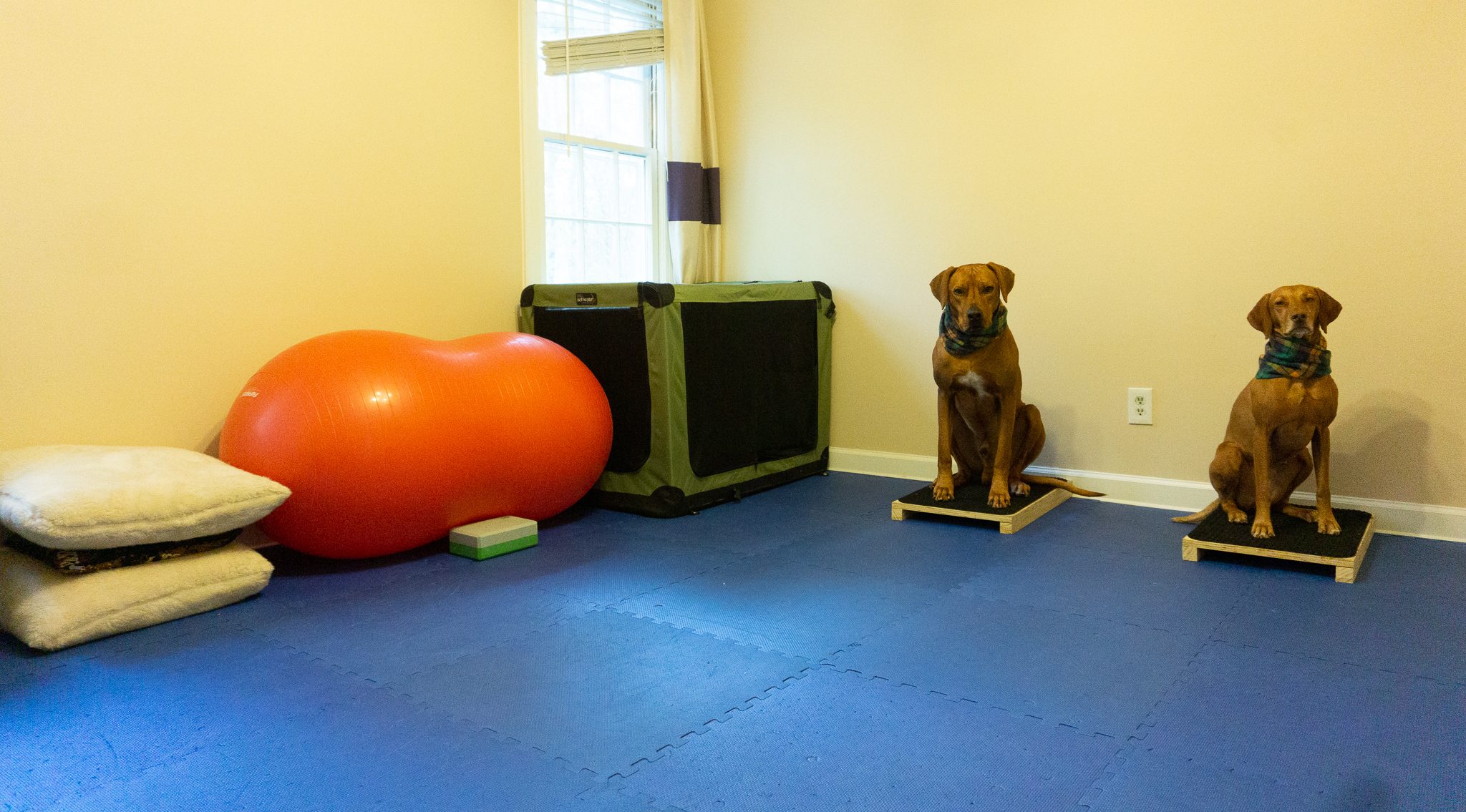 Zara and Colombo in the home dog gym. They are sitting on the place boards.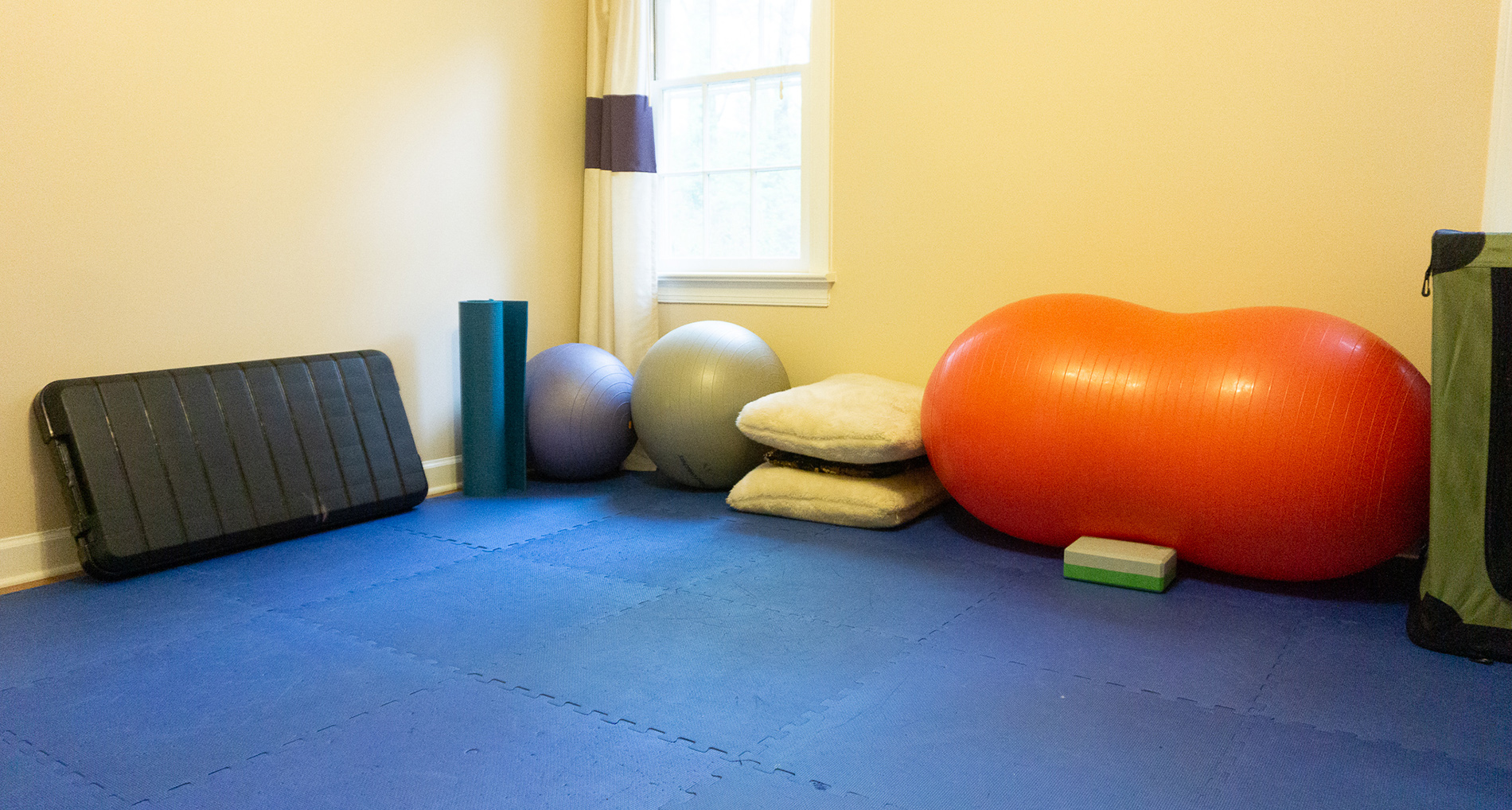 The equipment I have – pretty basic for now, but you can do a lot with it. The walls in this room are bare right now. My goal is to put up the ribbons and awards I've won with the dogs.
Setting Up a Home Dog Gym: What Are Your Goals?
When figuring out which items you'd need in your gym, it's helpful to think about your goals. Are you looking for your dog to do general conditioning exercises? Lose weight? Train for a specific sport like agility or conformation?
I'm planning on using my equipment to work on general conditioning exercises for my dogs. Since they both participate in dog sports and are active, I want to keep them in the best shape possible. I also want to work on refining Colombo's free stack for conformation and proof both of them on the "place" command. I could even use the space to do my own workouts, now that I can't go to the gym due to the coronavirus!
Space Considerations
First of all, you don't need a dedicated room to set up a gym space for your dog. You can easily use the corner of the living room or some open space in the basement. You could store your equipment in a closet and bring it out whenever you want to train.
I'd recommend using foam matting or a secure rug if you don't have a carpeted space. You don't want your dog slipping around on hardwood or tile floors and injuring themselves.
If you have more than one dog, and only want to train one at a time, you'll need a way to contain the one that is not working. Right now, I'm using a travel crate for the waiting dog. You could also use a place board if your dog knows the "place" command well. Mine are not reliable enough to stay on place for an extended period of time, so that's why I have the crate. My goal is to use place instead of the crate eventually. If you have a secure way to leash your waiting dog to a wall or a sturdy piece of furniture, you could do that too.
Equipment Ideas
If you are looking to do general conditioning exercises, you probably want a few basic pieces of equipment.
You can certainly substitute household items if you don't want to invest in name-brand canine equipment. You may be able to find some of these items used, like I did.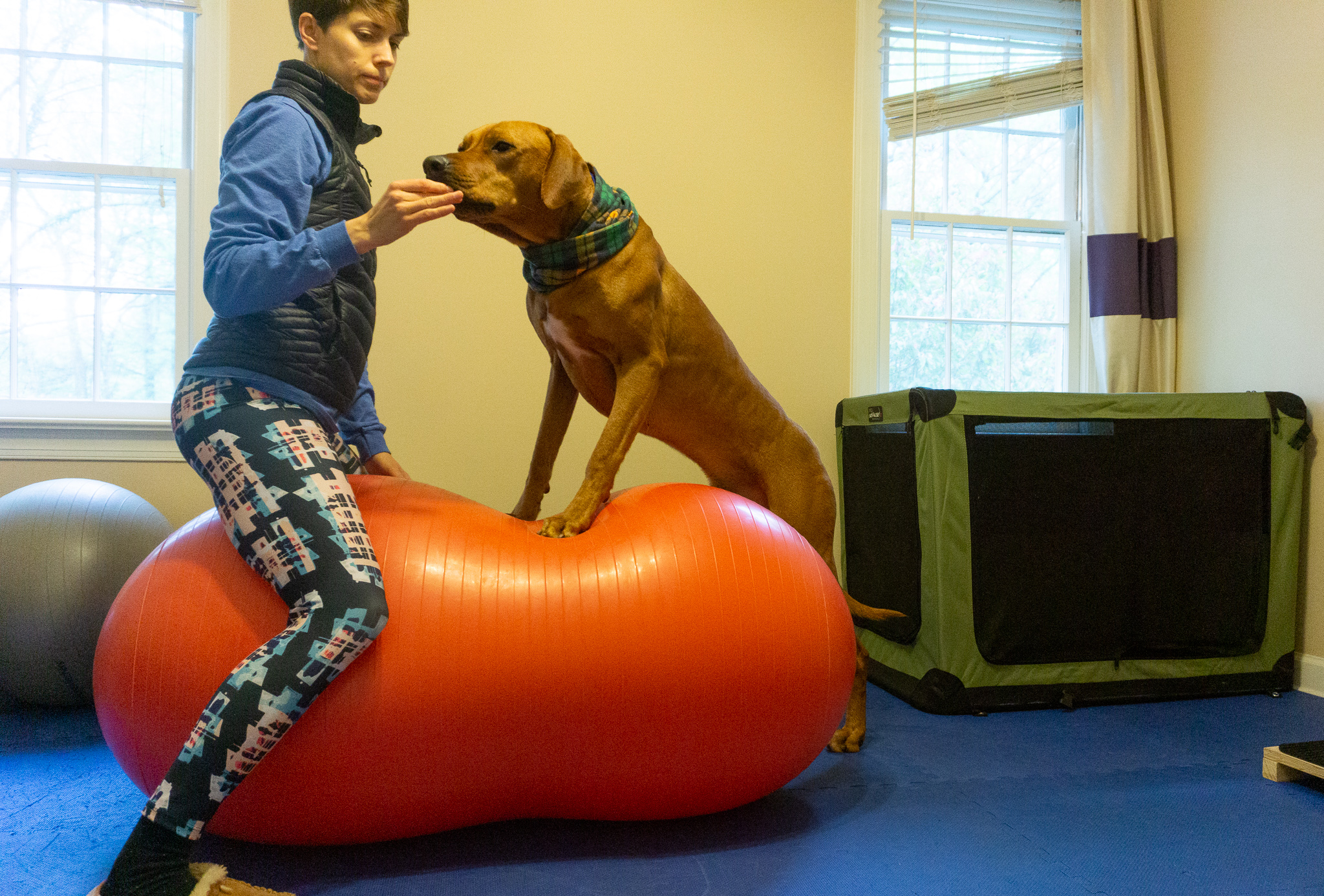 Colombo on the Fitpaws peanut. Both dogs are obsessed with getting on this ball!
Specialized/Sport-Specific Equipment
Depending on your goals, you may want to add some equipment that is specific to a particular dog sport. For example, if your dog is training to compete in agility, you could add a range of home agility equipment to your indoor dog gym or outside in your yard. You might have a tunnel, jumps, weave poles, an A-frame, a teeter-totter, and a platform. Amazon sells a bunch of these items. They can be fun and build confidence for dogs that aren't agility competitors too.
Another item you could consider is a treadmill. When we lived in Virginia, we had an old treadmill that I trained Zara to walk on. It was very useful for rainy days! You need to make sure that the bed of the treadmill is long enough for your dog's stride. If you have a small dog, a human treadmill is probably fine. Larger dogs most likely need a dog-specific treadmill like a Dog Pacer. This type of treadmill has a longer walking surface which allows larger dogs to extend to their full natural gait. If a dog has to shorten its stride on a treadmill, it may alter its stride off the treadmill, which is the last thing you want, especially in dogs that compete in sports like conformation.
Using the Gym
After setting up the dog gym, I've noticed that my dogs are very interested in it, especially Colombo. He will go in there at random times just to sniff around. I think they both enjoy the exercises we've been doing. When we are finished exercising, I put all the equipment back against the wall and lead them out of the room. Make sure your equipment is secured so your dog doesn't try to use it when they're unsupervised. Both of mine love the peanut so much that they will start trying to jump on it as soon as I bring it out. This could be dangerous if I'm not holding it securely.
My next step is to put some decorations on the walls. I'd like to add the ribbons and certificates we've earned for hunt tests, conformation, Fast CAT, and dock diving.
Have you considered setting up a home dog gym? What kind of training equipment do you have? Leave me a comment below. :)