My Involvement with Dog Organizations
I've been a member of NAVHDA, the North American Versatile Hunting Dog Association, for two and a half years now. Anyone who knows me is aware that I'm very involved in my local Tarheel chapter and I greatly enjoy the training days and spent a considerable amount of time last year training for the Utility Test with Zara.
I also a member of a local vizsla club, the Conestoga Vizsla Club (CVC), and design the club's newsletters. CVC puts on a range of AKC-affiliated events including field trials, hunt tests, and conformation specialities.
I participate in AKC conformation shows with Colombo and follow several conformation groups on Facebook, which have lots of useful information about the world of dog shows.
In most of these venues, entries are decreasing, the participants are getting older, and volunteers are getting scarcer by the year. On the Dog Show Forum Facebook group, people are frequently lamenting about the lack of interest in conformation and the reasons behind it. On a more local level, the people who coordinate the CVC field trial are in their 70s and would like someone else to step up, but there isn't anyone interested to do so. Entries in the field trial are also declining. CVC didn't host their usual spring hunt test this year because there was no one to put it together. Unless younger people start participating in and volunteering at these types of events, it seems like their decline is inevitable.
Except for NAVHDA.
NAVHDA's membership is increasing. Participation in their tests is growing. There are more and more people at every NAVHDA training day I attend. This made me start thinking: why is this? Why is NAVHDA different from AKC hunt tests and field trials and even unrelated dog sports like conformation?
NAVHDA Holds Frequent Training Days
All local NAVHDA chapters host regular training days, where members get together to train their dogs. Our chapter's training days are held monthly for the most part, although there are several months that have another event (test, fundraiser, etc) instead of a training day. I think this is the key that sets NAVHDA apart. For people participating in hunt tests and field trials, there isn't a similar system of established gatherings. Some local breed clubs may host training days or fun days, but from what I've heard, it doesn't seem to be the norm.
The frequent training days allow people to make connections with others and become friends. When I first joined NAVHDA, this was the main thing that attracted me, because at the time, I had nowhere else to train with live birds.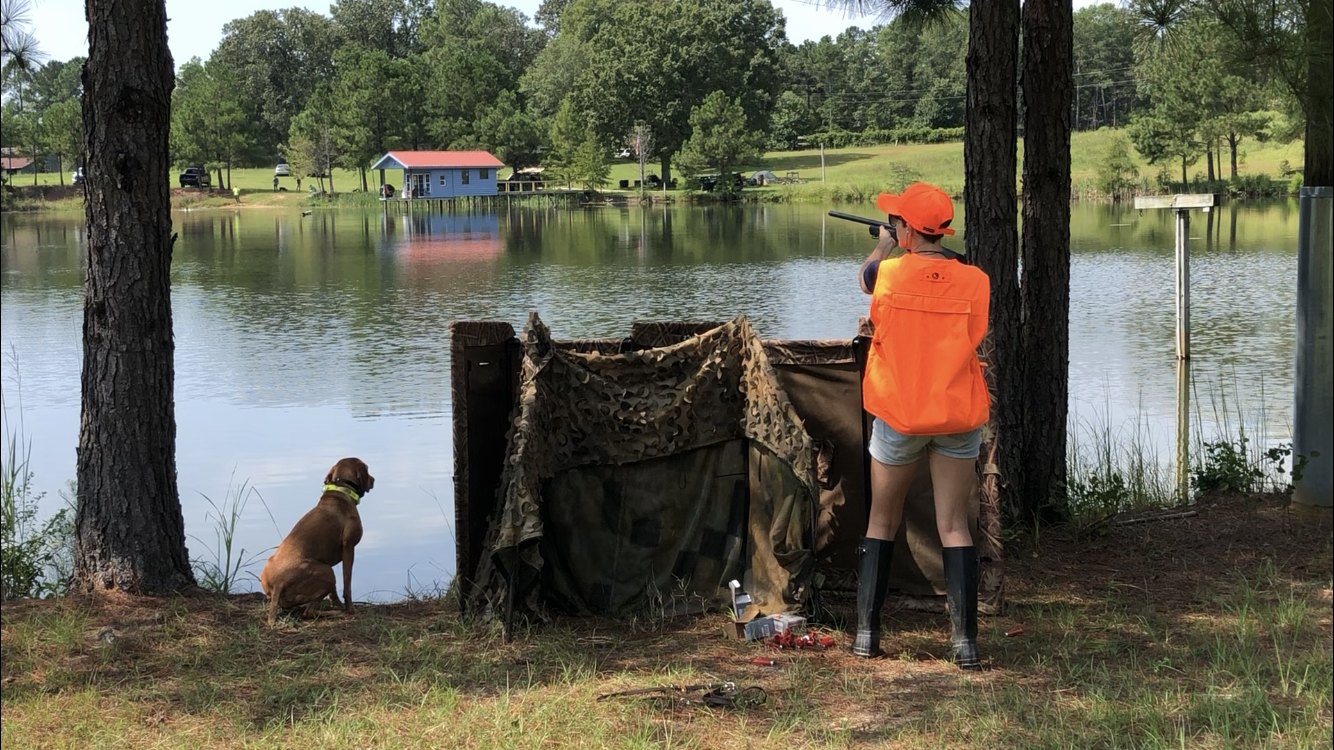 Zara and I practicing the "steady by the blind" sequence that is part of the Utility Test at a NAVHDA training day.
NAVHDA's Tests Are Not Competitive
Field trials and conformation shows are competitive events. You and your dog are competing against everyone else. All of NAVHDA's tests, from Natural Ability to the Invitational, are judged against a standard. AKC hunt tests are the same way. In a venue like this, it makes sense that people would be more encouraging to each other, because they have nothing to lose if someone else's dog does well. In a conformation show or field trial, if someone else's dog wins, I may be happy for them, but it still means that mine didn't win.
NAVHDA's Tests are Complex
Field trials and hunt tests involve one thing – field work. While it is a lot of work to train a bird dog to do well in the field, at the end of the day, it's a doable task with dedicated training. In contrast, NAVHDA's "finished dog" Utility Test involves field work plus a water retrieve, heeling, high-level obedience when the owner is out of sight, and an independent duck search. Even Natural Ability, the "intro" test for dogs up to 16 months, includes water retrieves and tracking a pheasant in addition to field work.
There's a lot of moving pieces, and I think it motivates people to keep attending the monthly training days, so they can get help with the various parts of the test. The more they attend, the more connected and committed they become to the NAVHDA training group.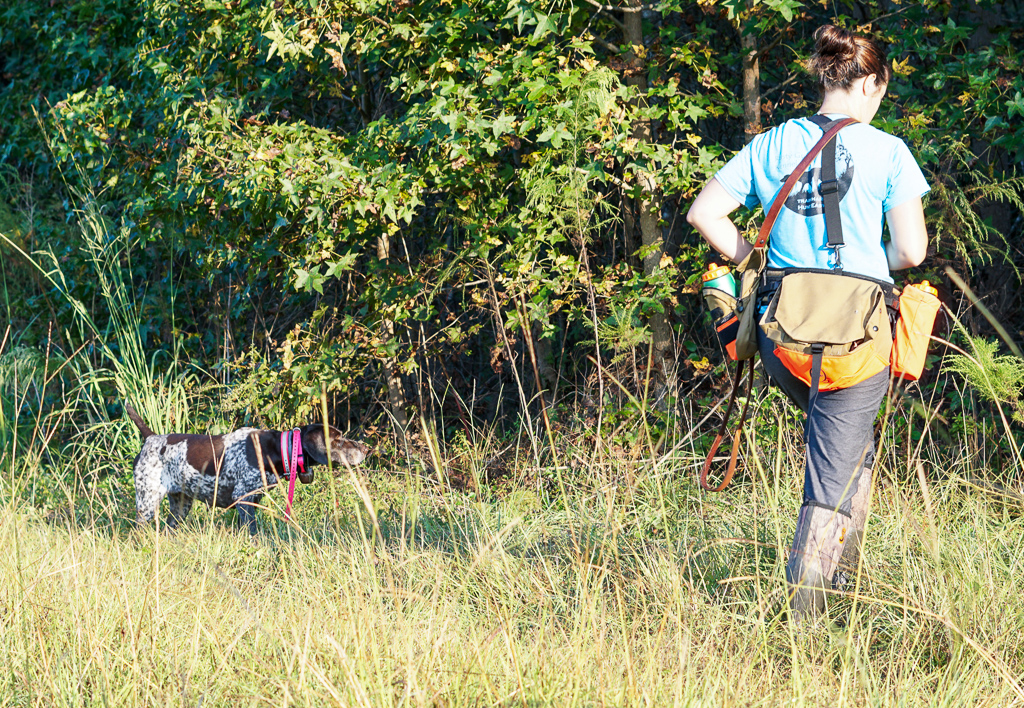 Field work at a NAVHDA training day
NAVHDA Welcomes A Variety of People and Dogs
In my experience, NAVHDA members have been welcoming to people with various goals and breeds of dogs. When I first joined, I had no intention of training for the Utility Test. I start attending solely to work on Zara's steadiness so we could participate in retrieving field trials. The other members were okay with that. During the training days, you'll often hear people ask each other: "What are you working on?" Or: "What are your goals for today?" This is different from someone telling you what to do or insisting that the training must be done a certain way.
While not extremely diverse, my NAVHDA chapter has more diversity in ethnicity, gender, and age than I've seen at any other field event I've been to. To be honest, most of those events are full of old white men, with some old white women sprinkled in. I have nothing against old white men. But if you're not an older white man, it can be downright intimidating when you show up to one of these events and you're the only one who looks different. I like the fact that NAVHDA has a strong population of younger people, including younger women!
There have also been times when people have come to the training days with Labrador retrievers, which are not one of NAVHDA's "official" breeds. But that doesn't mean they are turned away. Instead, they were welcome to participate in the various activities.
NAVHDA Maintains a Searchable Registry
Part of NAVHDA's mission is to support responsible breeding of purebred dogs. NAVHDA maintains a registry of its recognized breeds and allows anyone to search their database for pedigrees and test results. This helps breeders analyze potential pairings and make better decisions about how to breed their dogs. It is also helpful for potential puppy owners when deciding what they want in their next dog. This is not something that the American Kennel Club offers.
Check Out Your Local NAVHDA Chapter
All of these things contribute to make NAVHDA a unique organization. I've had a great experience with NAVHDA and I'm looking forward to being involved for many more years.
If you have a bird dog, I encourage you to check out your local NAVHDA chapter. You can find a chapter near you by visiting NAVHDA's website and looking at their chapter locator map.
Are you involved with NAVHDA? If so, what do you think makes NAVHDA different from other dog organizations? Let me know in the comments!