My Rhodesian ridgeback was bred to hunt lions. He weighs 95 lbs and enjoys jumping up on our glass front door and scaring visitors. But at night, he wears pajamas.
Yes, that's right. Fleece dog pajamas. They cost $50 and we had them custom-made in England.
Why Does My Dog Need Pajamas?
We brought Colombo home as a puppy in June 2017. Throughout the whole summer and into the early fall, he slept in his crate without any issues. Then, in October, as it got colder, Colombo started whining in his crate in the middle of the night. The first couple of times this happened, I thought he had to go outside to pee. But that was not the case. He was also not whining to get out of the crate. By that time, he was six months old and very used to being in his crate overnight.
I quickly realized that he was getting cold. He has short hair and not a lot of body fat. As soon as I covered him up with a blanket, he would stop whining and go back to sleep. However, this was happening every night and I really didn't want to be getting up every night (I am very particular about getting my sleep!). Even if I'd cover him up when we first went to sleep, he'd reposition himself throughout the night and would not be able to get under the blanket again.
Possible Solutions?
We didn't have this problem with Zara because she has full range of the house at night and typically sleeps under the covers in the bed in the winter. But we weren't about to allow our quickly growing ridgeback puppy in the bed too. Even with a king-sized bed, we'd knew it be a tight fit.
We could have tried to train him to a cave bed (see photo below), but I didn't really trust that he would stay in that and not try to get into our bed. Given that he was still a puppy, I also didn't trust him to eat the cave bed in the middle of the night, haha.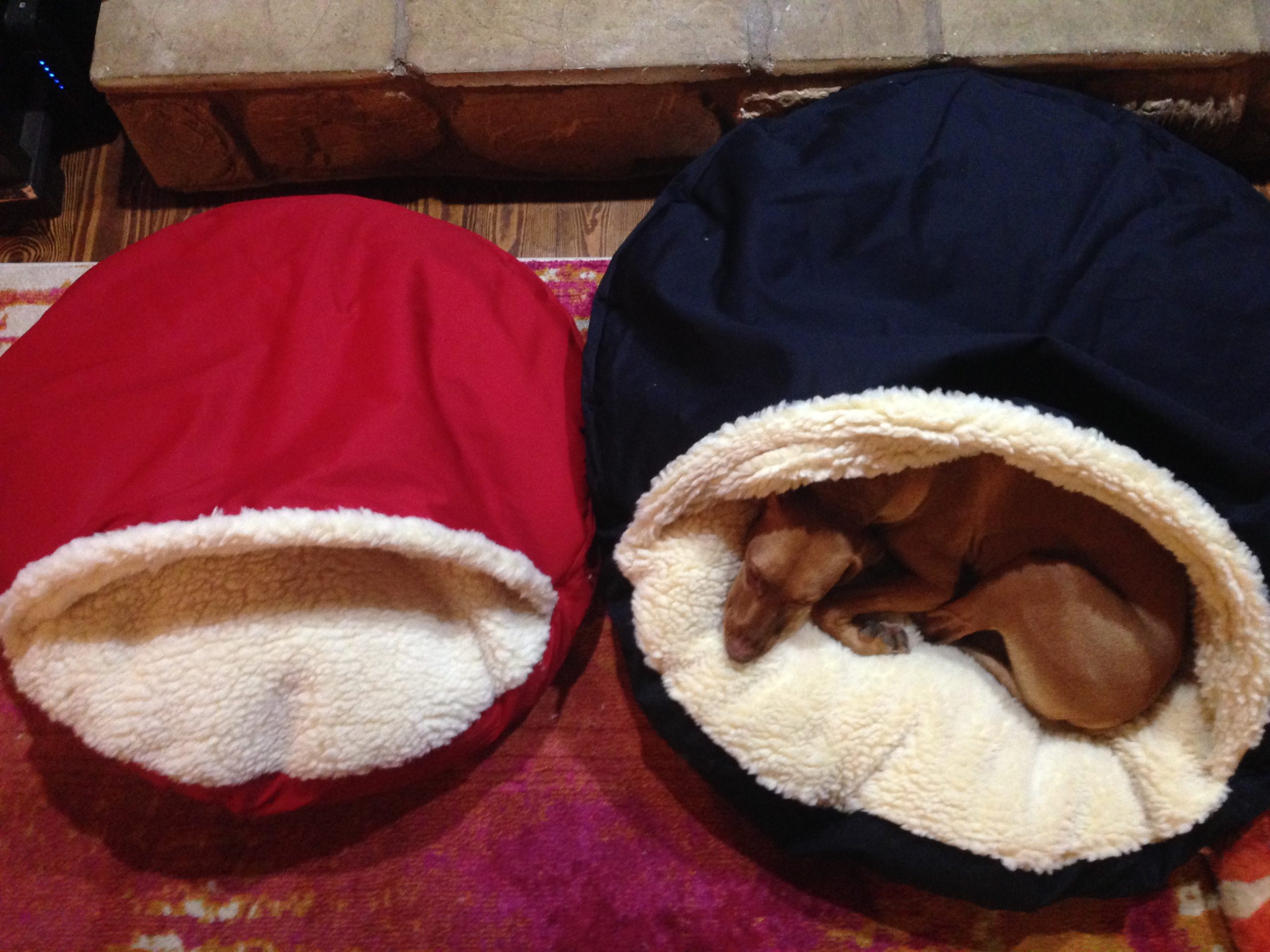 Two Snoozer cave beds. Left is a large and right is an extra large. We bought the extra large for Colombo, but of course Zara quickly claimed it as her own.
Dog Pajamas Were the Answer
After a few weeks and some Google searching, I decided that Colombo needed a pair of dog pajamas. I found a vendor on Facebook – Kim's K9 Fleeces – that made custom dog pajamas and coats. Even thought she lives in England, the cost was similar to other US-based vendors I found on Etsy, and she had better patterns. Since Colombo was still a puppy, I based the measurements on the size of his dad and had her add a few inches, hoping that he would grow into them and they would last a while.
Apparently Colombo's Whole Family Wears Pajamas, Too
When I asked Colombo's breeder for his dad's measurements, she told me that both his parents wear pajamas at night too! At the time, she was planning to get his sister (littermate) a pair as well. That winter, at least three of his other littermates got them as well. :) So it turns out that our ridgeback isn't the only spoiled, needy creature out there.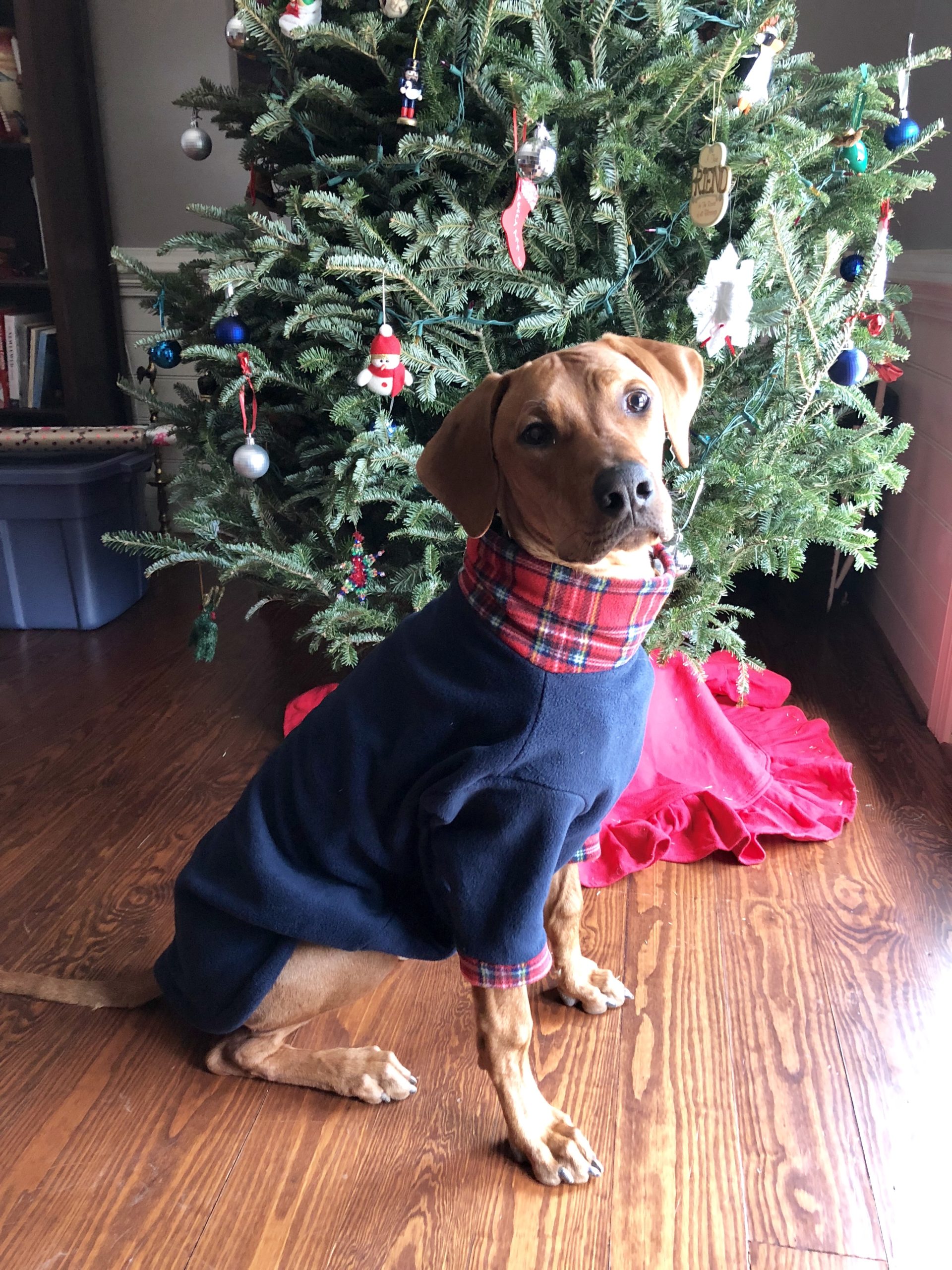 Colombo wearing his dog pajamas when he was eight months old.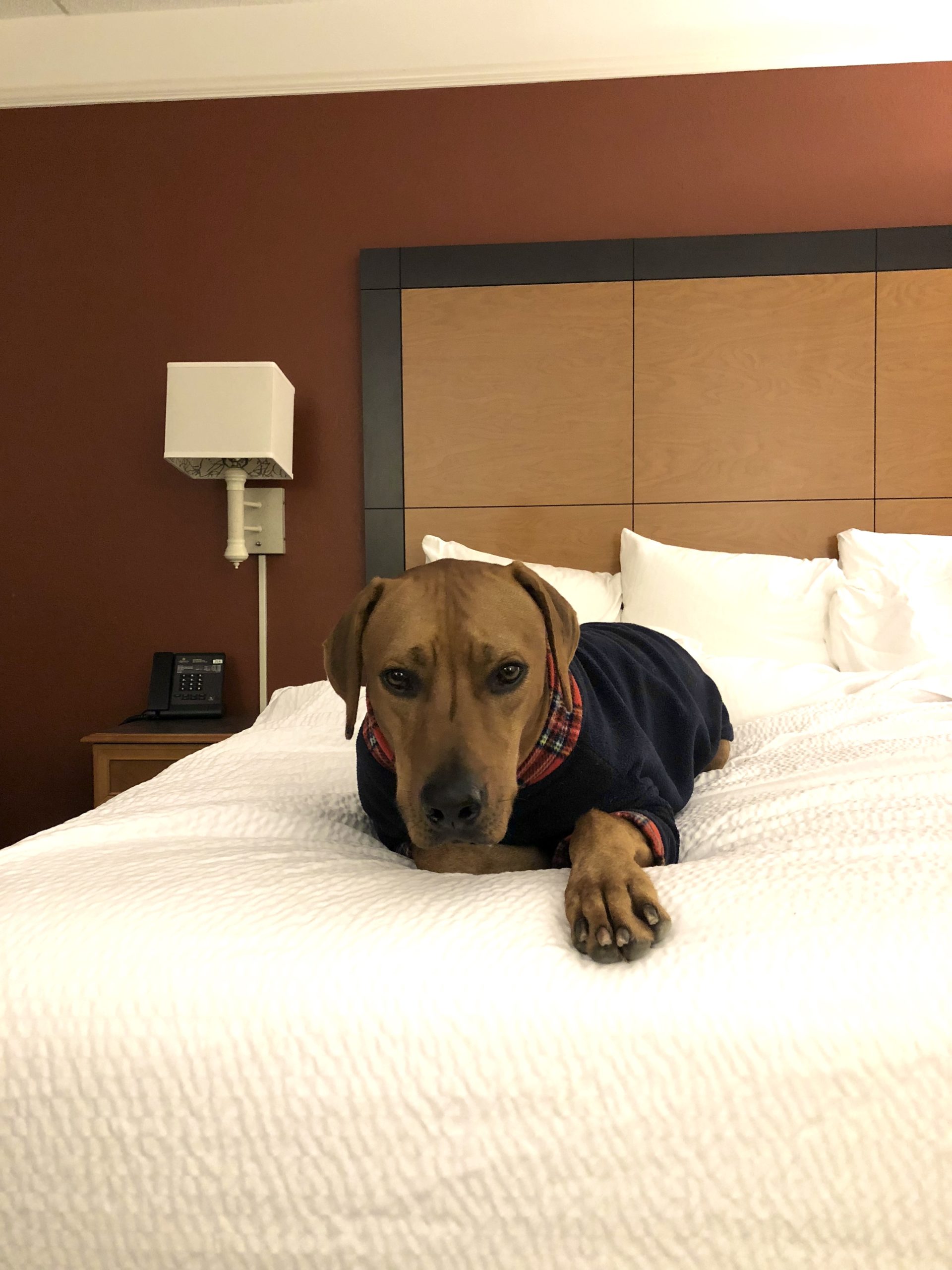 Colombo looking comfy in his pajamas at a hotel when we were traveling for a dog show.
Colombo really likes his pajamas. He happily gets in them every night and lifts his paws up so I can put them in the sleeves. He knows what the word "pajamas" means, too. One time we were traveling for a dog show and it was very cold. We had gone on a hike earlier that day and were back in the hotel room, trying to get warm. He was laying on the bed. "Pajamas?" I asked. He wagged his tail and jumped off the bed. I put them on him and he got back on the bed, cozy and ready for a nap.
Next Winter = New Pajamas!
Now that it's mid-March, it's gotten warm enough that Colombo doesn't need his pajamas at night anymore. I need to wash them and put them away until next fall. We still have the same pair that I ordered in 2017 – that means they've lasted three winters! I highly recommend Kim's K9 Fleeces for their quality. The fleece is starting to pill though, so I think I will order Colombo a new pair next fall. I will either order from Kim again or I may order from Threadz N Tails – she makes custom fleeces as well and they are really cute!
Does Your Dog Wear Pajamas?
So tell me, does your dog wear pajamas at night? Let me know in the comment section below!