Here in the southeast, field trial season is about to start in full swing and I've spent the past few weeks trying to plan out which trials I am going to enter. As I mentioned in a previous post, field trials for pointing breeds run from October to April here. If you're serious about running your dog in multiple trials, then you need to plan ahead. Most of the trials around here fill very quickly and end up with waitlists. It's important to know which trials you want to enter so you're ready to send in your paperwork and entry fees once they open.
What Are Your Goals?
There are plenty of things to consider when mapping out a field trial season, which I will cover below. But I think the most important factor to consider is your goals, because this will often guide decisions about the other factors. How old is your dog? If you have a puppy and it's her first season, maybe your goal is get her used to the field trial game, expand her range, and have her focus and not try to play with her bracemate during the runs. Maybe you have a two- or three-year-old dog who is running in gun dog stakes for the first time. Maybe your goal is to get around clean in as many stakes as possible. Or maybe your dog is at the height of her career and you are planning on entering your breed's national field trial or the prestigious all-breed AKC Pointing Breed Gun Dog Championship. Then your focus this season would be to prepare for that large event.
How Many Trials Do You Want to Enter?
The answer to this question is a good place to start after you decide on your goal(s). You are probably somewhat limited by time, budget, and how much spacing you like between trials. As I mentioned in my post about the Field Trial/Hunt Test Lifestyle, I don't like to run multiple trials back to back. Occasionally, I will run back to back weekends, but I've found that I usually want a break from traveling and it's too much to do more than two trials in a month. I also can't afford to go to every trial that's within a reasonable driving distance. If I was retired and had my own RV, I may go to a lot more trials.
Starting this weekend, I have four trials that I plan to go to in the next two months:
February 10–12
March 3–5
March 24–26
April 7–9
While there are a few more in the area between those dates, these are spaced out enough that Zara and I will have time to rest and do any necessary training between them.
What Are the Grounds Like?
Even after running Zara in field trials for less than two seasons, I've realized that the layout of the grounds make a big difference in how your dog performs. If you've never been to a certain club's event before, it's worth going to check it out for yourself. However, you'll probably develop certain preferences after attending a few trials.
For Zara, I prefer courses that are more wide open, without a ton of cover or thick trees. With her history of training for NAVHDA and hunt tests for many years, I've found that she often gets caught up in thick cover and will try to thoroughly hunt all of it instead of running bigger and staying ahead of me. If the grounds have more open areas of mowed grass, she'll range further. I think this is partially because she can see me for a longer distance too. Some field trial courses are tight, with a lot of turns, and it can be easy to lose your dog if their tendency IS to run big and not check in as much. If that's the boat you're in, you may want to avoid grounds like that.
When thinking about the grounds, the location also matters too. Even if I love the way a certain property is laid out, it's going to be more tempting to go to a trial that's held two hours away than one that is held seven hours away.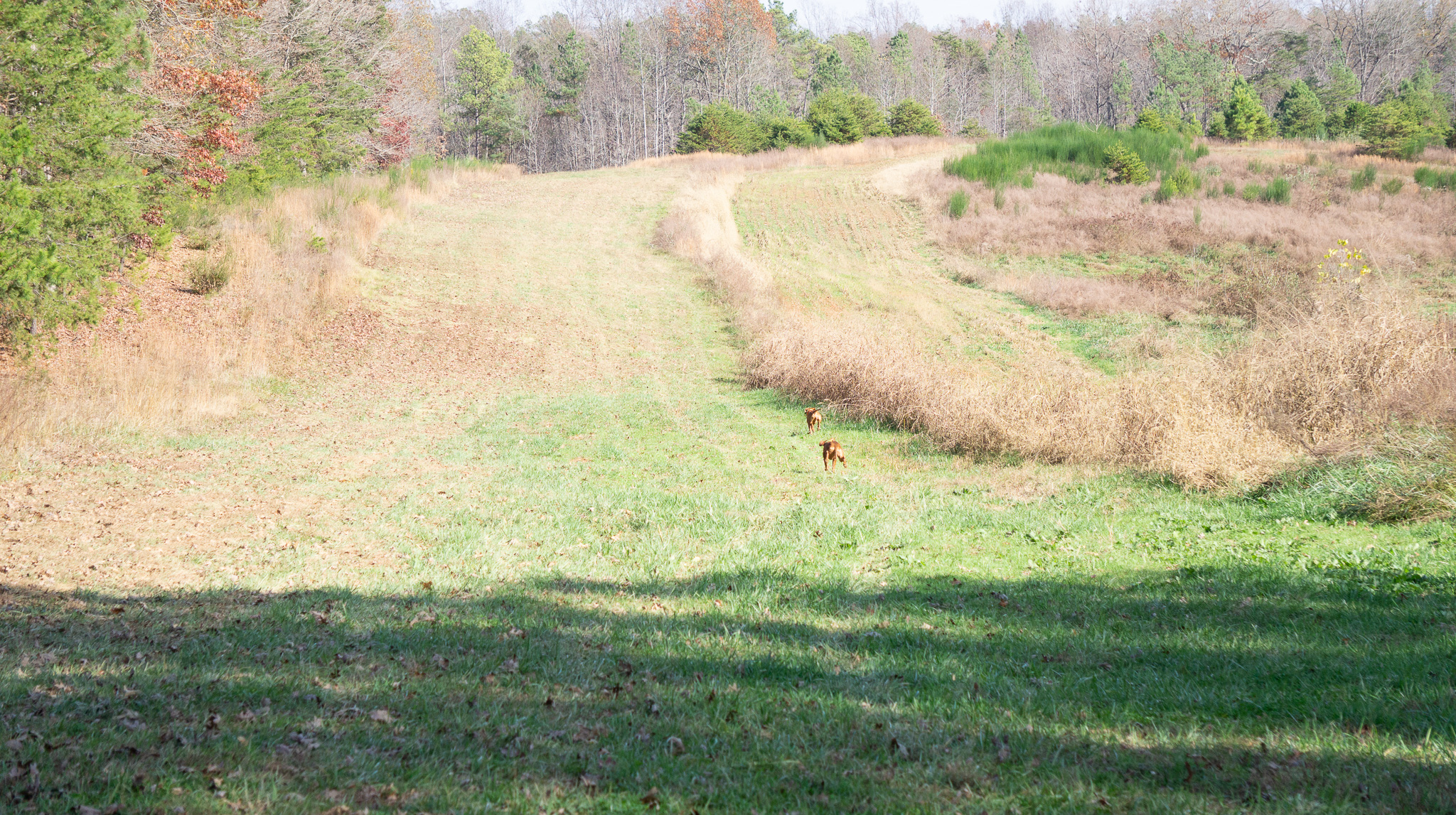 This was the breakaway for the Vizsla Club of America's 2022 National Field Trial held at Slate River Farm in Dillwyn, VA. The open lane makes it easy for the dogs to run straight out in the beginning.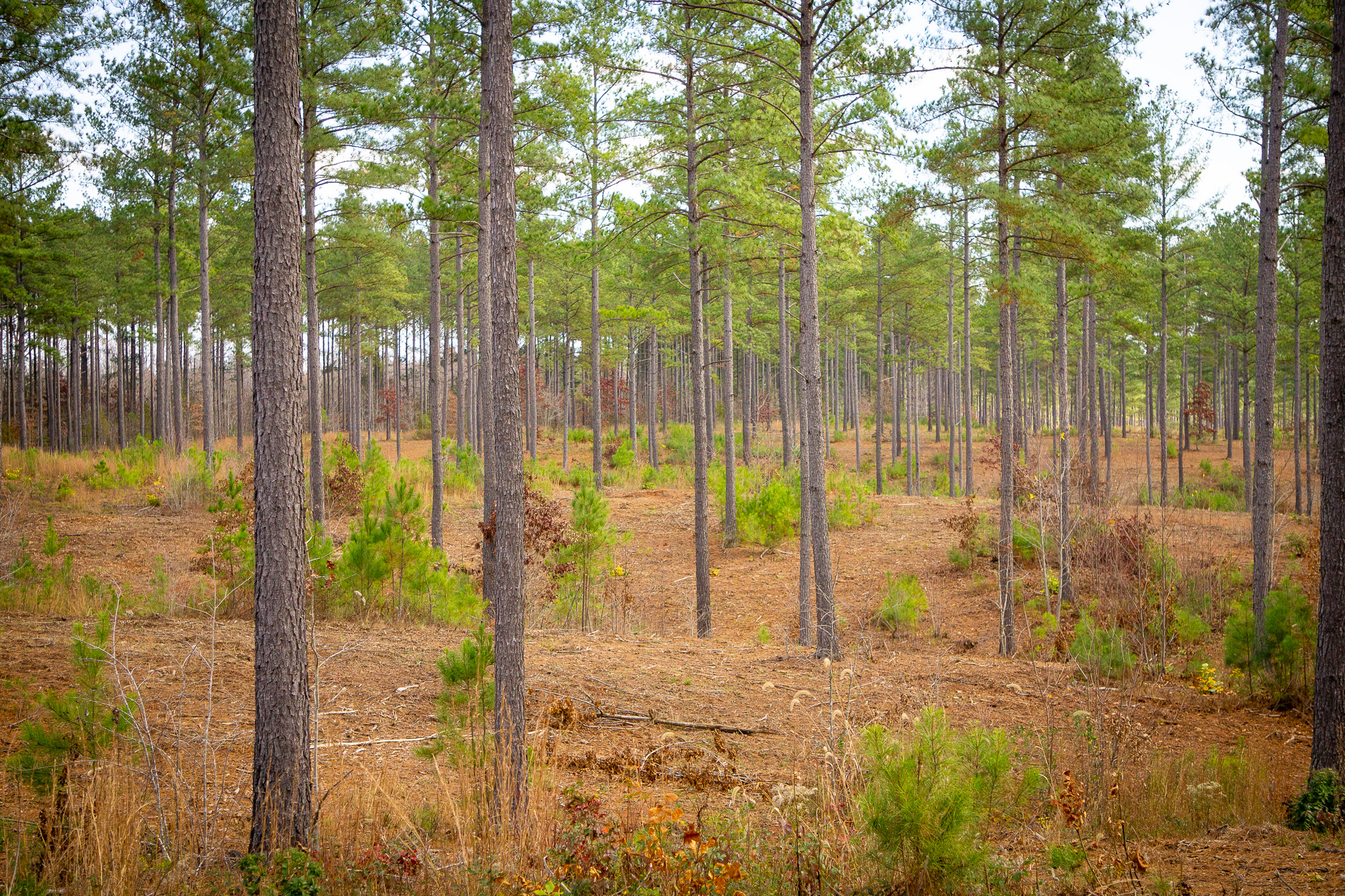 Another shot taken at Slate River Farm – old pines without a defined course through them.
What Stakes Do You Want to Enter?
When mapping out your field trial season, you'll want to think about which stakes you want to enter. Again, this depends on your goals and your dog's strengths and weaknesses. If your dog is just starting out in Gun Dog stakes and doesn't have placements, you'll have to chose the non-limited stakes until you earn a placement. (Limited Stakes like Amateur Limited Gun Dog and Open Limited Gun Dog are "limited" to dogs that have won a placement previously in a Gun Dog stake or placed first in an Open Derby stake).
Otherwise, you'll want to think about your dog's strengths. Is he or she a solid retriever? If so, then entering retrieving stakes may give you a slight advantage. But if your dog doesn't have a solid retrieve yet, you probably want to avoid those stakes. (Some breeds, like pointers and setters, don't require retrieving credits to earn a Field Championship title so some people may chose not to teach the dog to retrieve at all). What kind of points does your dog need? If you have finished your dog's Amateur Field Championship (AFC), and you want to focus on earning a Field Championship (FC) title as well, you'll probably want to only enter Open stakes for the time being.
Do You Prefer Walking or Horseback Field Trials?
As I mentioned in my post about Walking in AKC Horseback Field Trials, you can walk in a horseback stake and be successful. On the other hand, you cannot ride a horse in a walking stake. Some dogs are better suited to one or the other. If your dog is used to you handling off horseback, it may be difficult to transition to foot handling because A) your dog won't be able to see you as easily when you're not several feet off the ground, and B) you probably won't be able to keep up with them as easily. The reverse applies too. In my area, horseback trials are much more common, but depending on where in the country you live, walking trials may be more prevalent.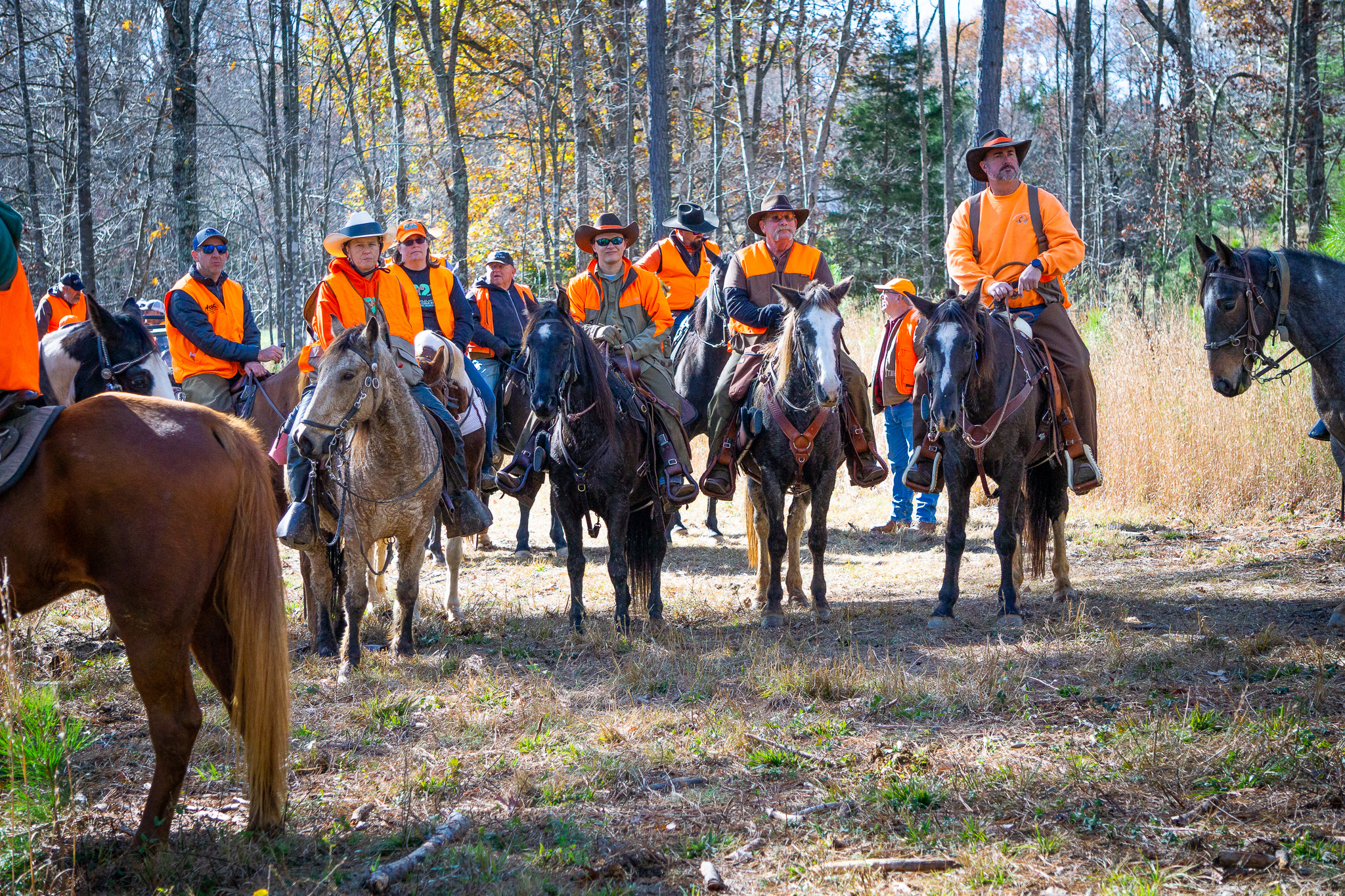 The horseback gallery at the 2022 Vizsla Club of America National Field Trial. This was taken before the running of the second series in the National Amateur Field Championship.
Do You Enjoy the Atmosphere of the Club and Its Members?
The field trial world is very small and if you get involved, it's likely that you will start seeing the same group of people at many of the trials you attend. This is one of the reasons you may chose to attend a certain trial – if your friends are going to be there, it's certainly more fun! Also, some clubs have more of a welcoming and enjoyable atmosphere than other clubs. There's a specific club in my area that blew me away with their friendliness and hospitality the first time I attended their trial. Even if the stakes or the grounds weren't exactly what I wanted, I would definitely consider going to future events because I had such a good time. Field trialing is supposed to be fun, right?!
Who Are the Judges?
I don't want to get too political here, but it's a fact that field trial judging is somewhat subjective. It is not standards-based like a hunt test. After attending a few trials or talking to more experienced people, you may start to see that certain judges have certain preferences. If that's the case, then you probably want to enter under judges that like your dog's style and the way it runs. I see people do this all the time in the conformation world. I don't put too much stock into picking judges, but I think it can be a factor sometimes.
What is Your Weather Preference?
The timing and location of a trial can sometimes dictate how the weather will be. For example, a February trial is much more likely to be cold than an April trial in the same spot. Do you or your dog prefer to run in colder temperatures or warmer temperatures? While I don't love freezing cold weather, Zara generally runs better and stronger when it's cooler outside. If the temperature is above 60 or 65 degrees, I think her performance suffers. Some of this is where you end up in the running order (early morning or middle of the day?) and you definitely can't always predict the weather. But again, another factor to consider.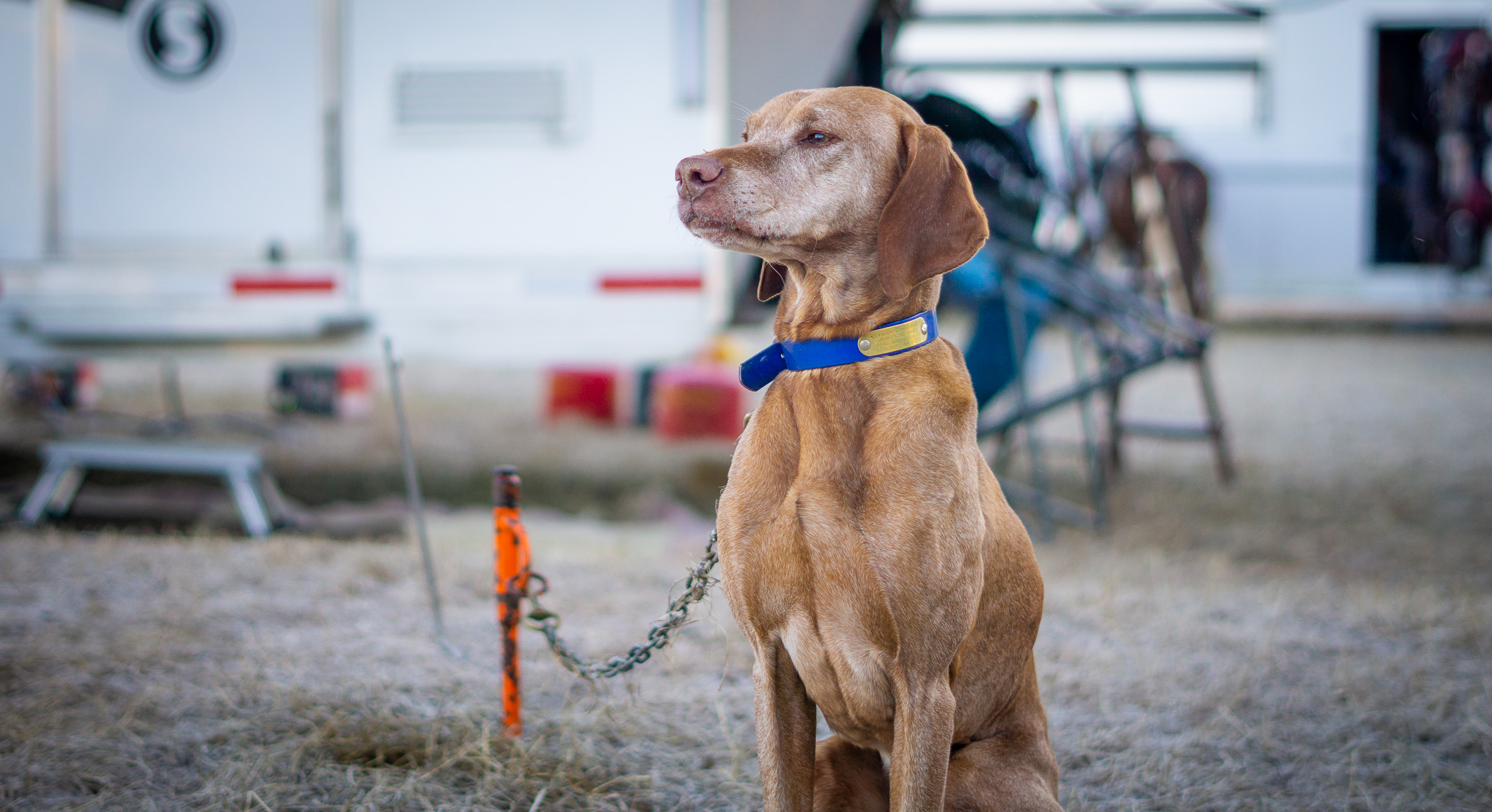 Zara's littermate Benny looking cold and grumpy at a January field trial in South Carolina. It was quite chilly at that trial! 
Do you spend time making a plan for field trial season? If so, which factors do you find the most important? You can tell me in the comments below.