Over the course of the past three years, I have run the NAVHDA Utility test six times with Zara. It took us several tries to earn the coveted Prize 1 title, and then this fall I tried twice to earn another Prize 1 and requalify her for the Invitational. (She did requalify in December and we are going to the Invitational again in September 2023!).
After participating in so many Utility tests and volunteering at many more, I believe I have a good grasp of what it takes to be successful at that level. The Utility test is not an impossibly hard test, but it does take a lot of dedicated training and planning. Hopefully these tips will help you reach your desired goal when you and your dog participate.
Watch/Volunteer at a Test
My first piece of advice is to watch a Utility test before you participate in one, if that is possible. It's even better if you can volunteer and be a part of the test. I was a member of NAVHDA for two years before I first ran Zara in Utility. During that time, I volunteered at four tests. The first time I saw the Utility test, I had a couple of thoughts. My first thought was, Wow, there is a lot going on here. It seemed really complicated, even though other members had described the various parts to me. The second thing I noticed was that dogs who I thought did really well the whole day got worse overall scores than I was expecting. This has to do with the way the scoring minimums work, which I'll cover below.
I bring up my own experience to illustrate that you will learn a lot by being there in person. It's one thing to read about the test in a book or even see portions at training days; it's another to watch the action and compare it to the scores.
Read the Aims Book
NAVHDA International's official guide to its testing program is called the Aims Programs Test Rules and it is available for free on NAVHDA's website. Be sure to read the section about the Utility test before you test your dog. It can also be helpful to review the book if it's been a while since you last tested. When I ran Zara in her sixth Utility test this fall, I felt confident that I knew the rules. However, the way she was scored on the duck drag made me question if I was missing something. I thought that taking the duck from the dog as soon as they returned to you was fine. I didn't think they needed to sit or stand next to you before you took it. After the test, I went back and looked at that passage in the Aims book. Sure enough, it says, "The dog should sit or stand close to the handler and hold the bird until the handler takes it." I felt a bit silly after reading that. It had been so long since I had referenced the book that I had forgotten the important detail of pausing before taking the duck.
Another great way to understand scoring is to attend an Aims & Rules clinic. These are two-day, interactive, in-person clinics that help participants understand the ins and outs of the NAVHDA testing system.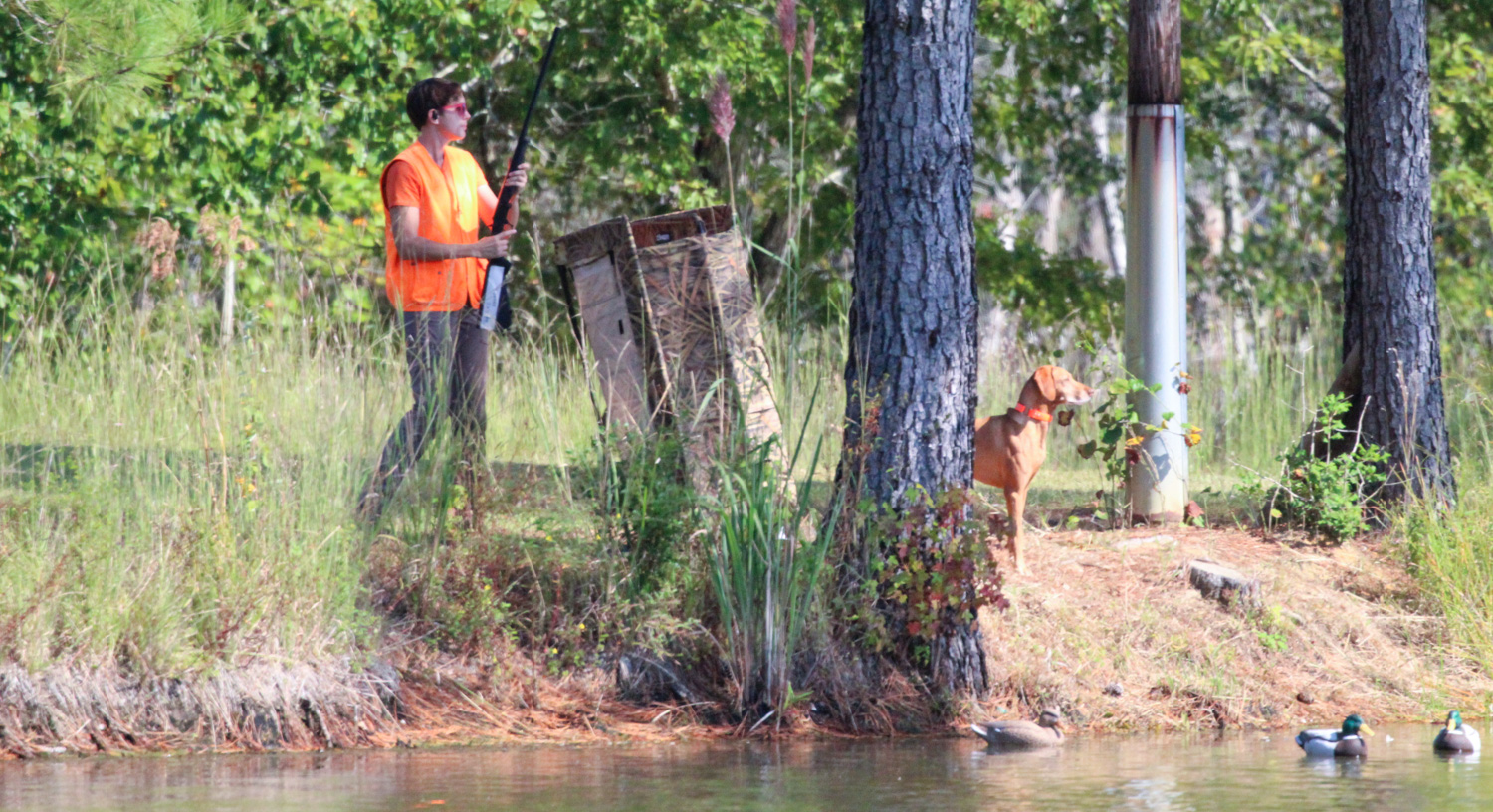 Zara and I work through the steady by the blind sequence during the NAVHDA Utility test in October 2021. Photo by Suzann Novak.
Understand the Scoring
The scoring for the Utility test follows a points system with every item scored between 0 and 4 points. Then each item is multiplied by another number to get a weighted score that is added up for the total score. Some things are weighted more heavily than others. For example, Use of Nose carries the most weight and is multiplied by 6. In contrast, Walking at Heel and Remaining by Blind are only multiplied by 2.
The key to understanding NAVHDA's scoring system is to recognize that you have to achieve minimums in certain areas to achieve a certain prize. For example, in order to earn a Prize 1, your dog needs 4s in Search for a Duck, Pointing, Nose, and Desire to Work. You also cannot get a 2 in any other category – the rest of the scores must be 3s or higher. Because of this, your dog could earn perfect scores in all 14 categories and if it gets a 1 or 0 in Search for a Duck, it will fail the test. (This happened to Zara and I in 2019 – she got a 1 in duck search and 3s/4s in everything else).
If you are focused on earning a certain prize, make sure you know which categories your dog needs to be perfect in and which are not as important. For example, heeling has never been Zara's strong suit. We've alternated between getting 3s and 4s in the various Utility tests we have run. Since you can get a 3 and still earn a Prize 1, I haven't been as focused on heeling as something like duck search, where you have to have a 4.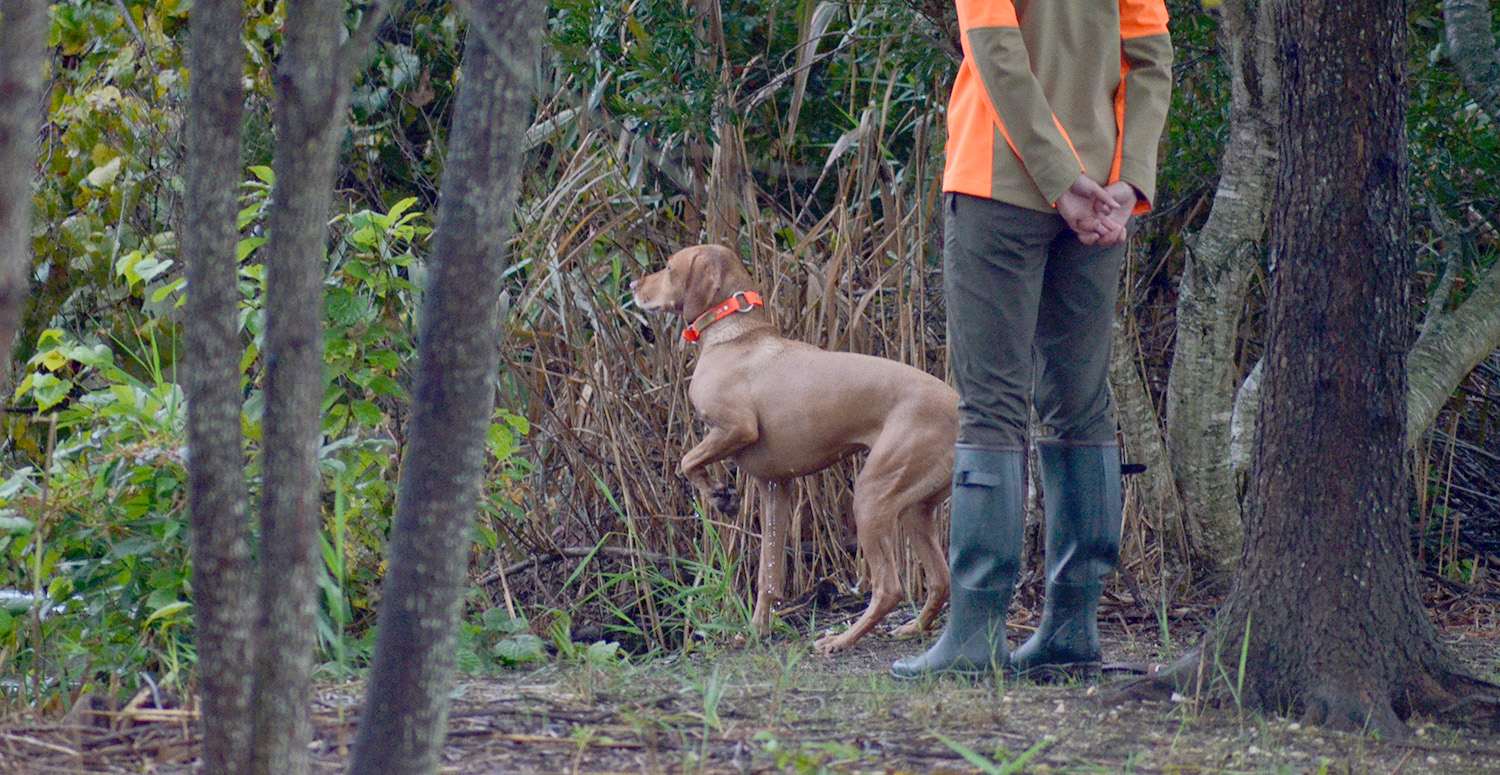 Zara hesitates before entering the duck search water since it was chilly outside. Photo by Issac Turton.
Heel on Leash
Heeling is judged during the water retrieve sequence. You heel with your dog about 50 yards between ten sets of stakes placed three to four feet apart. At the Utility level, your dog can be on a leash, or off-leash. If the dog is on a leash, the leash must be loose (ideally, the leash is in a "J" shape from your hand to where the leash attaches to the dog's collar). I would always recommend heeling with your dog on a leash, unless you are extremely confident in your dog's ability to heel off-leash. At the Invitational level, all the heeling must be done off-leash. Because of that, I often practice off-leash heeling with Zara. I've found that she is usually better at off-leash heeling – she seems to know that she has to pay attention to where I am. When she's on a leash, she likes to rely on the tension of the leash to judge where she should be, which means she tries to lightly pull.
However, I've never heeled Zara off-leash during the Utility test. If your dog veers away from you on a leash, you can give them a quick yank or verbal correction to get them back next to you. This may dock your score slightly. However, if your dog is off-leash, it could bolt away from you, which might cause you to fail the test completely. (I've seen it happen). Therefore, it's not worth the risk to me.
Keep Your Head in the Game
The Utility test is different from hunt tests or field trials in the sense that it is a multi-part test that often takes most of the day. It's helpful to keep in mind that every section of the test is scored separately. Again, unlike hunt tests or field trials, if your dog makes a mistake at the beginning of the day, it won't be "picked up" or disqualified. You are able to finish out the whole test. I find that people are often harder on themselves than they need to be. (I definitely fall in this camp.) For example, maybe your dog was not as steady as you would have liked during the field portion first thing in the morning. Maybe you had to give some extra whoa commands or it broke on one of the shots. You may be discouraged by this and think that your chance for a Prize 1 (or whatever you are hoping for) is over. However, NAVHDA scoring is cumulative. If your dog was solid on four birds and broke on the fifth one, you still may receive a high steadiness score.
Try to remember that it's not over til it's over. Don't let a less than perfect field run sabotage your behavior the rest of the day. Even if you think your dog missed the score you wanted, you should still keep your head in the game and try your hardest. You may end up getting a higher score than you anticipated.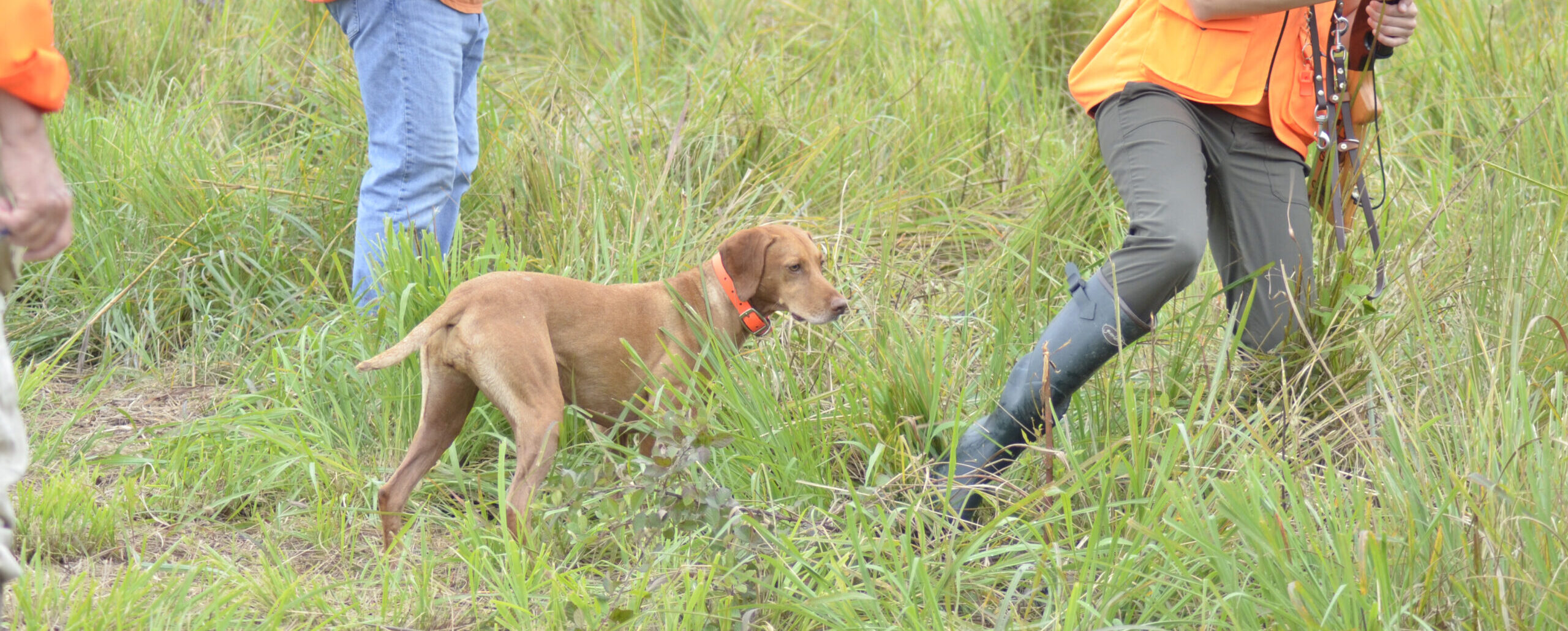 Zara watches as I flush a bird during the Utility test in October 2020. Photo by Issac Turton.
If Needed, Problem Solve on Test Day
There are several core behaviors that carry through the Utility test, such as steadiness, retrieving, and obedience. For example, your dog needs to be steady on birds in the field, steady and respond to a "whoa" or "stay" command during the steady by the blind sequence, and steady while you fire the blank gunshot during the duck search. Same with retrieving. Your dog should be retrieving birds or ducks to hand in all four parts of the test.
If you notice a problem in the morning, you may want to try and fix it before the next activity. Obviously a major steadiness or retrieving problem is not going to be fixed in the 30 minutes between events, but a little "reminder" can go a long way. When Zara and I tested this past fall, I saw that she was not wanting to bring chukar or the dead duck right back to me. She was resorting to her old habit of parading around and not wanting to come to me right away.  By the time I realized the pattern, we only had the duck drag left.
I got a duck dokken out of my car and took Zara to an empty area away from everyone else. I threw the dokken and had her retrieve it to me several times. If she tried to veer away from me, I gave her a correction. While this is a problem that still needs to be fixed, the few minutes I spent on it during the test did lead to us getting a 4 in the duck drag.
Be Deliberate With Commands
You will give your dog commands during all parts of the NAVHDA Utility test. You should be prudent with your use of commands. In some sections of the test, an extra command may dock your score one level, whereas in others, it may not matter as much. In general, you don't want to use extra commands if you don't have to. Extra commands can be penalized on the duck search, duck drag, and heeling portion. In the field, if you give an extra "whoa" or two when your dog is on point, you may still get a high steadiness score.
If you are going to use a command (especially an extra command), make it count. On a retrieve, if your dog is not picking the bird up right away, say "FETCH!" instead of "Fetch…fetch…come on, FETCH….Zara, FETCH!" If you give a strong extra command and your dog takes it, you're better off than if you keep giving commands that your dog ignores.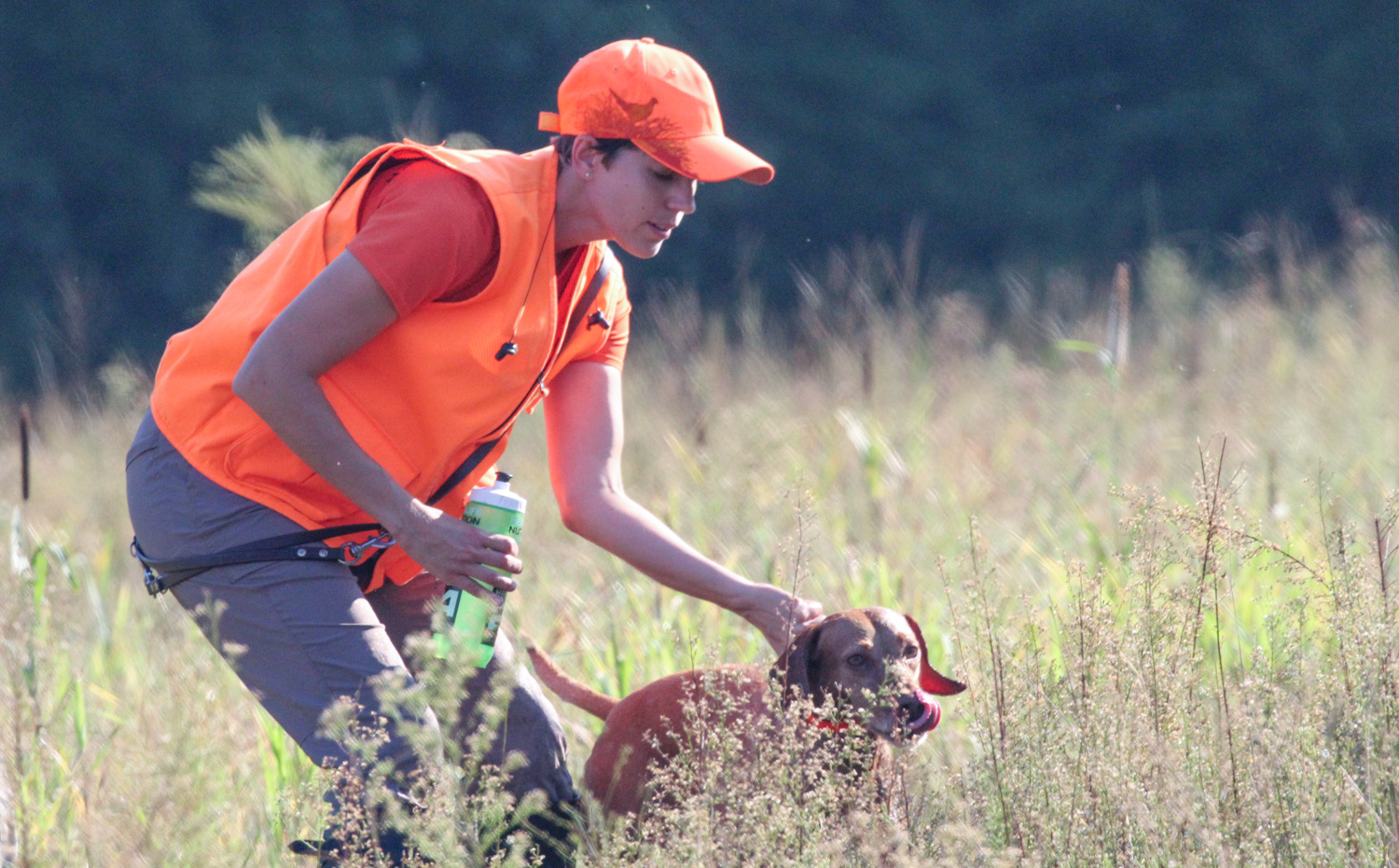 I try to give Zara water during the field portion of the Utility test. Photo by Suzann Novak.
Understand the Duck Search
Duck search is often one of the events that trip up dogs and handlers during the NAVHDA Utility test. The first time I tested Zara in UT, I didn't fully grasp what a "4" duck search looked like. I've heard people say that if you divide the duck search swamp into four quadrants, ideally, your dog should go into or touch all four quadrants. I don't think this is a hard and fast rule, but it speaks to the fact that your dog needs to really search independently, expand their search, and getting out of sight is often desirable. Make sure you watch dogs doing excellent duck searches so you can judge your dog's progress objectively. I've written several posts about duck search training, including tips to build your dog's drive.
Be Prepared
In my post about the NAVHDA Invitational, I discussed being prepared for as many situations as possible, especially in the field. This definitely applies to the UT level as well, or really any bird dog event. You definitely want to prepare for any kind of weather: hot, cold, rainy, windy. These can impact how the birds and your dog behaves. But also recognize that you can't train for every situation. Weird things happen in tests (especially the field portion) that you can't predict. Do the best you can to prepare, and enjoy being outside with your dog!