Chris, Zara, and I went on vacation the week before Labor Day. We rented a house in the Outer Banks, North Carolina with our friends Erin, Dave, and Jax. The house we rented was in the town of Duck and about a five minute walk from the beach. We had great weather and despite the fact that Chris and I worked remotely the first couple days we were there, it was very enjoyable and relaxing vacation.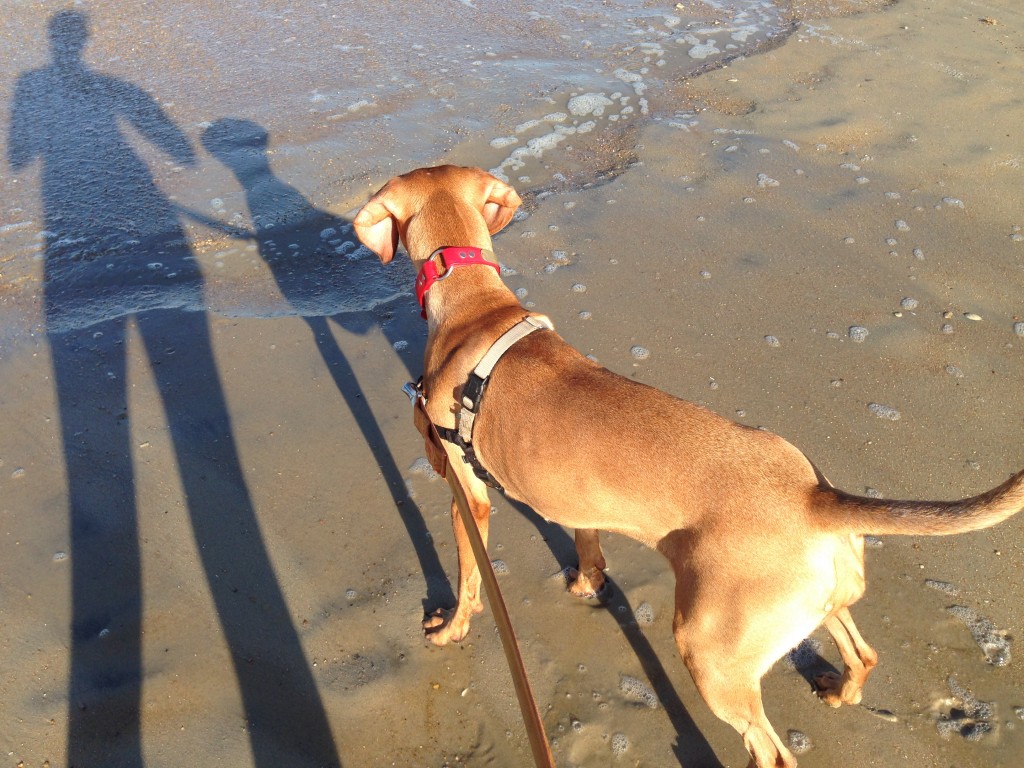 This was Zara's first time at the beach and she liked it, although she was afraid of the waves and didn't want to go in the water any deeper than a couple of inches. I think she was scared when the water was moving toward her, because she had never seen that before. We took her on a couple of beach walks the first couple days, but it wasn't until Wednesday when I was actually able to put on my bathing suit and get ready to hang out for an extended period of time. That first morning didn't go so well. I was sitting in a chair while she dug a bunch of holes in the sand, flinging sand all over me (of course, I didn't expect going to the beach with a vizsla puppy to be very relaxing). Then she proceeded to scarf a bunch of nasty sea grass, and chomped on my finger while I tried to get it out of her mouth. That's when I decided to take her back to the house. On the way back, she proceeded to throw up all of the sea grass plus her breakfast all over the road. She probably threw up about five to eight times. I tried to pick up some of it with a poop bag. I felt bad for her, but she didn't touch the sea grass for the rest of the trip, so it's good we got that out of the way.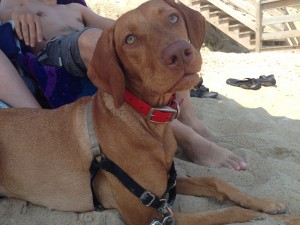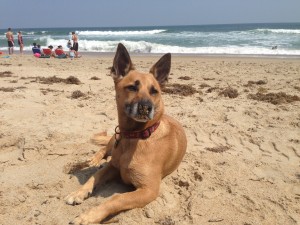 The rest of the trips to the beach were better. She loved digging holes in the sand, watching the waves, and trying to talk to other dogs and people. I was a bit sad that she was in heat and couldn't run around off-leash. We had specifically chosen Duck for its lax dog rules. Dogs can be on the beach any time of day off-leash. Jax was off-leash and Zara got jealous a couple times when he was running around with other dogs. We probably could have let her off and been okay (I didn't notice any non-neutered dogs) but we didn't want to risk it.
https://www.youtube.com/watch?v=HsMQ3rvgnqU&feature=youtu.be
One day, we went kayaking instead of going to the beach because it was cloudy. We got two double kayaks and there were two humans and one dog in each kayak. Zara and Jax looked so cute in their life jackets but we didn't bring our phones (couldn't risk getting them wet) so we didn't any photos. Zara jumped in several times to swim around and with a little help, was able to crawl her way back into the kayak. Jax also swam some, but I think he was more content to be in the kayak.
The town of Duck was nice as well. I'd recommend it more so than some of the other towns in the Outer Banks, like Kitty Hawk or Kill Devil Hills.