Zara's daddy was in the Bahamas this weekend for a bachelor party (yeah, poor guy) so Zara and I had the house to ourselves. Luckily the weather was like summer (in the low 80s!), so we weren't too jealous of him. We had a busy weekend.
On Saturday morning, we went to the Shirlington dog park for an hour and met another vizsla puppy named Keeva! She was about 5 months old and was actually the sister of the vizsla puppy that was in Zara's training class. Keeva's owner also had a vizsla black lab mix named Sophie. Keeva and Zara ran around for a bit but since we didn't see her until after we'd been there for a while, I think Zara was already somewhat tired.
In the afternoon, I took Zara to the National Arboretum in DC. This weekend was the last part of the Cherry Blossom Festival and the traffic in DC has been a nightmare. I considered going to see the cherry blossoms but I knew it would be packed with tourists and Zara gets way too excited around a lot of people. I knew that the Arboretum had some cherry blossom trees as well, so we opted to go there instead. It was also crowded, but since it's spread out on nine acres, there's a lot more space. The weather was beautiful so we walked around for a while and looked at the plants and trees. The Arboretum has the original sandstone columns that were part of the US Capitol's portico. They were moved there in the 1950s and they were replaced by marble replicas. They've displayed them just how they would have appeared at the Capitol and they look pretty cool.
After leaving the Arboretum, I decided to take Zara to Shirlington for her first restaurant outing. Shirlington is a small dining/shopping area near our house that has a lot of restaurants and is very dog-friendly. Every restaurant has outdoor seating and you can tie your dog's leash to the fences that mark off the seating areas. They also provide water bowls. In general, Zara is not very good at sitting and waiting while we are eating, but I thought she might be okay because she was tired. I just wanted to get a drink and a quick snack. She was okay for a while since I was having her do "sit" and "down" for kibbles but once I ran out, she started getting a little impatient and wanting to talk to another dog that was leashed a bit away from us. Next time, I will have to bring more treats.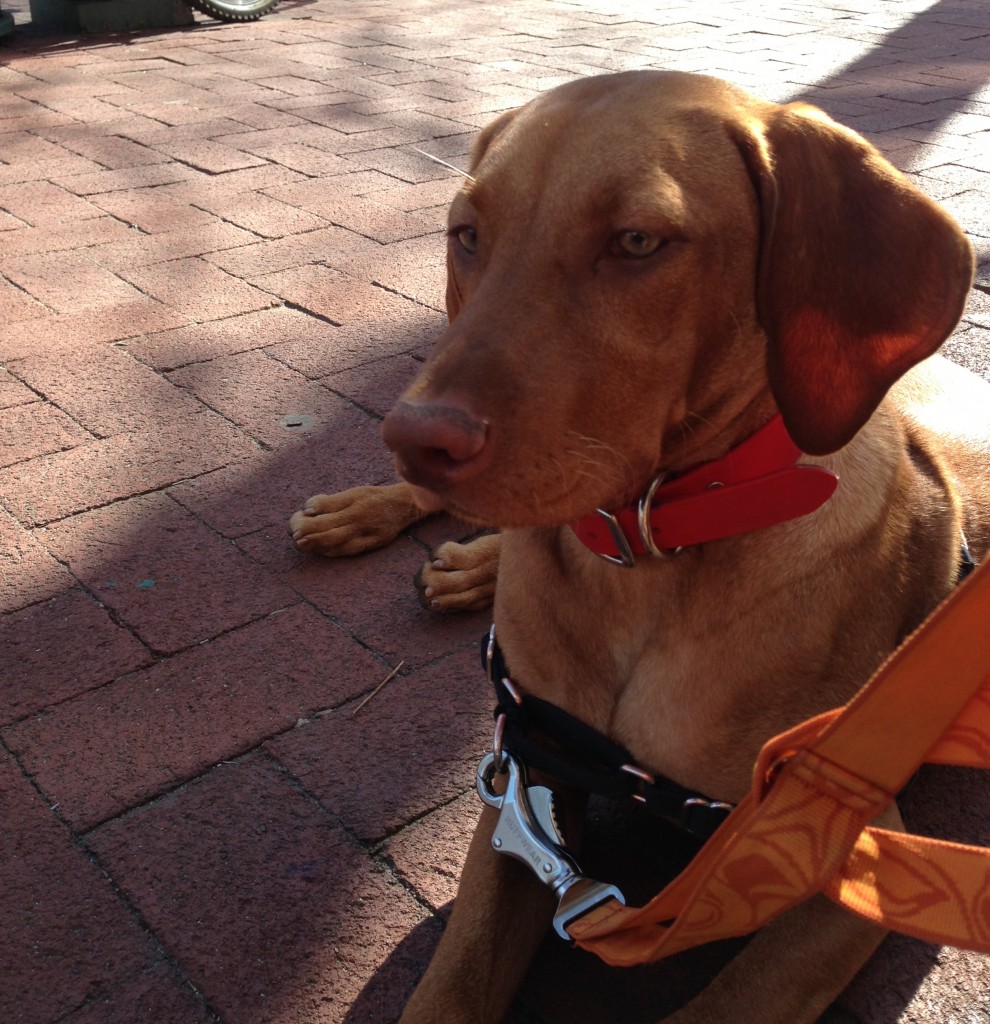 On Sunday, my parents, sister, and brother-in-law came to visit and we went hiking in Turkey Run Park. My parents also brought their 10-year-old beagle, Dixie. She was not socialized as a puppy and doesn't get out much so she was not thrilled to see Zara again (they met for the first time around Christmas). We hiked for a while and then went back to my place for dinner. After dinner, Zara was quite tired and hung out on the couch with my dad and sister.