Yesterday, I broke the V. Or #broketheV, for those of you on Instagram. (Don't worry, this doesn't mean Zara has any broken bones.)
Zara had a 12-hour day filled with activity.  I didn't purposefully plan this, it's just the way everything fell into place. In the morning, we went on a hike that included some swimming, followed by a brunch playdate with her friend Jax. Then we went to my coworker's farm where Zara got to run around off-leash for hours. After that, we met a friend's 8-week-old vizsla puppy, Gatsby, followed by a bath to make sure we didn't acquire poison ivy from the farm. ;)
Visiting the farm was a lot of fun. My coworker, Abby, lives out in the Maryland countryside and her family owns a 100+ acre farm. Their family friends own a 300+ acre farm nearby. Several of my other coworkers and I drove out to her house and we got to tour the area. Zara came along and had a blast. We headed to her family friend's house and walked their property with three black labs in tow. The fields were sown with corn and soybeans but they keep some paths mowed so they are easy to walk on. It was an absolutely beautiful day, not too hot, and the views were just gorgeous.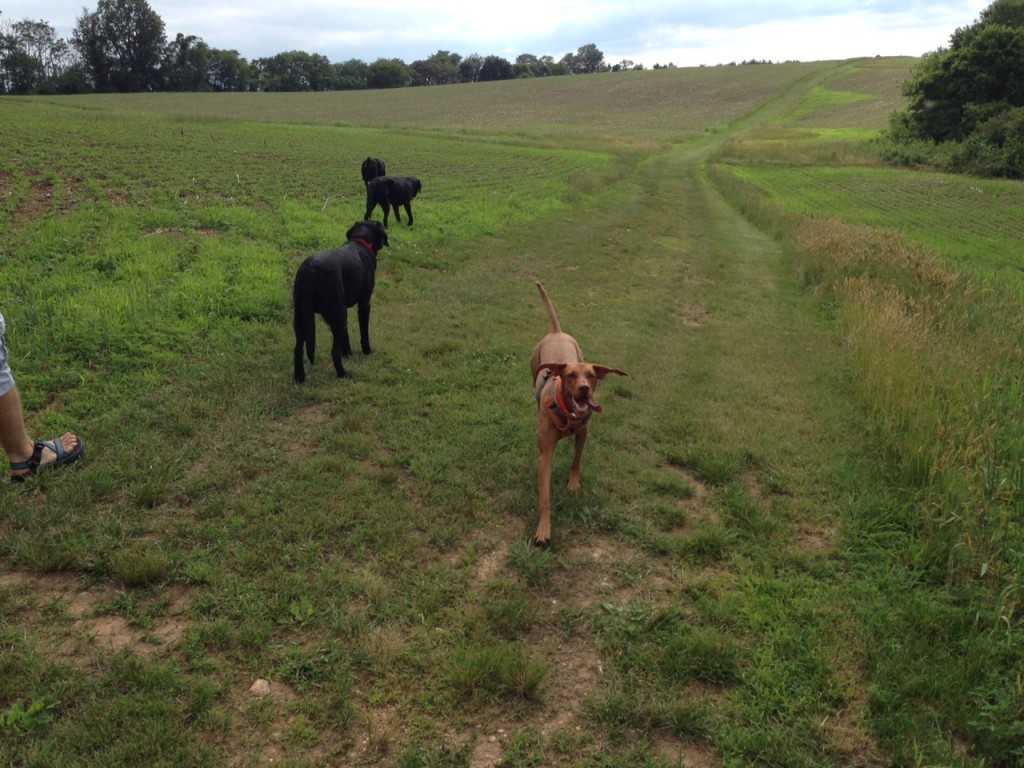 Zara was having the time of her life running through the fields and chasing butterflies. We walked to the crest of a hill on their property. They also had this area mowed and Abby had set up some lawn games for us to play. Afterward, we had some snacks and wine and just enjoyed the scenery and each other companies. I don't think Zara stopped moving once, there was just so much to explore.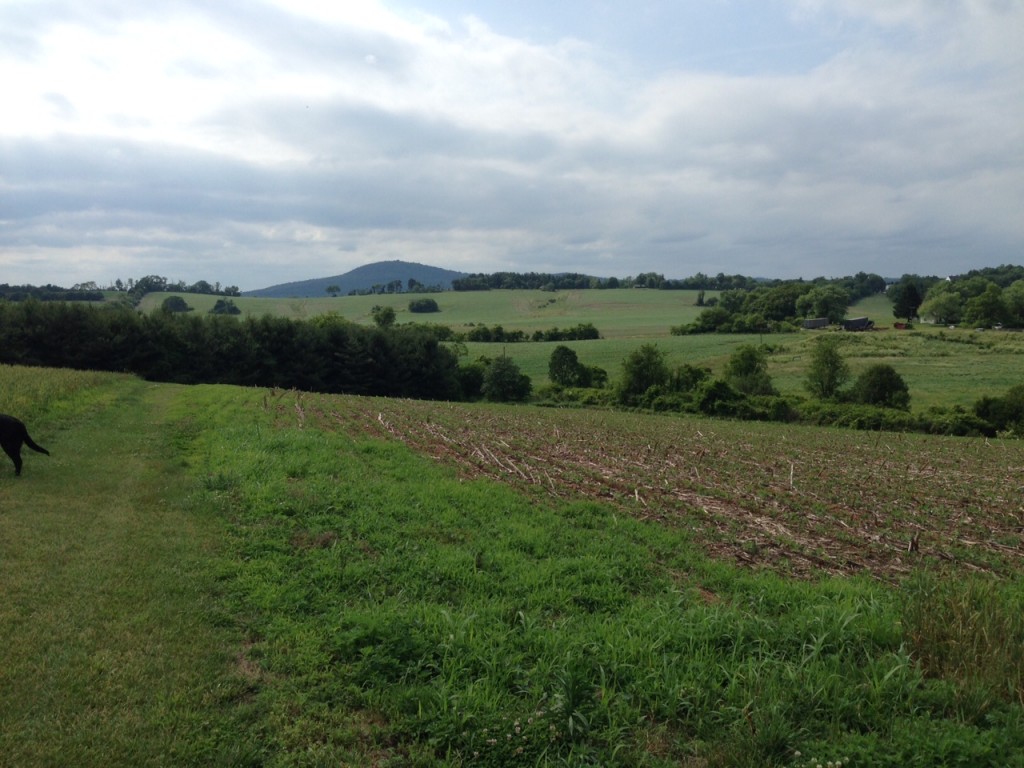 It was warm, but thankfully it wasn't as hot as it was last weekend, so Zara wasn't completely overheated. I tried to give her frequent water breaks.
After a few hours at the farm, we stopped on the way home at our friends' place. They have a one-year-old vizsla named Archer, who is one of Zara's favorite playmates. They also just got an 8-week-old vizsla puppy named Gatsby. Gatsby was so precious and so small! I know that Zara was the same size when we got her, but it just doesn't seem possible that she was ever that small. It went by so fast!
Gatsby had the super soft fur of a young puppy, lots of extra skin, and a ton of wrinkles. Zara was very gentle with Gatsby, at least until he started munching on her leg like it was a toy. She jumped up in surprise, looking like, what was that!?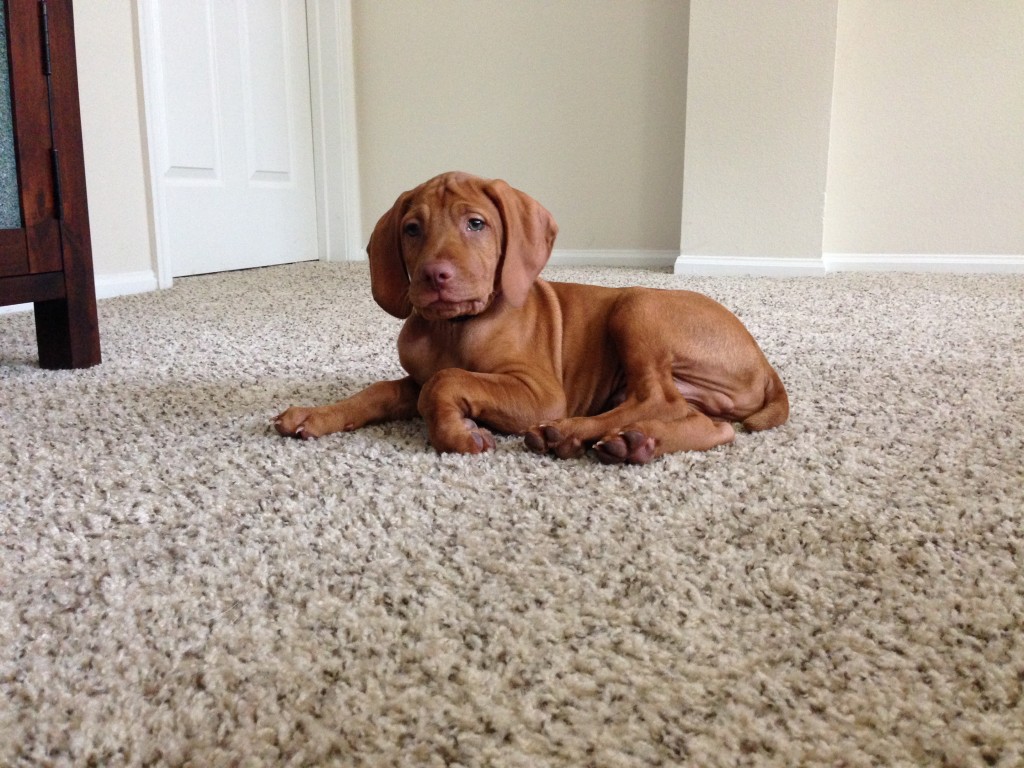 We were away from home for about 12 hours yesterday. The only time that Zara got to rest was in the car driving between activities. When I got home, I fed her, bathed her, and then she fell asleep on the couch.
Today, Zara slept the entire day while Chris was working at home. She didn't go out to pee until 4pm. I don't think that has ever happened, which is why I said above that I broke the V. She perked up when I came home for a trip to the dog park and was back to her usual self for a few hours before settling down again around 9:30pm. I guess we now know what it takes to truly tire her out. ;)