The weather has started to turn chilly here in Virginia, but both Saturday and Sunday were sunny with highs in the 40s, so we were able to get outside and do a bunch of fun things with Zara. On Friday night, we took a quick trip to Hudson Trail Outfitters in Pentagon City (which allows dogs!) so I could try on some hiking boots. The store has an escalator at the entrance that you have to go up. This was Zara's second time encountering an escalator and she refused again, so Chris had to carry her up. Inside the store, they have a little fake "hiking path" with rocks so people can try out hiking shoes on it. I took Chris and Zara's photo on it.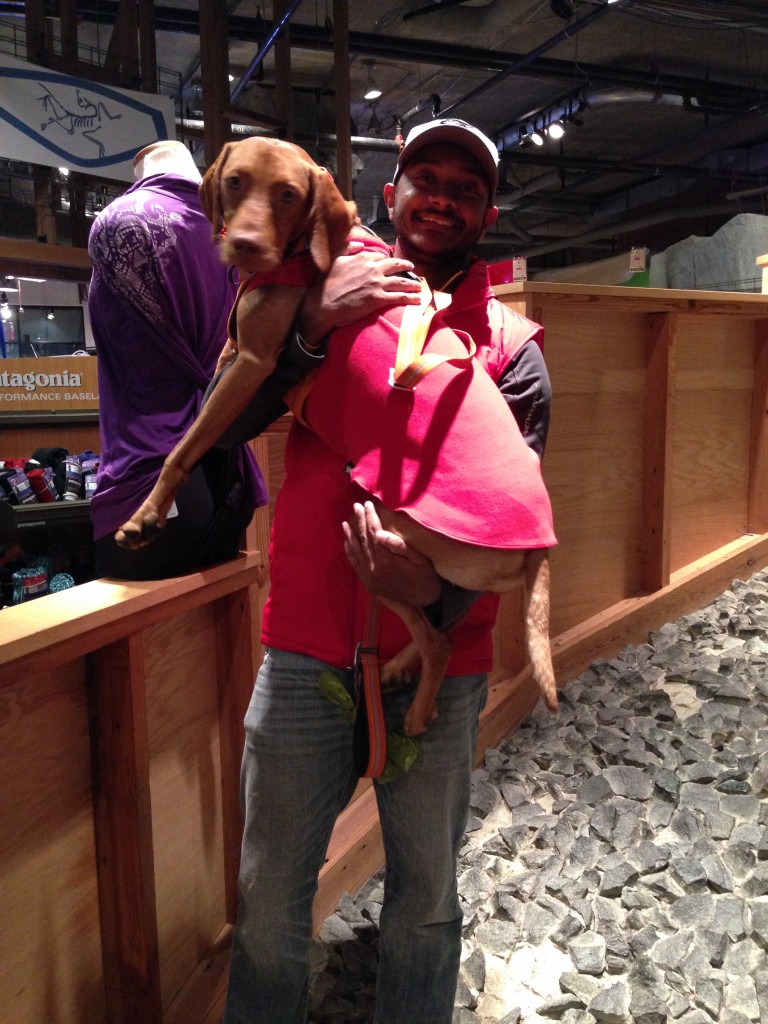 On Saturday, Chris and I spent some time cleaning up all the leaves in our yard and raking/blowing them into a giant pile. Zara was running around finding sticks while we were doing this. Then, I had to show Zara how fun leaf piles can be. After tossing her ball into the pile a few times, she was prancing around and digging in the leaves having a blast!
https://youtu.be/bFtVH7Xs9Vw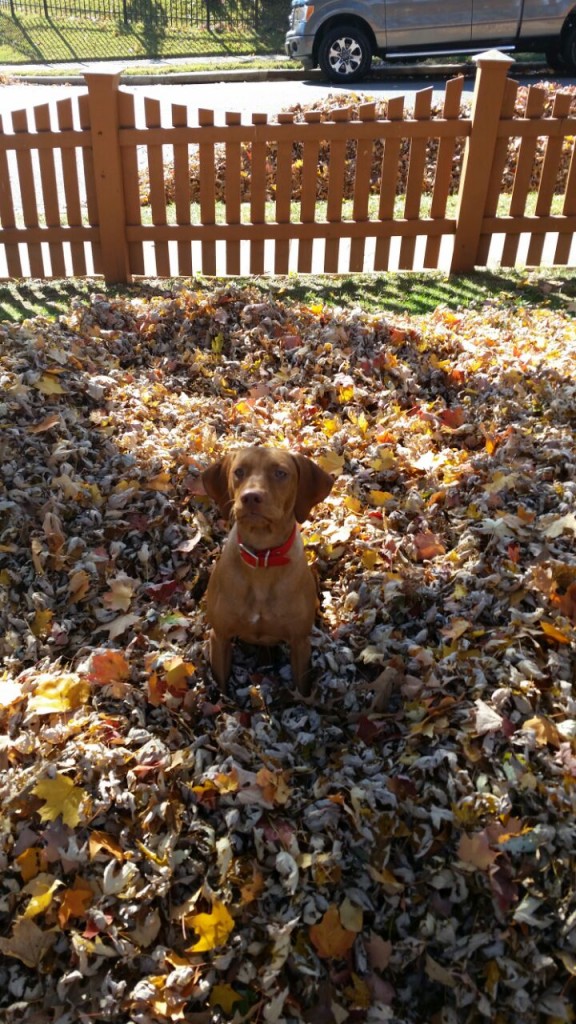 After doing that, we also went on a five mile walk from our house to the waterfront in Old Town Alexandria to tire her out some more. On the way back, she got to try her first "pup cup" (or pupachino) from Starbucks. Chris did not approve of this, so I don't think she'll be getting many more. ;)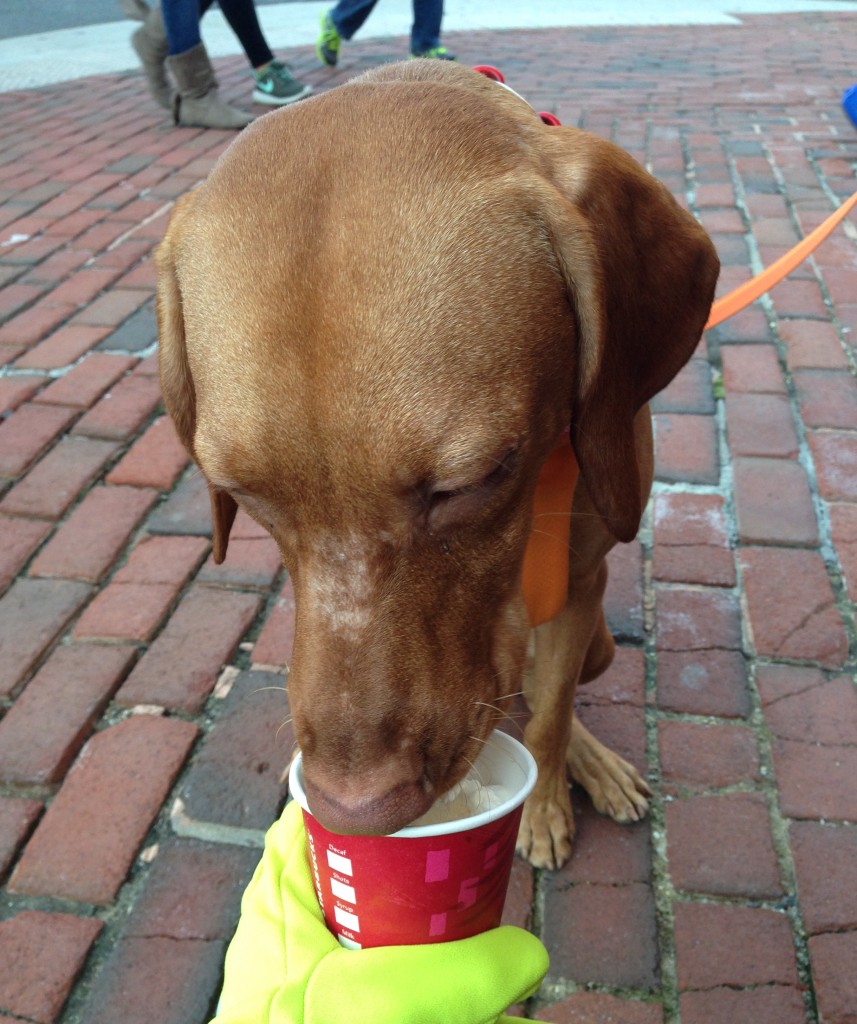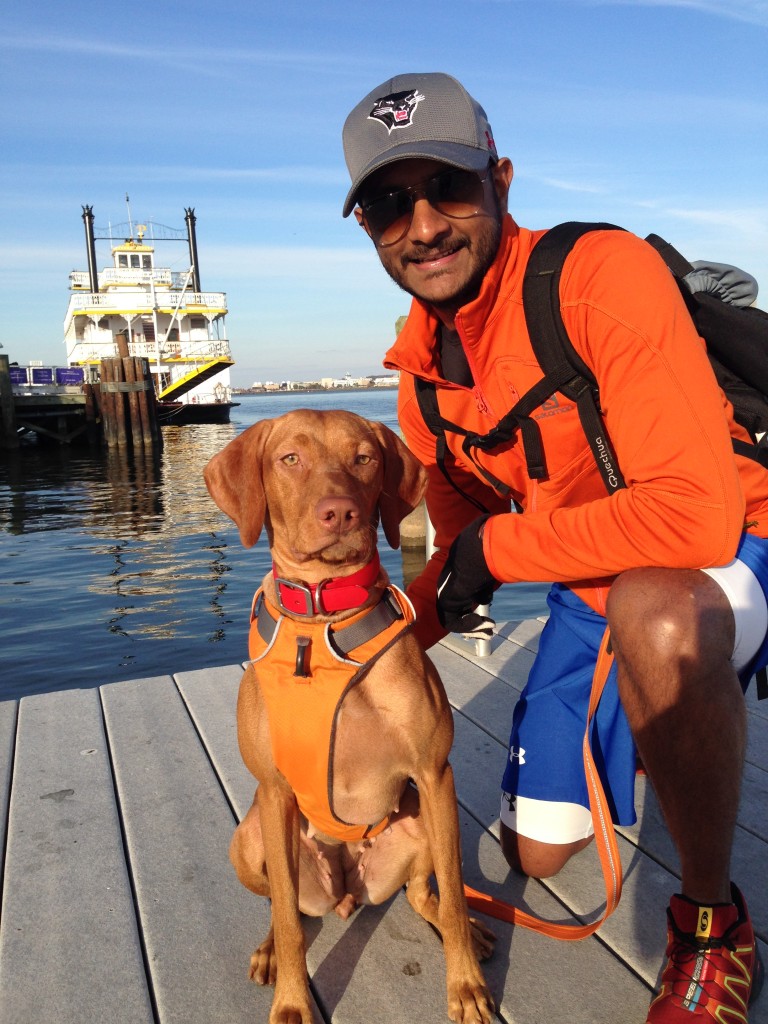 Today was even more fun because several of the vizsla people I've met on Instagram and Facebook planned a vizsla meet-up at a park called Hemlock Overlook. It was about 40 minutes away from where we live. There were about 12 vizslas and 15 or 20 humans! It especially nice to meet several of the people and dogs behind the Instagram accounts I've been following for months.
The park had a wide trail that led down to a river and the the trail continued along the river for a while and finally looped back to a large open area. Everyone met up on the trail and the vizslas got to go off-leash. I think Zara was a little overwhelmed since there were so many dogs at first but soon after, she started running around and seemed content. All the humans walked single file or two abreast along the trail and the vizslas ran up and down ahead and beside us. They were having so much fun tearing around the forest, checking out the river, and chasing each other. I was a bit worried because Zara was out of my sight for a lot of the hike but every couple minutes, she would run back to Chris and I to check that we were still there. A lot of the other vizslas were doing that with their owners, too, and it was really cute. One dog, Aiden, would start whining when he couldn't find his owner right away! This is where the "velcro dog" personality comes in and I am very thankful for it. We also left Zara's red fleece on her so she'd be easier to identify. She was very good the whole time and stayed with the pack.
After a while, we finished hiking at a large open area and let the dogs run around more. A few people had brought tennis balls to throw. Other dogs found a large stick to play with. And some were enjoying munching on something unidentified in the wet leaves. Zara split her time between all three activities. We left after about an hour and a half. Zara has pretty much slept all afternoon since then. She got up for a while to have dinner, eat a bully stick, and play a bit, and now she's passed out again and it's only 8pm. Successful day to say the least!