This post contains affiliate links. I get commissions for purchases made through links in this post. 
I love to buy dog toys. In general I am a pretty frugal person and an underbuyer. However, if I go into a pet store, I have to make an effort to restrain myself from buying dog toys. You see, Zara loves toys. She loves new toys, her current toys, and especially toys that don't belong to her. She especially prefers soft toys and rubber balls. Her joy when I bring home a new toy is palpable, which is why I have a hard time resisting. I know how happy new toys make her.
When she was a puppy, in the winter of 2014, we spent a lot of time entertaining her in the evenings with various types of toys, because it was cold and dark outside. Perhaps that's when her love of them developed. Vizslas are also known for liking to carry things around in their mouth – they are retrievers, after all.
Because of this, I've bought a lot of dog toys over the past 6+ years. To me, the best dog toys are those that are well-made, last a while, and look cute. Nowadays, I mainly buy the brands listed below, because I know they will hold up. Occasionally, I will purchase a cheaply made cute toy, but I don't expect it to last long. Obviously, this is a somewhat subjective review, so let me know if you disagree with my choices.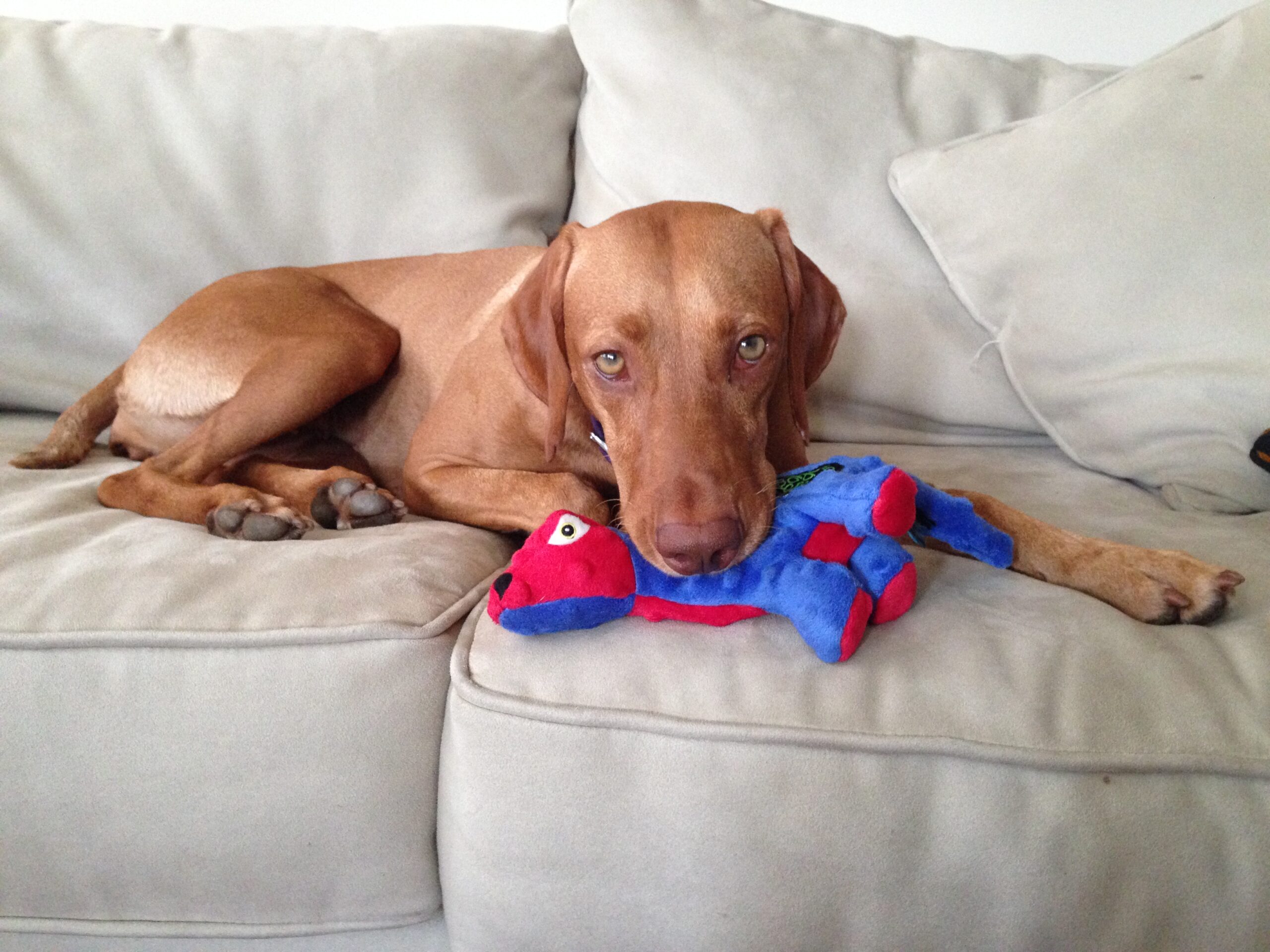 Zara loves her toys. This is a dragon from GoDog Toys. Unfortunately, I don't buy these anymore because they don't stand up to tug of war between two dogs.
Stuffed Dog Toys
Zara definitely prefers stuffed toys. She loves to carry them around, play tug of war with them, and "nurse" on them in the evening. However, these are more likely to be destroyed, so it's important to buy ones that will last. I haven't found any soft toys that will hold up if chewed, so it's helpful to teach your dog not to chew on them. My preferences are based on toys that will hold up to playing between two dogs.
This is my favorite brand of soft toys. All of them are super cute and they hold up REALLY well, even with two dogs playing aggressive games of tug of war on the daily. They have really strong stitching and an internal layer of webbing that helps the toys last. I've found that the ones that last the longest are those that have the least number of appendages and have a one-piece body. We've had good success with the fish, caterpillar, and shark (links below). The fish is Zara's favorite. We have two. One has lasted two years (!) and the other has lasted for 1.5 years. That's pretty impressive for a stuffed toy!
However, we also have the pheasant and sting ray and those have also held up surprisingly well. I did have to do surgery on the pheasant a few months ago to reattach its head. :)
These are probably the strongest stuffed dog toys I've seen. The fabric they use is very thick and each toy has up to four layers of material sewn into them. Most of them have edges that are reinforced with black trim to help the seams last longer. The company also rates each one on a "tuff scale" from 1 (weakest) to 10 (strongest).
We've had several of these: the lobster, the hammerhead shark, and the stingray, among others. However, I have noticed that Zara does not play with these as much as the fluffier Fluff & Tuff toys. I think some of the Tuffy toys may almost be too hard for her, or they don't feel as nice in her mouth. Links below.
Before I discovered Fluff & Tuff, Go Dog Toys was my favorite soft toy brand. They have a line of adorable dragons and they also have a layer of "chew guard" fabric sewn inside to make them more durable. Zara had several of these before we got Colombo. Unfortunately, they do not stand up to tug of war with a 97 pound ridgeback. I don't think the stitching is as strong as the two brands listed above. If you have one dog, these are probably fine. You can often find them at Home Goods at a discount!
We do still have two of their fluffy "Furballz" – because Zara and Colombo can't really play tug of war with them, they have lasted longer. Zara likes us to throw these for her.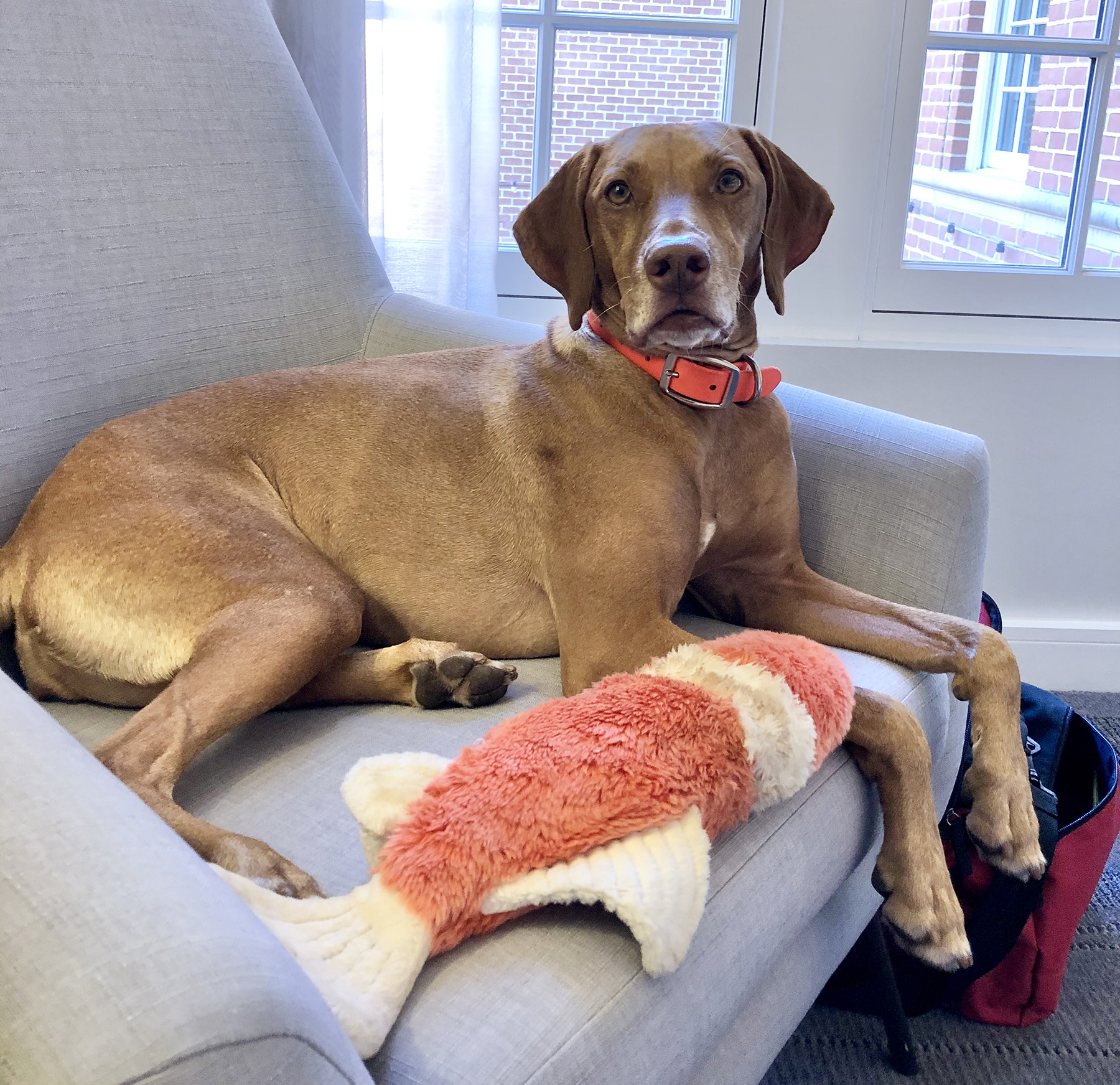 The Fluff & Tuff fish is probably Zara's favorite toy.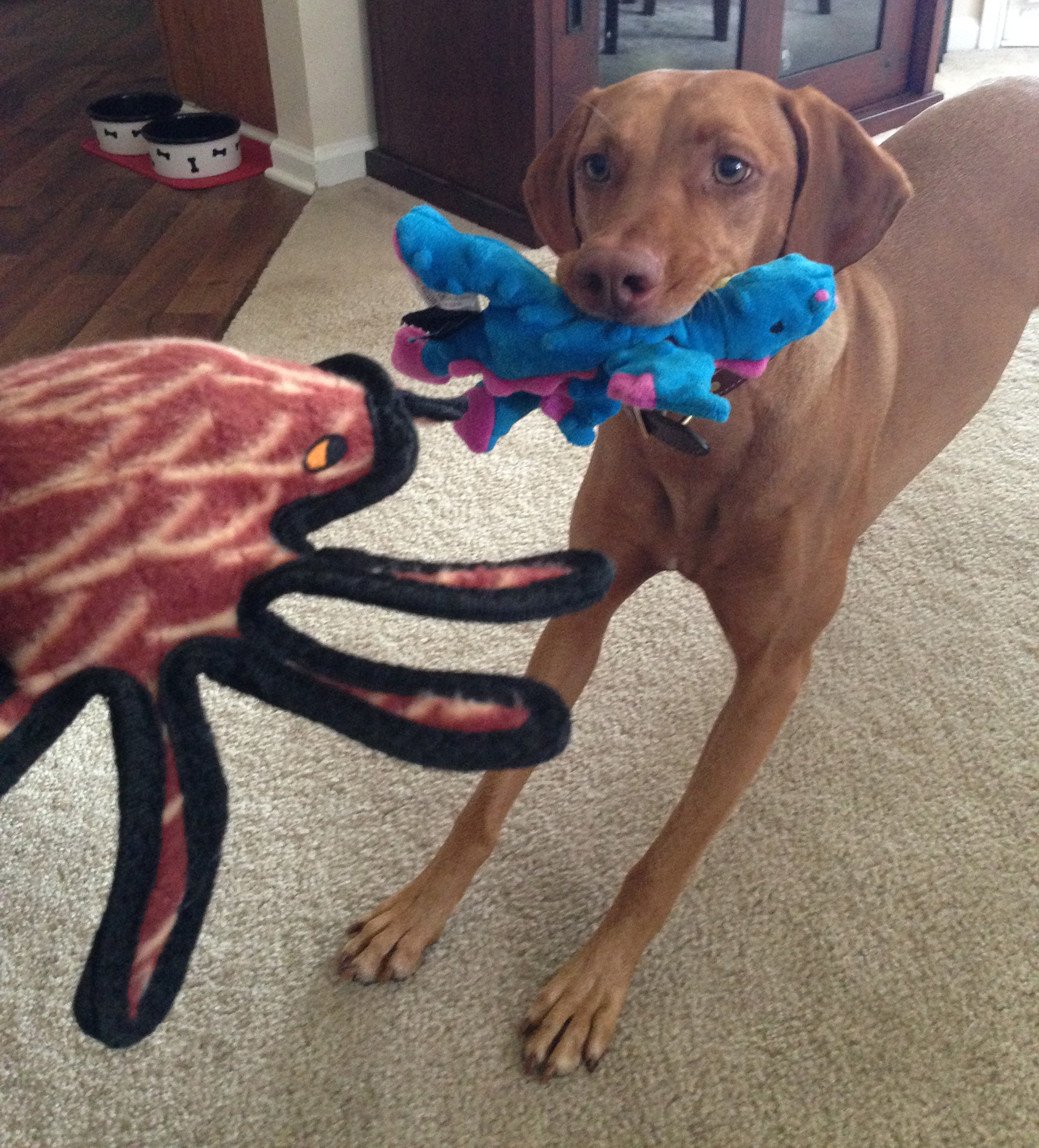 Zara and a GoDog dragon and a Tuffy spider.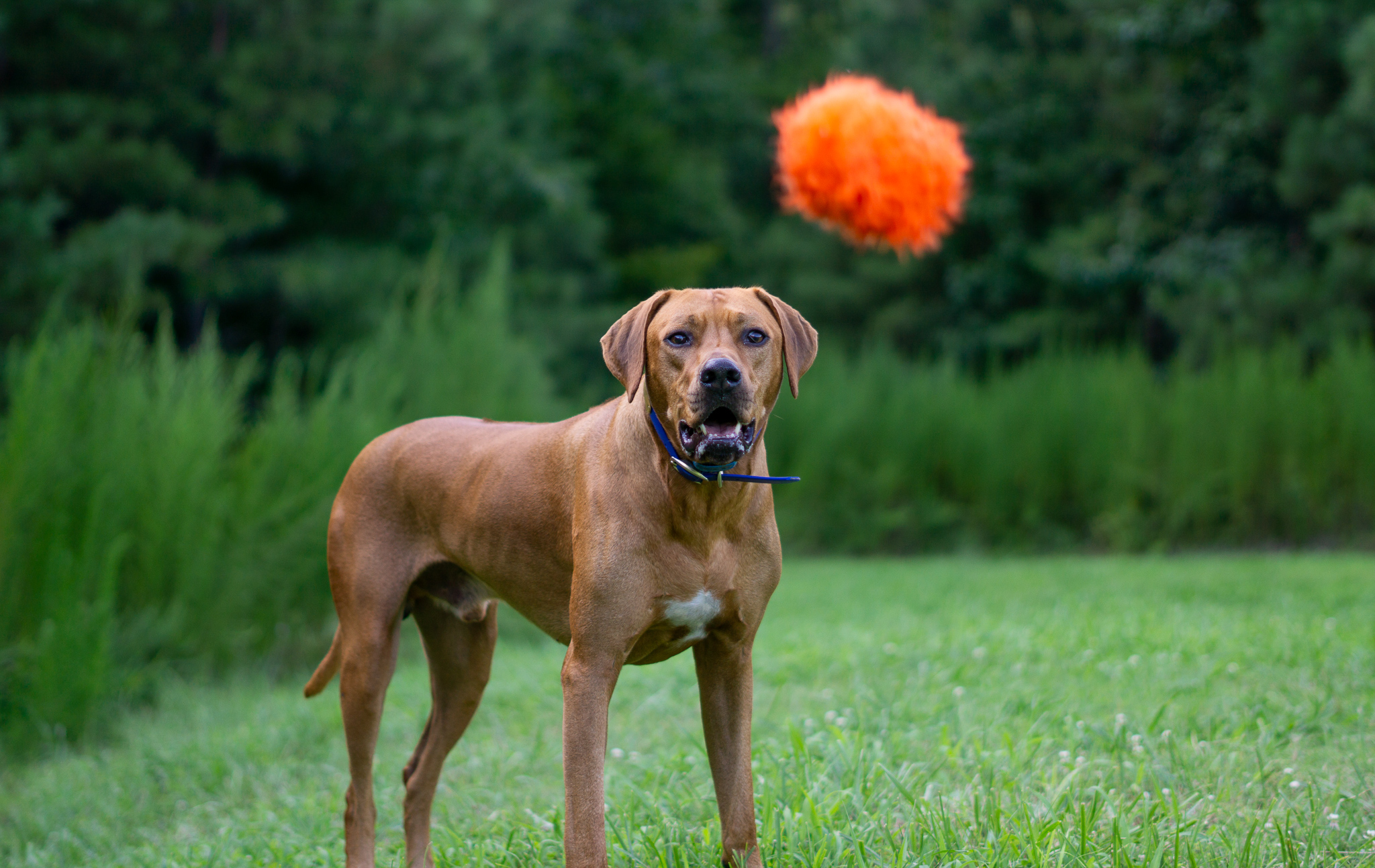 Colombo's usual response when a toy is thrown at him: do nothing. This is a GoDog Furballz.
Hard/Rubbery Dog Toys
I think Westpaw makes the best dog toys that are rubbery/plastic-y. Their products are They are dishwasher-safe, which is helpful when they get grimy. They will even replace a toy if your dog destroys it (I did do this once when a piece broke off and they did send me a new one!). They recycle old toys and make them into new ones.
I really like their Bumi toy, which is rubbery and shaped like the letter S. This is good for tug of war, light gnawing, and for games of fetch. The Tizzi is another good one. We've had the Tizzi for almost six years! Links below.
Chuck-It is well-known for their ball thrower. They also make a variety of durable balls, which are great substitutes for tennis balls (see below for why you should avoid those). Their balls bounce well and last a long time.
I bought some of these balls on a whim at the grocery store but they have held up surprisingly well. They have a thin outer rubbery casing with foam inside. I like that they are lightweight, so if you throw them in the house, they're less likely to hit something and damage it. Zara loves squishing them in her mouth.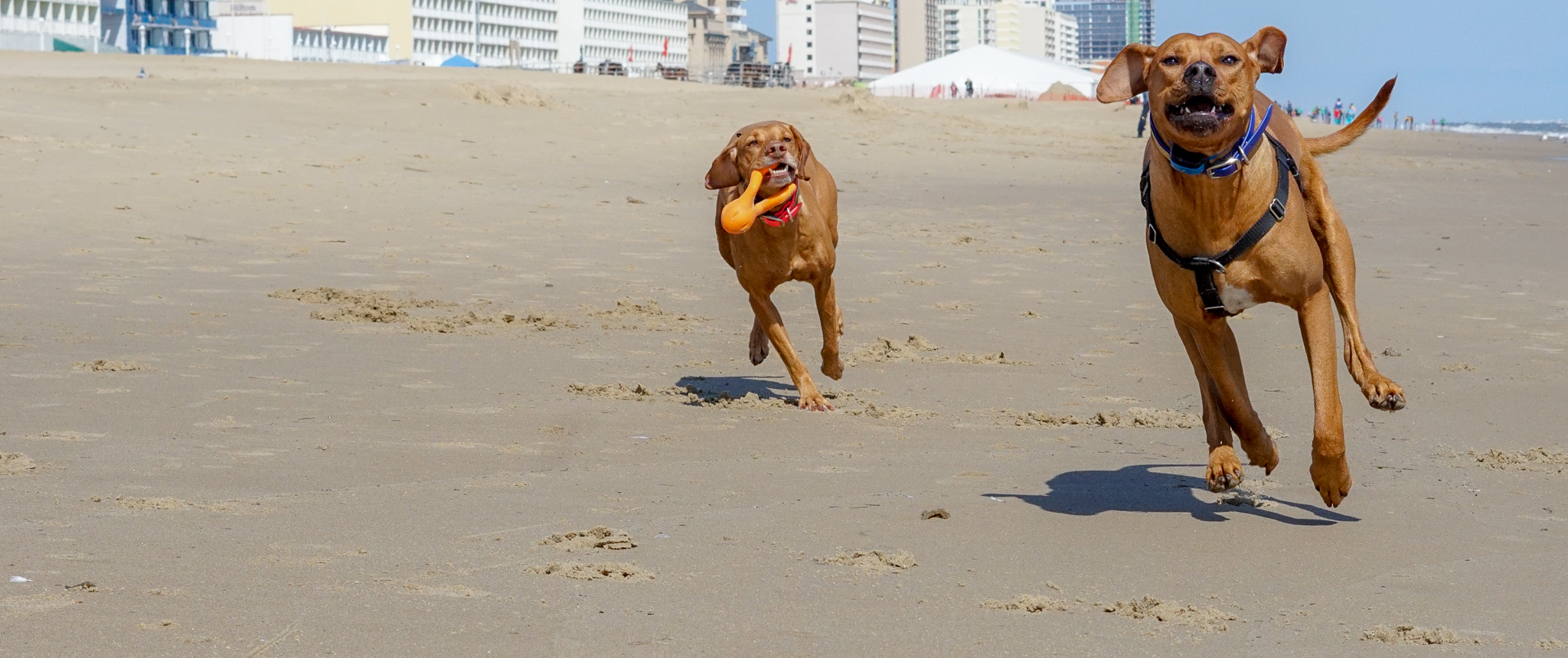 Zara and Colombo on the beach with the Westpaw Tizzi toy. This is my go-to toy for outdoor activities.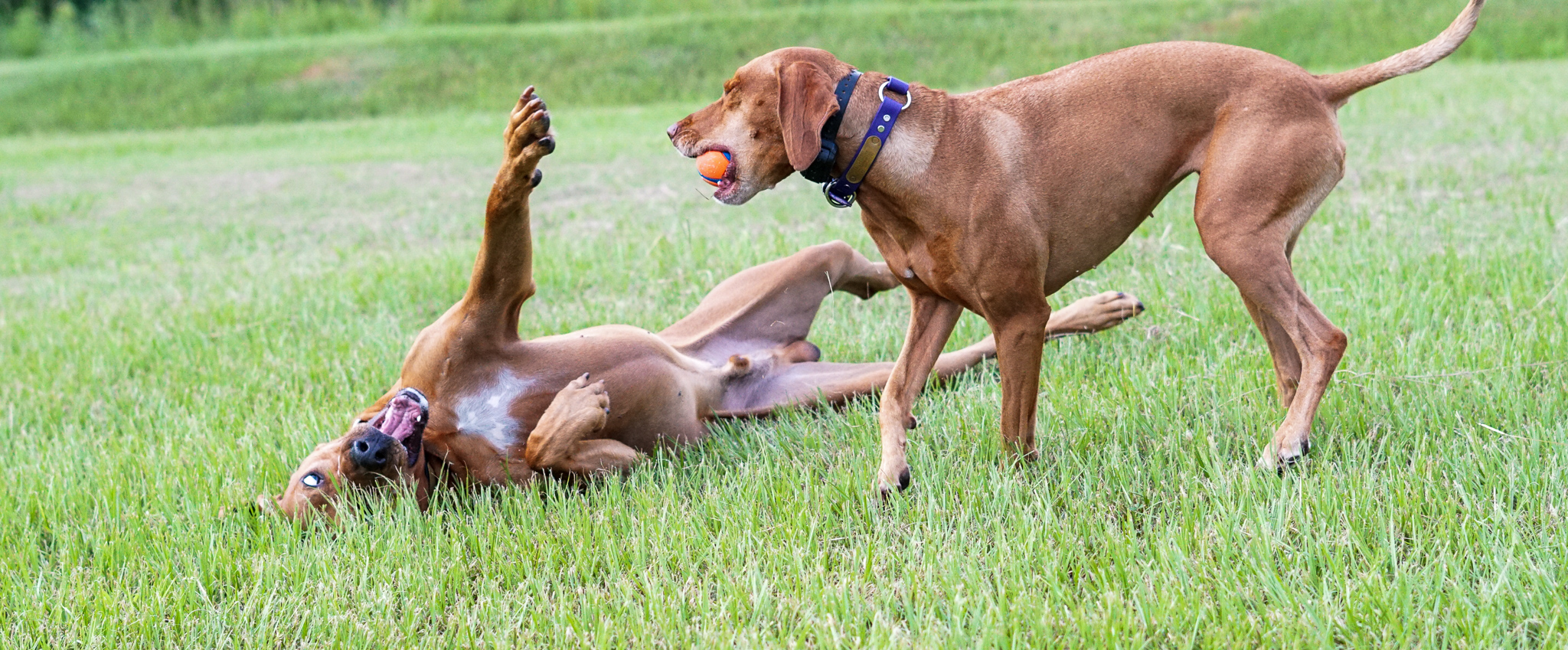 Chuck-It makes durable balls that even hold up to ridgeback slaps.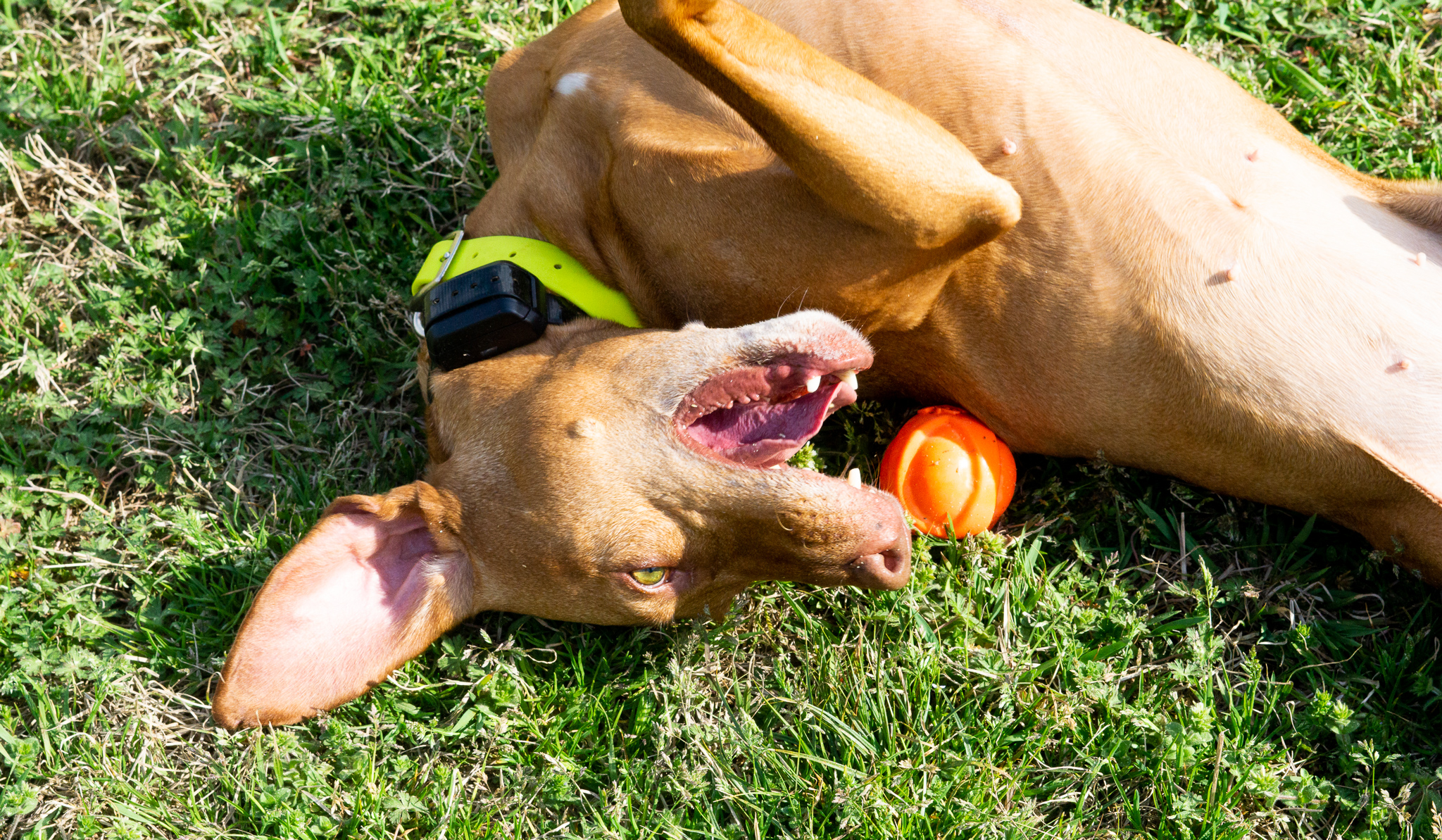 The DuraPlay ball is a good option for a soft ball that can be thrown around inside without doing a lot of damage because it's not heavy. 
Interactive Dog Toys
Kongs are typically a popular choice among dog owners. While the Kong company makes a variety of toys, they are best known for these hollow rubber cylinders. They're easy to stuff with kibble, yogurt, peanut butter, and other treats to entertain a dog or puppy for a while. When Zara was a puppy, we often gave her a frozen Kong when we had to go to work and she had to stay in her crate.
I bought this on a whim one day, but it has become one of my favorite ways to entertain Zara for a few minutes. The Tricky Treat Ball has a small opening to put kibble or dry dog treats. You give it to your dog and they roll it around to dispense treats. Because the opening is rather small, it takes a while for them to get the treats out. I've had this ball for six years and it's still going strong!
This company makes a lot of interactive puzzle toys. I only have one of these, but I would like to get a few others. I bought the chess game when Zara injured her toe earlier this year and I needed ways to keep her occupied when I couldn't physically exercise her. It's rated as a level 3 in difficulty, but Zara can solve it in two minutes, tops. Some of their other puzzles, such as the ones with the pulley drawers look more difficult to me.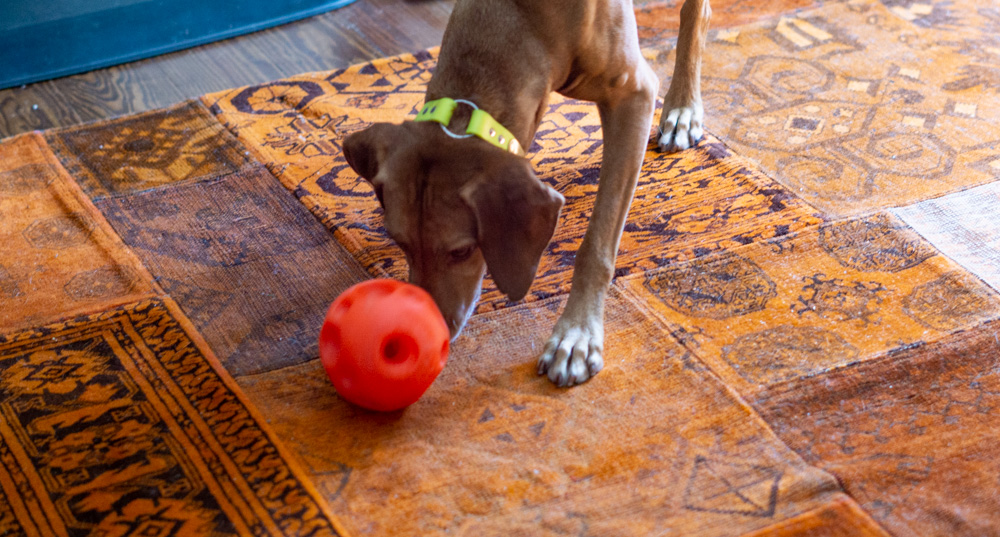 The OmegaPaw Tricky Treat ball is a great way to entertain her for 15-20 minutes.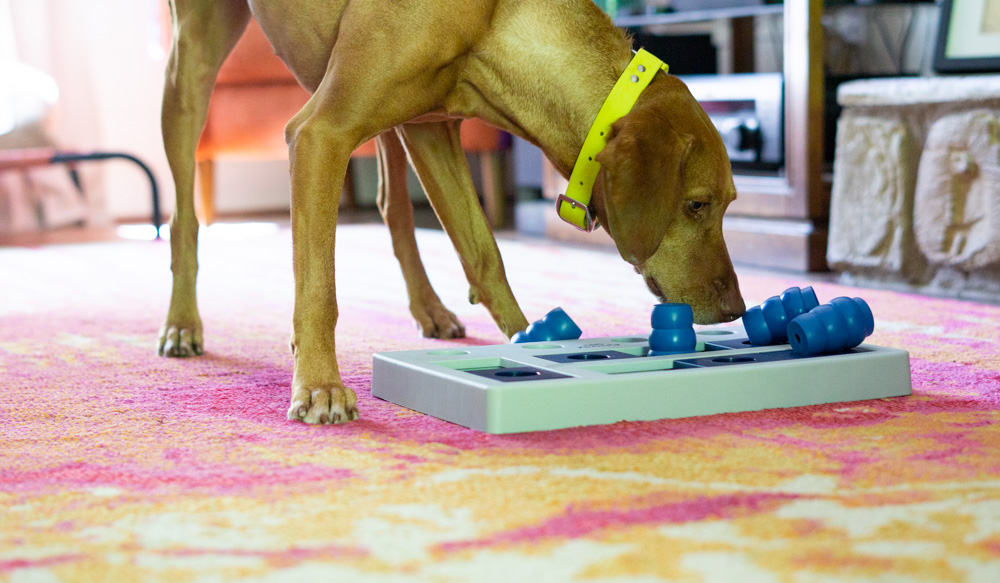 The Trixie chess board is not very challenging for Zara, but does keep her entertained for a little while.
One Toy to Avoid
There are probably lots of bad, cheaply made dog toys out there, but one that should definitely be avoided is a tennis ball. Since a tennis ball's surface is abrasive, they can cause wear on dogs' teeth if they chew or play with them a lot. Many dogs love tennis balls, but I can tell you first hand the damage they can do. Until Zara was about 3.5 years old, we went to the dog park almost daily. While we were there, we would throw tennis balls for her to retrieve over and over again. All that repetitive catching has worn her teeth down. We rarely go to dog parks now and I don't let her chew on tennis balls, but the damage has been done.
What do you think of my recommendations of the best dog toys? Are there other dog toy brands that you like?
Zara's canine teeth are especially worn from tennis balls. Look at her bottom canine tooth – you can see the dentin, which is the layer underneath the enamel.