I had off the past four days because of the Thanksgiving holiday, which meant Zara and I got to enjoy a lot of time together.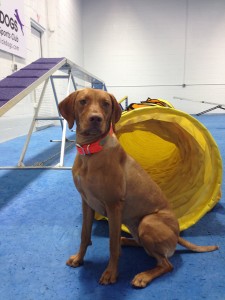 On Wednesday afternoon, my company closed the office at 2pm. It had been raining/snowing all day and I knew I needed to find a way to exercise Zara otherwise I wasn't going to have a very fun evening. I took her to Frolick Dogs, which is a new "doggie gym" near us. They have various agility equipment, two treadmills especially for dogs and a variety of balance balls. The idea is that instead of taking agility classes, you can purchase a membership to the gym and train the dog yourself. They also offer boarding and daycare.
The owner showed me how to use the treadmills and we tried to get Zara to get on one while it was moving. I have been training her at home to eventually run on our treadmill, but it is a slow process. I use treats and a clicker. As of now, she will voluntarily get on the treadmill with all four paws while it is off. She will also sit, stay, etc. next to it while it's running, which means she isn't afraid of the noise. I did get her to climb on it last week while it was moving very slowly, but the movement seemed to scare her a bit. We'll keep practicing.
Anyway, at the gym, I also worked on the other agility equipment with her and she did great – she was totally willing to go through the tunnels, jump over the bar, and climb the ramp as long as there was food involved.
The first visit was free at Frolick and they charge $10 for a day pass. They also have monthly memberships. I don't think I will go there often, but it's nice to have an option like that during the winter when the weather is terrible.
On Thanksgiving day, my parents came to our house and brought their eleven-year-old beagle, Dixie. She and Zara have met three times before and they were fine together. Zara was very submissive to Dixie and clearly wanted to be friends. Dixie had no interest in Zara but she was tolerant of her. With all the stimulation of visitors, Zara was super tired at the end of the day. She fell asleep on the couch from 6pm onwards. She didn't even have any tryptophan! ;)
On Friday morning, I took Zara to the dog park for a while and then we headed to Clarendon to do a little Black Friday shopping. There are several stores in that area that allow dogs and I wanted to buy a pair of pants at one of them. We went into Ann Taylor, where she got lots of attention from one of the employees. She was fairly patient while I tried on the pants in the dressing room. Then we left and went to Williams Sonoma, Loft, Lululemon, and Orvis. I wasn't really looking for anything particular at those places but I love the fact that they allow dogs and I figured I'd browse just in case any Black Friday deals caught my eye.
We went for a 10-mile hike on Saturday with our friends Kelli and Andy. It was technically supposed to be an 8-mile hike, but I think some of the signs were mismarked and we also got lost about halfway through and did a bit of backtracking. The whole thing took about 4.5 hours. We hiked the Potomac Heritage Trail starting from Turkey Run Park and ending up at Theodore Roosevelt Island. Zara got to be off-leash for a while in Turkey Run and for another portion in the middle when we were walking along the rocky banks of the Potomac River. The last time I had her off-leash in Turkey Run it was September and the underbrush was still very filled out. The trail is very twisty and I got nervous because I couldn't see her most of the time. On Saturday, all of the foliage was gone so it was very easy to see her when she went off the trail. She listened very well the whole time and checked back with us frequently. About halfway through the hike, we had to climb up this portion of rock that was steep with a hand rail installed to help out. Zara scrambled up the rocks without a problem! She became a bit hesitant when she got to the top, but with some encouragement, she made it.
Finally, Sunday was a beautiful 60-degree day. We didn't do anything too exciting but I did take her for a one-hour walk and she walked without pulling on the leash almost the entire time. It was very enjoyable. :)