Memorial Day weekend is drawing to a close and I must say, it has been an awesome weekend. The weather has been absolutely perfect: Saturday, Sunday, and today were sunny with highs ranging between 75 and 85. The weekend started off on a good note when my office closed at 2pm so I got to leave early and take Zara to the dog park much earlier than usual. On Friday evening, Chris and I walked to Shirlington with Zara and had dinner outside at the new Blue Sea Seafood restaurant. The food was very tasty, which mostly made up for the fact that we had to wait a long time for a table. Zara was fairly well-behaved while we are eating. We have only taken her out to eat with us a few times so far and in general, she's not that good at waiting yet. She doesn't like being leashed in one place and usually starts yelping to go see another person, dog, or object that is out of her range. One of us usually ends up getting up and walking her around like you might do with a toddler.
On Saturday, we headed to Annapolis to meet some friends. Chris and I went there in November of 2011 but hadn't been back since. Of course, we took the puppy with us. We ate lunch at a restaurant outside of the downtown area and then drove over to Main Street and met the rest of our friends. We went to the outside bar area of Pusser's, which is a popular bar/restaurant that is right on the water. The space was actually a good one for Zara because it was crowded and loud and since there were a lot of people around and boats going by, she had a lot to look at. We bought her a pair of Doggles (dog goggles/sunglasses) and had her wear them for a little while. She tolerated them as long as she was distracted. She looked so cute in them!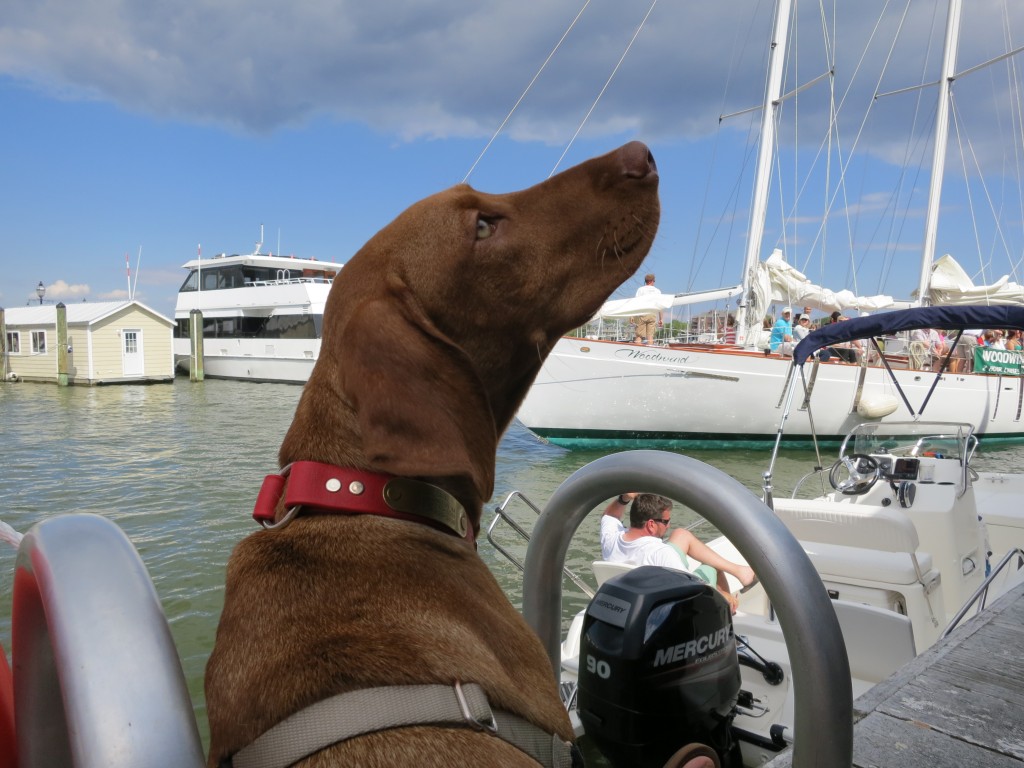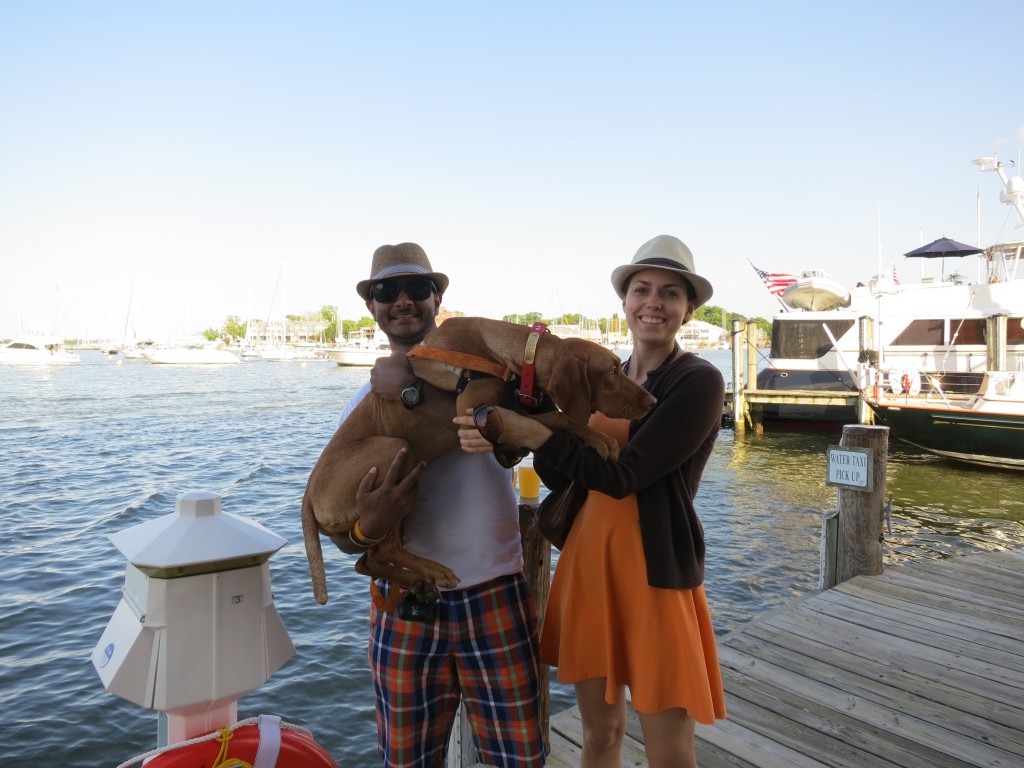 Walking around with her, we had lots of people ask ask what breed she was or say how beautiful she was. Of course, she didn't mind the attention. ;)
Yesterday, we took another day trip to Three Fox Vineyards in Delaplane, VA. They were having a special "Vino Dog" day and they encouraged people to bring their dogs. The winery is located on a beautiful hillside in rural Virginia and they had a huge open area with picnic tables along the edges. One side of the open grassy area was bordered by a small creek. We met a bunch of friends there, including my coworker and her Yorkie puppy Sophia, and our friends Erin, Dave, and their dog Jax. I had called ahead to see if the dogs were allowed to off-leash and the owner said yes. We have never had Zara off-leash in an unsecured area but I thought it would be nice to have the option. We brought her 50 foot leash and had her on that for a while, but after she lunged away from me after a butterfly and gave me rope burn on my hand, we thought we'd give off-leash a try. She's been really good with the "PARTY!" (come) command and I had treats on hand just in case.
She ran around with Sophia for a while and I called her back a few times just to make sure she would come. Then, our friends got out their soccer ball and started kicking it around. Zara became fascinated with the ball and was chasing after it. She soon figured out she could pick up the ball and would run to the creek, drop the ball in the creek, and watch it float downstream. Then Chris would have to run downstream and jump in the creek to rescue the ball. This happened several times. The group of people at the neighboring table thought it was quite hilarious.
https://www.youtube.com/watch?v=0qlrmaq3kGQ&feature=youtu.be
Overall, Zara was very good off-leash. The area we were in was very open and bordered on three sides by creek and trees so it was easy to see her. We were also away from the road and parking lot so I didn't feel like she was in danger of getting hit. She didn't make a beeline for the forest or anything, so that was good. :)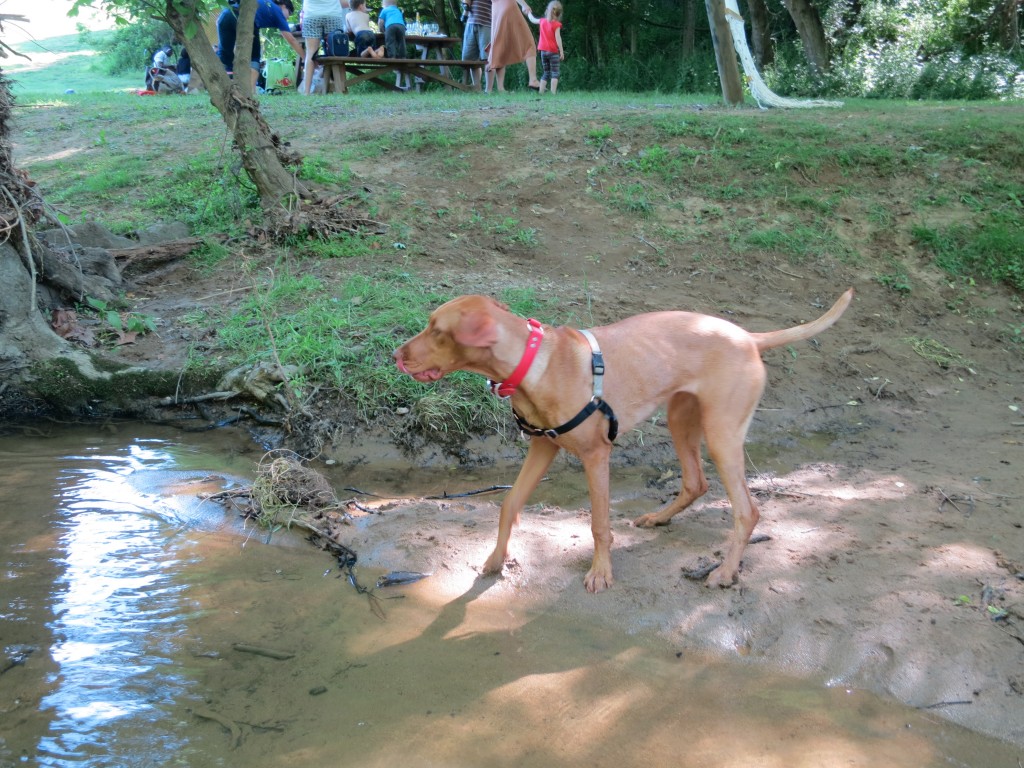 Finally, today I took her on a hike to Turkey Run Park, where we encountered two toads, a snake, some lizards, and a dead raccoon, which she promptly picked up. (She released it after one "drop it!" command). All in all, a good weekend.