My Rhodesian ridgeback, Colombo, is three years old. He's also intact. I know we are in the minority, because for most dog owners in the U.S., owning a three year old intact male dog is not something they would ever fathom.
Before we got Colombo, my husband and I knew that we wanted to keep him intact. With the issues we'd had with Zara after spaying her, we were reluctant to neuter him. I'd also read a lot about the risks of neutering large-breed dogs, especially if the neutering was done at a young age.
Colombo is also a show dog, and in order to show in conformation events, dogs must be intact. At some point, he may be bred, although he needs to finish his show championship and complete all of the recommended health testing before that would be considered. We have no plans to neuter him unless there is a medical reason, such as testicular cancer.
For the most part, living with an intact male dog has been uneventful. However, I have learned several things about intact males in the past three years that I did not know before having one.
Neutered Males Can Be Problematic
Before I owned an intact male dog, I had no idea that a lot of neutered males don't like intact males. We learned this the hard way with Colombo when he was about a year old. At that point, we still took him and Zara to the local dog parks fairly regularly. Colombo LOVED to play with the other dogs when he was a puppy. One day, we were at one of the large parks when another dog started getting aggressive with Colombo. They had run to the other end of the park, out of earshot. I got to them as quickly as I could. The other dog, a large male pointer, was growling and getting in Colombo's face. Colombo was not scared and was growling back. I grabbed him and tried to pull him away but the pointer just kept advancing. Eventually, I yelled for help and a man came and pulled the pointer back.
Thankfully, neither dog was hurt, but the incident was scary. Afterward, I did some online research and discovered that neutered males are often aggressive to intact males. When males are neutered, they smell female to other dogs. Since most of the dogs in this country are spayed or neutered, the majority of dogs smell female to each other. It makes sense that when a neutered male encounters an intact male, they smell male, and thus different.
This is the main reason I rarely go to dog parks now. Colombo will not initiate a fight with a neutered male, but if one tries to start one with him, he won't back down. It's not worth the risk, because I have no idea which dogs will not like him.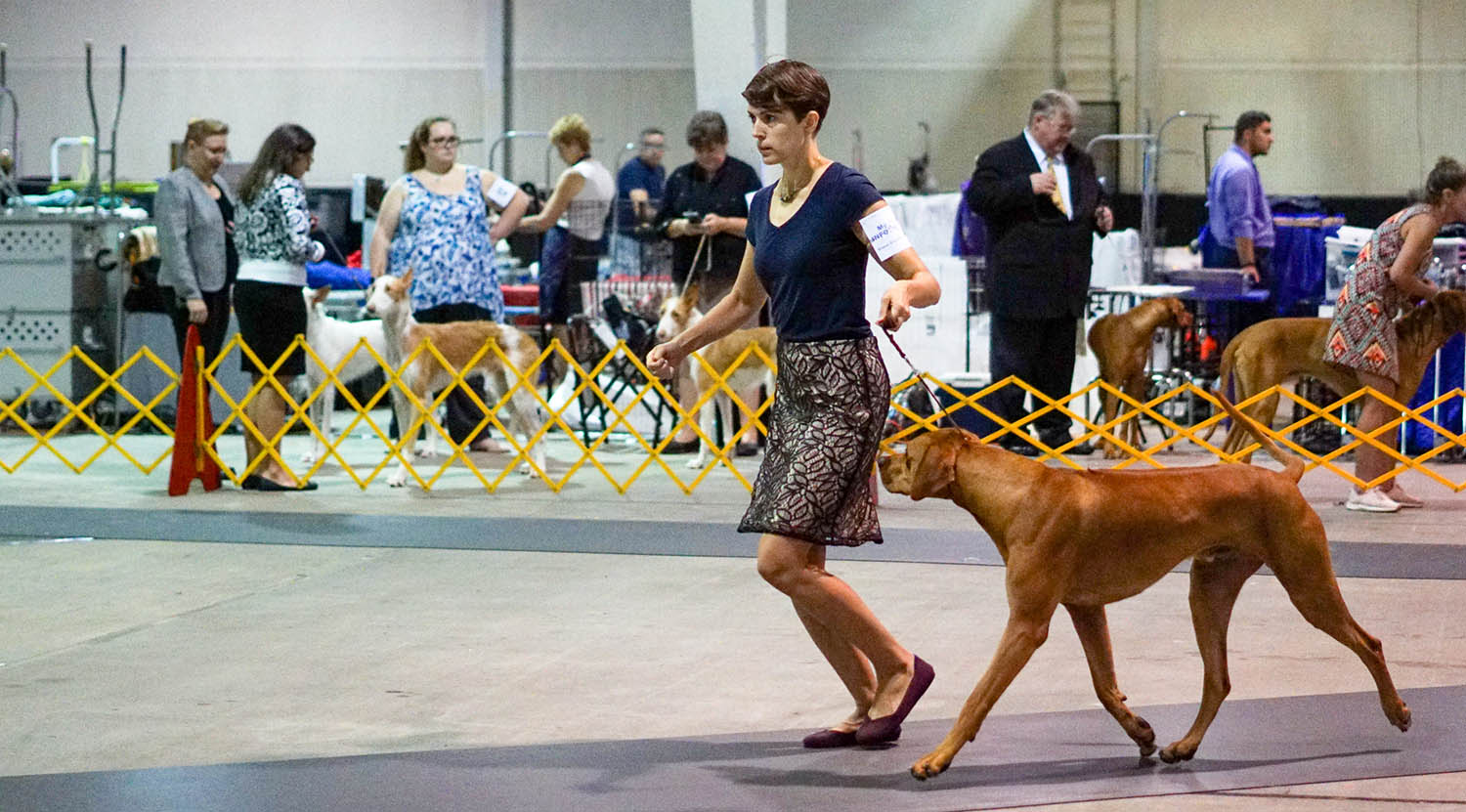 Colombo and I at a conformation show
Some Intact Males Don't Like Other Intact Males
Colombo is not a fan of other intact male dogs, although it's mostly with other large intact males. He will start growling aggressively. It's never escalated beyond that because I've never let it. He's been okay with smaller intact males. He also interacts with other intact males at daycare, and the daycare staff have told me that he's not had any issues. Because of this, I wonder if me being around or him being on a leash makes him feel like he has to defend himself.
With that said, not all intact males are like this. I know several people who also have intact male Ridgebacks and they are fine playing with other intact males. So it really depends on the dog.
It is Possible to Find a Daycare or Kennel that Allows Intact Dogs
As I mentioned above, Colombo goes to a daycare that allows intact dogs. The majority of daycares and boarding kennels in the U.S. require dogs to be spayed or neutered at six months of age in order to attend. This is one of the reasons people chose to spay or neuter their dogs early. However, I think it's worth looking around to see if you can find one that does allows intact dogs before making the decision. When we lived in the DC area, Zara attended a vizsla-only daycare (yes, that exists and it's called Vizsland) and the owner allowed her to come before she was spayed. Especially for small, in-house or farm daycares/kennels, it's worth asking if the owner would allow an older intact animal to attend if they are not a problem.
Colombo (left) and two of his ridgeback friends
Yes, Intact Males Mark
Another reason people often want to neuter their male dogs is to reduce marking. I personally don't find this a compelling reason to neuter a dog. Yes, Colombo does love to pee on every bush in the neighborhood if we let him. But he's never marked inside our house or anyone else's house. And it's not always a male behavior. Zara started marking when she was two years old, and now lifts her leg just like a male. Marking inside the house is likely a house-training/behavior issue.
Yes, Intact Males Sometimes Hump
Humping is another behavior that people often want to eliminate by neutering their dogs. While it is true that neutering can reduce it, Colombo's humping has never been excessive enough to bother me. He started when he was about six months old, trying to hump other male and female dogs at the dog park. I was vigilant about correcting the behavior every time he attempted it, using a "settle down" command. His desire to hump seemed to peak around 14 or 15 months and has since decreased. He occasionally does it at daycare, but the staff tells me that he listens well when they scold him.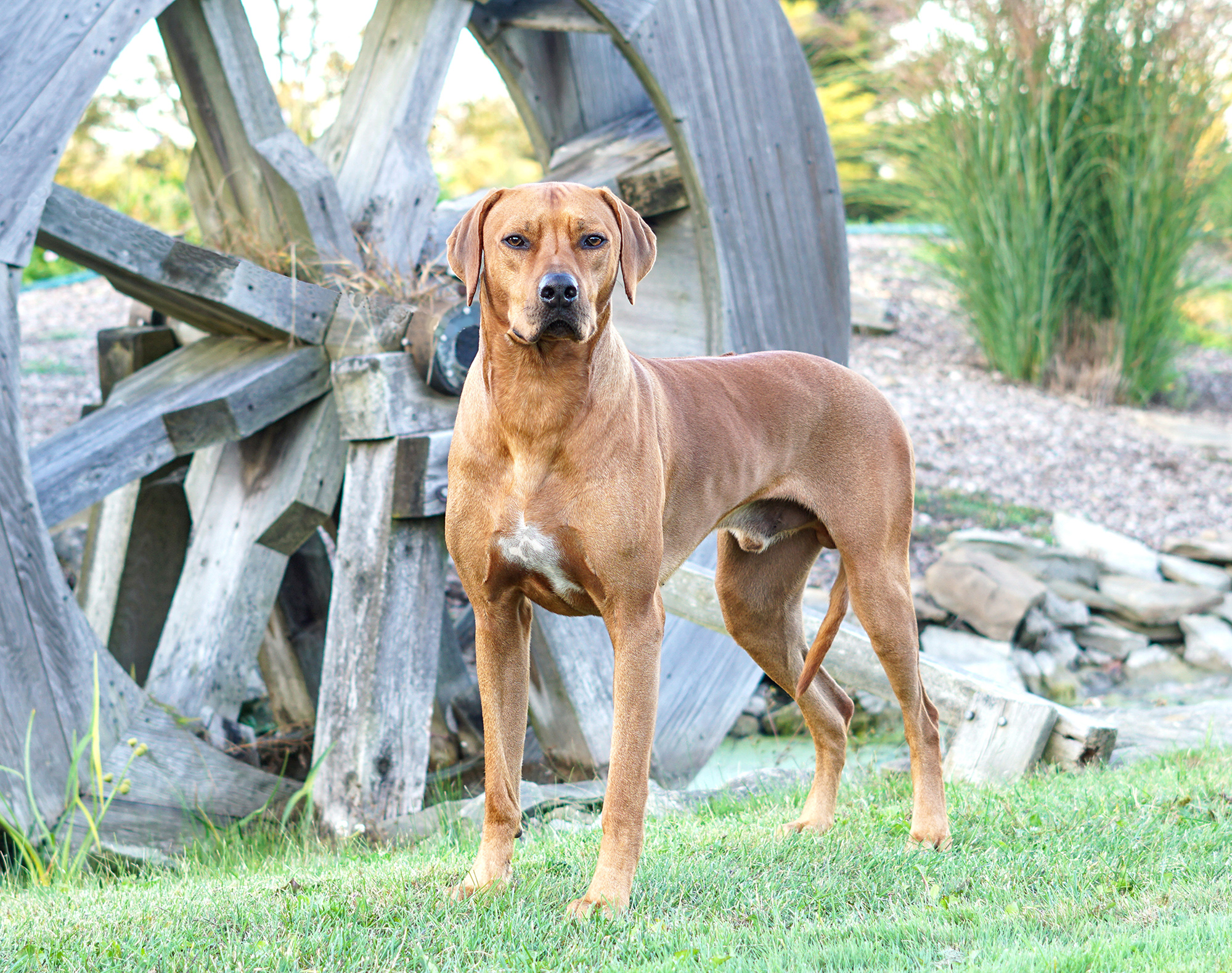 Colombo poses at the 2019 Rhodesian Ridgeback National Specialty in Huron, Ohio.
There is Some Discharge
Sorry for the gross visual, but an intact male dog's penis often has some yellowish-green discharge that can be seen on the end of it. That is normal. It's not a lot, but sometimes I find spots of it scattered around the house on the floor. Colombo is usually pretty good about cleaning himself down there, though.
Recall is Very Important
A solid and reliable recall ("come" or "here" command) is important for any dog, not just intact ones. However, as the owner of an intact male, I feel that it's my responsibility to be extra-careful if Colombo is off-leash. Since intact males can smell females in heat from long distances, I never want to be in a situation where Colombo chooses to run off in search of a mate. Since ridgebacks are not known for a natural recall (they were bred as independent, prey-driven hounds), I choose to use an electronic collar on Colombo any time he is off-leash. Most of the time, he comes right away when I call him. But the e-collar ensures that I have 100% compliance and peace of mind.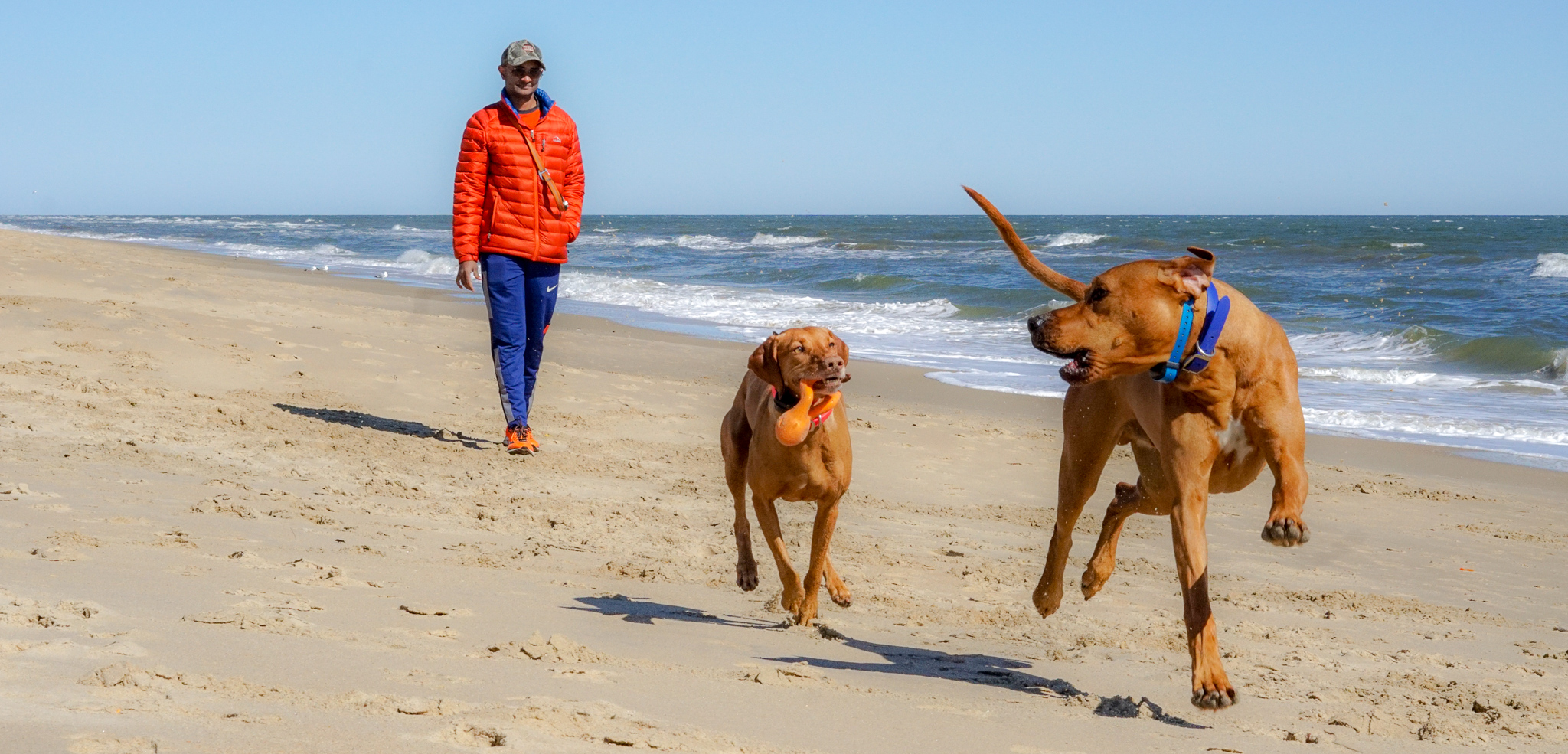 Colombo and Zara romp off-leash on the beach.
Owning an Intact Male Dog is Actually Not a Big Deal
For the most part, owning an intact male dog has been easy and very manageable. His negative behaviors are all controllable with training. I thought about this when I was at a conformation dog show with my mom two years ago. At this particular show, we were in a large exhibition building, crammed full of rings, grooming set-ups, crates, and people and dogs everywhere. There were probably 1,000 dogs entered in the show that day. I had been to several dog shows prior to this, so I wasn't fazed by the environment.
"I can't believe how well-behaved all these dogs are," my mom remarked. There were hundreds of dogs in the building and it was peaceful. Well, as peaceful as a dog show can be. Sure, there was plenty of barking and noise, but no dogs were fighting and everyone was moving around each other without issue, holding their dogs by skinny show leads. Every dog in that show was intact. That is just one example of how training and socialization can make a huge difference in the way a dog behaves, regardless of they have their sex organs or not.
I do not regret keeping Colombo intact. I will certainly watch out for testicular cancer, and if he does develop it in the future, we could always neuter him then. Testicular cancer is more common in dogs with one or more undescended testicle (which Colombo doesn't have) and it often doesn't spread. To me, the health benefits of keeping him intact far outweigh the negatives.
Do you own an intact male? Have you had any issues with him or has it been a positive experience? Leave me a comment below!