Now that it's summer and the water is warm, Zara and I have started focusing on duck search training. Duck search is otherwise known as "search for a duck," and is one of the four main components of the NAVHDA Utility Test.
According to the NAVHDA Aims Programs Test Rules booklet, during the test, "with dog and handler both out of sight, a healthy pen-raised mallard..is rendered flightless…One of the Judges will toss the duck out well into or past the cover at the edge of the water…the handler and dog are called up and the dog is placed in position off-lead….The handler will fire one blank shot over the water and send the dog…The capable dog will systematically search likely cover and…will find and follow the scent path left as the duck moves through the aquatic cover and over stretches of open water. If the scent is lost, the dog should not mill around aimlessly at the spot, but should start a systematic search to relocate the scent. Each dog is allowed approximately ten minutes to search out the duck…If the opportunity for a retrieve occurs, such as the duck being caught or shot, the retrieve must be successfully completed."
Some of the more important aspects of a successful duck search are independence (ability of the dog to go away and probably out of sight of the handler) and an expanding search. The dog shouldn't focus on a small area of the pond. Once an area is thoroughly checked, the dog should expand their search to a wider/further area.
Last Year's Mistakes
Duck search is scored from 0 to 4, and you must get at least a 2 to pass the Utility Test and a 4 to get a Prize 1 (highest prize). When Zara and I ran in the UT test last October, she got a 1 in duck search, which was the reason we didn't pass. Although we practiced for the duck search, I did not have a concrete training strategy last year. I figured she would be fine, because she naturally had the initiative to go out and search. She did multiple duck searches before the test and always seemed to search well. But now I realize that there were holes in this method.
During training, the ducks were always placed fairly close to the send-off point and although Zara was always searching the whole time, she never really showed a vast expanding search. Some of the other dogs we trained with would take off when released and it would be hard to get them back, because they'd be halfway across the swamp. Zara tended to stay closer.
On test day, the duck was placed much further out and there was no wind, which meant that she had no scent to pick up on after I sent her. She went out, but came back pretty quickly and didn't seem to know what she was looking for.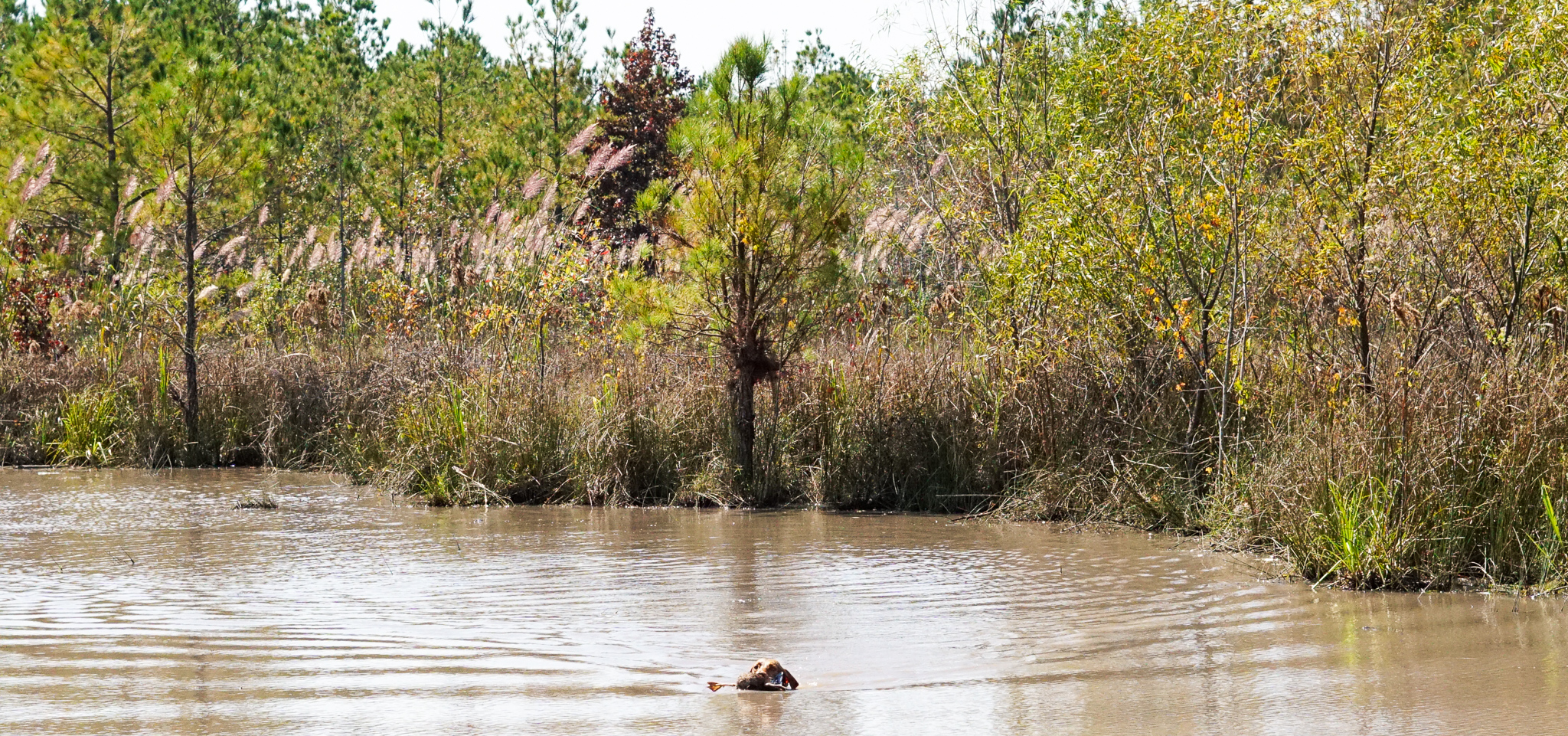 Zara returns with duck during duck search training in 2019.
Duck Search Clinic
Last month, I attend a duck search clinic at Rusty Guns Kennel, which is owned by Scott and Kyley Caldwell. Their farm is where our NAVHDA chapter training days and tests are held. Given that duck search was our weakness last year, I wanted to learn more about their training strategy and see how that could help me train Zara.
The clinic was held over two days and went into detail about the duck search, how it is judged, and how Scott and Kyley train dogs to do consistently good duck search. Although we were able to bring our dogs, I wasn't able to bring Zara due to her tooth fracture.
An important takeaway was the role that a force fetch/consistent retrieve program plays into a successful duck search. A dog that is conditioned to retrieve in various contexts can be sent into the water and expected to search for an object (duck) to retrieve. A key aspect of this is doing long (50 yard plus) blind retrieves, where the dog is sent to retrieve something it cannot see. Over time and repetitions that get further and further away, the dog trusts that there will be something for it to retrieve when the handler gives it the command to fetch.
That makes a lot of sense to me, since if you can ensure that your dog will go out 50ish yards when you send them into the swamp, they're likely to cover a good amount of ground and possibly pick up the scent of the duck. More likely than if they were hanging around the shore.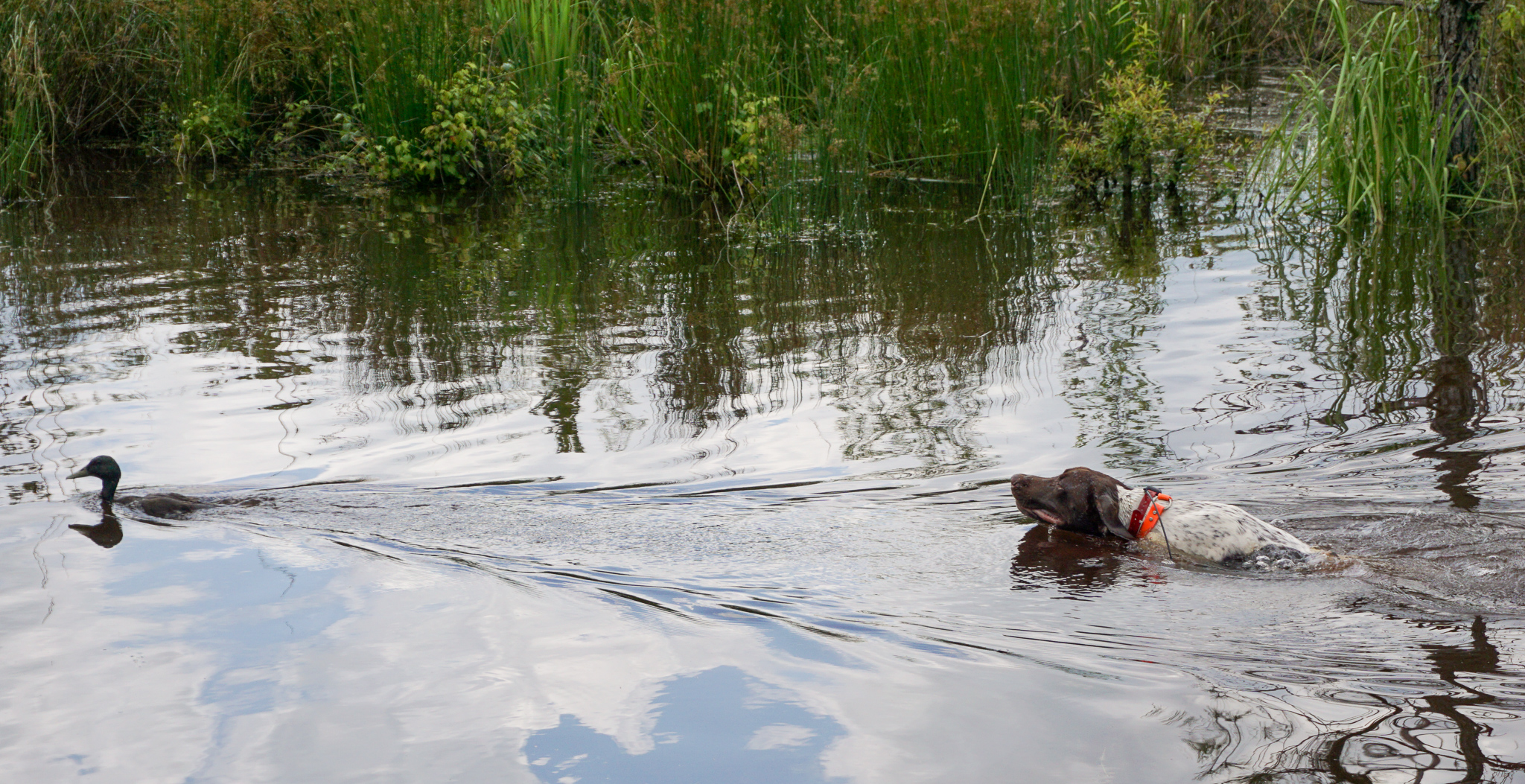 A German Shorthaired Pointer chases a duck during the duck search clinic.
Duck Search Practice
So far, Zara and I have done three duck searches this season. During the first one, I had one of the guys we were training with drag the duck out from the shore to leave a bit of a scent trail, since it was the first time that Zara had done a search in more than six months. She successfully followed the scent and located the duck. She retrieved it back to me, and then went back out again on her own accord. However, she didn't expand out super far.
The second time, I went to visit Emily of Shorthairs & Shotguns and Grayson at Lost Highway Kennels. Grayson walked out into the swamp and placed a duck about 50 yards out. Again, Zara had a fairly easy time locating the duck, but I believe she was able to follow the scent from the shore.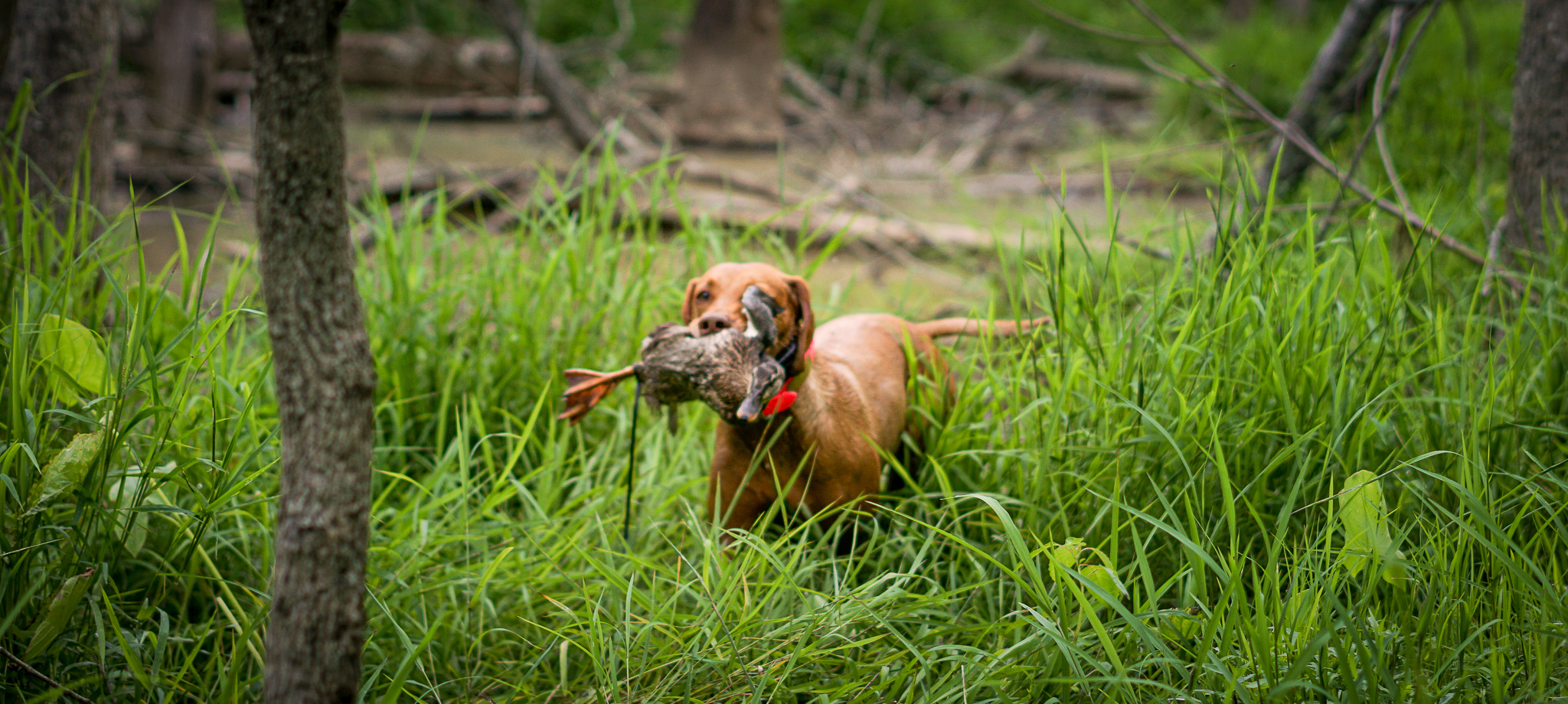 Zara retrieves a live duck during duck search training.
Last weekend, we did our third duck search of the season. This time, I wanted to see what Zara would do without any scent from the send-off point. I had a friend we were training with, Wes, paddle out away from shore in a boat and place the duck about 50 yards out. Zara struggled with this. I sent her and she went out, obviously searching for the scent with her nose. After searching the area near the shore, she seemed unwilling to go out any further. I asked Wes to go out in the open area of the pond and encourage Zara to come with him. He did so and Zara followed, eventually picking up on the scent of the duck and bringing it back. She went out again and found the other duck, again with a little bit of help from Wes.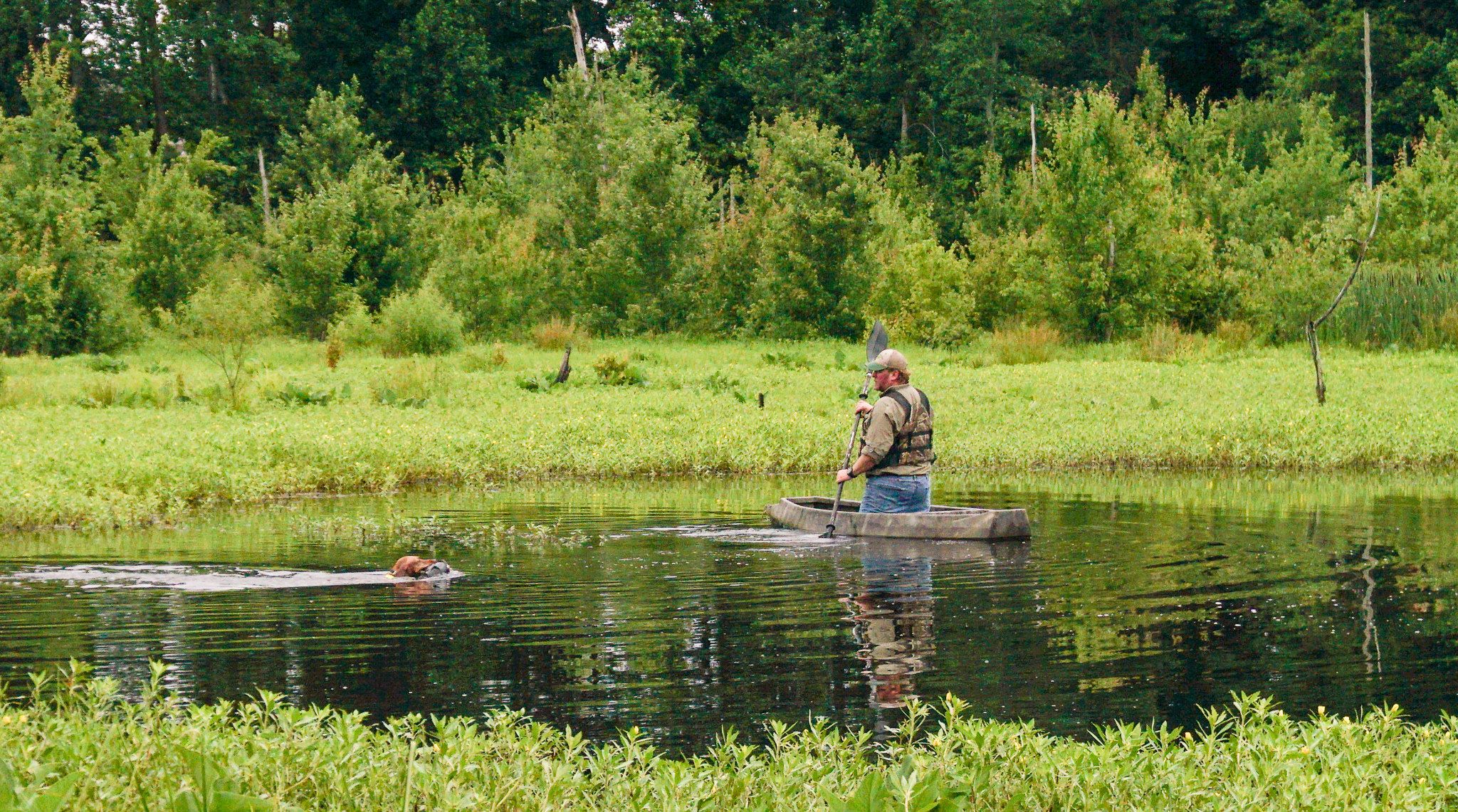 Zara gets a bit of assistance in her search.
Work to Do
After seeing how Zara did on these last three duck searches, I'm even more convinced that the main thing I have to worry about is her expanding her search/not going out far enough if she can't smell the duck. This is exactly what happened at the UT test last fall.
I've started to try the technique of doing long blind retrieves to see if that helps. Although I've done blind retrieves on land and Zara understands the concept, I had not done them in the water. I've started doing short blind retrieves in the water, where Zara is out of sight when I throw the objects, but can see them fairly well when I bring them to shore. I need to start increasing the distance and throwing them where she can't see them at all.
Is anyone else who is training for duck search at the Utility Test having this same issue? Let me know!