Zara definitely enjoyed her first Christmas. On Christmas Eve, she got to hang out with her friend Jax again and boy, did they have fun! Jax was much more friendly to Zara this time. He had a stuffed frog toy and he and Zara must have spent a solid 2 hours chasing each other around. Jax would grab his toy and trot off and Zara would run after him, trying to get the toy back. Then they would take a break and play tug-of-war with the toy. This cycle continued for a long time and we weren't sure if they would ever get tired! Eventually Zara passed out on the floor. The video below shows part of their tug-of-war, when Jax started pulling Zara across the floor! :)
On Christmas morning, Zara woke up quite early as usual (6AM). Chris and I gave her a present from the two of us, which was a squishy mint-flavored peppermint toy. Zara was very good at tearing off the wrapping paper. :) Then we headed to my parents' house to celebrate Christmas with the rest of the family.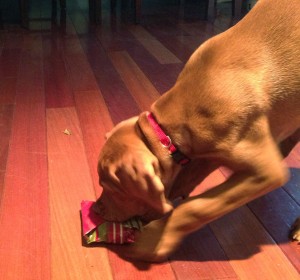 Zara was pretty well-behaved when we were opening presents. We allowed her to go first, and that kept her distracted for a while. She got two stuffed animals as presents: a hedgehog with pink eyelashes from my sister and a rabbit from my parents. She also started chewing on one of Dixie's bones when we were there, so we took that home as well. Any toy/bone that keeps her occupied for more than one minute is very valuable!
After hanging out at my parents' house for a while, Chris, Zara, and I headed to my friend Sarah's parents' house. They had a bunch of people over, so we stopped by for a little bit. I was worried that Zara would be trying to get into everything, but after about 10 minutes, she fell asleep on the carpet and stayed like that the entire time we were there! Everyone was praising what a good dog she was but they didn't get to see her when she was running around like a madwoman… ;)
So all in all, Zara had a good Christmas.